We answer questions about hurricane season and what steps you can take to protect yourselves and your home.
Every year, hurricanes emerge from the waters off the US coast. Thankfully, relatively few make landfall and cause significant damage, but it pays to be prepared. So today we're answering the most important questions about hurricane season and offering some tips on how to prepare.
Relatively few hurricanes make landfall and cause significant damage, but it pays to be prepared.
What is a hurricane?
A hurricane is a weather system that forms over water and moves towards land. You may have also heard this kind of storm referred to as a cyclone or a typhoon, depending on where you are in the world.
What problems do hurricanes cause?
The major threats to safety are caused by high winds, torrential rain, coastal and inland flooding, storm surges (where the sea level rises), tornadoes and mudslides. Badly hit areas will see widespread damage to infrastructure, flooding, power outages, problems accessing medical assistance, lack of food, water and medical supplies, and flights will be grounded.
When is hurricane season?
The Atlantic hurricane season runs from June 1st to November 30th. Peak season falls between mid-August to late October. The Eastern Pacific hurricane season, which can impact the USAs west coast, runs from May 15th to November 30th. While these dates do tend to be accurate, storms have been known to occur outside of these dates.
How many hurricanes hit the US each year?
You'll be pleased to hear they're relatively few and far between. According to the hurricane research division of the Atlantic Oceanographic and Meteorological Laboratory, close to seven hurricanes strike the US every four years on average (that's 1.75 per year), while around three major hurricanes cross the US coast every five years (that's 0.60 per year).
Safety tips
If you aren't relocating permanently and instead just own a holiday home, where possible, try and schedule your visits outside of hurricane season. If you're relocating permanently to an area that is susceptible to storms there are a number of ways you can prepare yourself and your property for hurricane season.
Forward Planning
1 – Make an emergency plan
First off, contact your local emergency management agency. They will be able to provide you with all the information you need about evacuation routes, emergency numbers to use, what storm updates you should sign up for and your shelter options. You should also sit down with your family and make a plan for how you will proceed and how you will communicate during a storm.
2 – Stock up
To ensure you're always prepared, stock up on essentials like batteries, candles, flashlights, first aid supplies and non-perishable food items that can be easily stored in the basement/ garage. When you hear news that a storm is imminent, stock up on food and water just in case you lose power and water for a number of days.
If you've just bought your dream house, you're going to want to take every step possible to protect it from damage.
Preparing your property
If you've just bought your dream house, you're going to want to take every step possible to protect it from damage. There are a number of things that you can do to reinforce the property:
– Prior to hurricane season, make sure that you trim back your trees so that there is less chance of falling branches causing any damage.
– Your property may already be fitted out to withstand storm damage but if not you could consider reinforcing the roof, windows and doors, and installing storm shutters.
– Ensure all of your gutters and drainpipes are securely fitted and free of debris to reduce risk of water damage.
– Consider purchasing (and safely installing) a portable generator that you can use in case of emergency.
– Purchase disaster insurance – you want to make sure that your property, your vehicles and yourselves are insured in the event of serious damage.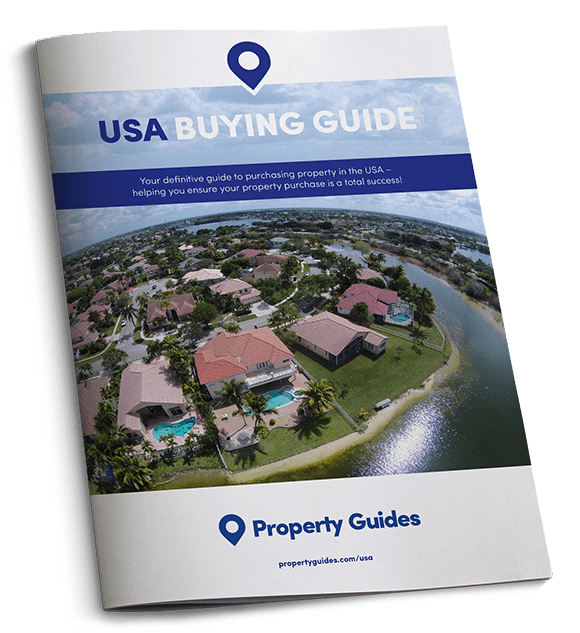 The USA Buying Guide takes you through each stage of the property buying process, with practical recommendations from our experts who have been through the process themselves. The guide will help you to:
✔

  Ask the right questions
✔

  Avoid the legal pitfalls
Download your USA Buying Guide