With the 400th anniversary of the Mayflower sailing this year, what does New England offer today's forward-thinking pilgrims? Whether you're looking for a holiday home or a new life in the USA, New England is still the land of opportunity.
Sumptuous seafood, rolling countryside, a spectacular coastline and a friendly welcome are just some of New England's most enticing qualities. New England on the USA's Atlantic Coast is a collection of six US states found in the very northeast of the country: Massachusetts, Connecticut, Rhode Island, Vermont, New Hampshire and Maine. As the region spans such an enormous distance, New England is incredibly diverse. It's home to national parks, mountain ranges, rivers, lakes, forests, fantastic hiking and skiing, wonderful seaside towns, rocky coastline and sandy beaches.
If you see your ideal life in New England and are ready to see some homes there, read your free Viewing Trip Guide.
While the view might change from town to town, what doesn't is the friendly people that greet you. New Englanders are known for being incredibly welcoming, friendly and liberal-minded. The majority are very active, love the great outdoors and are incredibly passionate when it comes to sport – especially their beloved New England Patriots (American football), Boston Red Sox (baseball) and Boston Celtics (basketball).
Job opportunities
Boston is New England's largest city, with a population of almost 700,000, but there are several cities across the region with populations of more than 100,000 where a wide variety of employment opportunities can be found for those moving to the USA.
Major industries in this corner of the country include real estate, tourism, energy, employment by the State, tax, construction, architecture, manufacturing, agriculture and exports – Portland in Maine is the largest sea port in New England. Moreover, New England is home to some of the finest educational establishments in the United States, and the world. Four of the country's Ivy League schools are here, Harvard, Yale, Dartmouth and Brown. As there are so many excellent schools, colleges and universities, education and research are also big employers in the region.
If you're looking for a new start and not just a second home, read our new Emigration Guide. It will give you all the information you need about moving overseas.
Climate
New England spans an area a little larger than England and Wales, and a distance north to south similar to London to Inverness. So the climate varies significantly across this distance, and between mountain, coast and valley. Winters can be long, cold and snowy, with places like Boston and Hartford in Connecticut receiving between 35-50 inches of snow each year. Up in Maine, this number shoots up to 50-75 inches of snow per year.
Many so-called 'snowbirds' leave their New England homes during winter and head south to sunnier climes down in Florida or the Caribbean, so there are opportunities for winter rentals if you like skiing or snow shoeing.
On the flipside, summers tend to be lovely and warm. The average temperature during summer ranges from 26-29°C, but expect the temperature to dip considerably when the sun goes down – especially if you're in the mountains or by the coast. Autumn – "Fall" – in New England is world-famous. People flock from all around to see the leaves turn every shade of orange and red. Temperatures then are crisp, averaging around 7-10°C, with plenty of sunshine. Perfect hiking or cycling weather!
Best locations in each state
Portland, Maine
Why: For seaside living in a historic city, consider Portland – Maine's largest city. With more than 230 restaurants, Portland has one of the most exciting foodie scenes in the country, plus their arts scene is thriving, with heaps of interesting venues and galleries keeping residents entertained.
According to Liveability, who rank US cities, Portland is very safe, has very highly-rated healthcare and an excellent school system. Furthermore, in a recent survey conducted by personal finance website, WalletHub, Portland has the 9th best job market in all the USA, including an impressive start-up scene, driven by a growing population of young professionals enticed to the city in pursuit of a quieter life and more affordable life than many of the East Coast's cities offer.
Getting here: Portland is served by Portland International Airport, which is 10 minutes outside the city.
Property prices: Zillow currently ranks Portland's property market as 'very hot', and lists an average home value of $330,000.
Hanover, New Hampshire
Hanover, New Hampshire
Why: Hanover is considered the best place to live in New Hampshire by Home Snacks and Niche, who rank locations in terms of desirability. Furthermore, according to data and statistics from the FBI, it's one of the safest places to live in the state, making it very popular with families. Hanover also ranks highly for its school system, diversity and nightlife. The housing options are excellent, commutes are short and sweet, and there are plenty of job opportunities in the surrounding area.
Getting here: Hanover is an hour and a half from Burlington International Airport in Vermont.
Property prices: The median property price in Hanover is $636,000.
Don't spend any money on your move abroad until you've read The Currency Guide to Emigration, free to download.
Providence, Rhode Island
Why buy here?
The capital of Rhode Island is a lovely small city with a population of around 163,000, making it the third largest city in New England after Boston and Worcester (both in Massachusetts). It is one of the oldest cities in the USA, and has several excellent universities, including Brown University, part of the Ivy League. It claims to have the most coffee shops and restaurants per capita in the US.
You want another reason? It was named Best Lesbian place to Live, and has a thriving arts scene. It's built on seven hills and has great parks overlooking the Providence River which runs through the centre of town. You'll love it here, especially if you're into the beach, sailing, hiking and camping in the nearby forests and hills. The New England Patriots' stadium is nearby.
Getting here: Providence is an hour from Boston Airport by car or three hours from New York by train.
Property prices: According to Zillow, the median home value in Providence is $241,000, and the market temperament is classified, 'very hot'.
Burlington, Vermont
Why buy here?
Burlington was just ranked the second best city to find work in the USA in the study conducted by WalletHub, scoring particularly highly for low unemployment and commute times. The city is located on the shores of Lake Champlain, just south of the Canadian border – Montreal is just 100 miles away. It boasts a college-town feel complete with a gorgeous, historic downtown, full of shops, cafes and restaurants.
This is an ideal spot for lovers of the outdoors – opportunities to get the blood pumping abound on the lake, or in the nearby Adirondacks or Green Mountains, both of which offer fantastic skiing. Burlington also has plenty happening culturally too, including live music, art, great food, micro-breweries and farmers markets.
Getting here: Burlington International Airport is an eight-minute drive from the centre of the city.
Property Prices: According to Zillow, the median home value in Burlington is currently $347,000.
Cambridge, Massachusetts
Why buy here?
Cambridge is just across the Charles River from Boston, so living here gives you access to the best of Boston, as well as all the delights of Cambridge itself. The city is home to Harvard, MIT and a whole host of fine educational establishments, earning it a reputation as the 'intellectual capital of the world' and guaranteeing interesting job opportunities.
The young population ensures an excellent arts scene, with gigs, exhibitions, and events taking place every night of the week in the city's eclectic and affordable galleries, restaurants and bars. Also, there are more than 16 parks and wetlands in Cambridge, making it popular with hikers and bird watchers.
Getting here: Boston International Airport is a 15-minute drive from Cambridge, or you can hop on a train, which takes 30 minutes.
Property prices: The median home value in Cambridge is $855,000.
Stamford, Connecticut
Why buy here? 
Stamford is a dream location for those wishing to combine urban living with proximity to the natural delights of Connecticut, known for coastal towns, peaceful beaches, and fantastic surfing. From Stamford, you can be in NYC in under an hour, granting residents access to job opportunities, as well as the best in arts, dining, music and culture – although, Stamford's restaurant and shopping scene is so good you might not want to venture far!
Downtown Stamford has an atmosphere akin to New York City but the adjacent neighbourhoods take on more of a small-town Connecticut-vibe. Property options here include luxury waterfront properties, estates with acres of woodland, easy-living townhouses and condos and spacious ranch-style homes.
Getting here: All the airports serving New York are ideal for accessing Stamford. JFK is an hour away, Newark 75 minutes, and La Guardia 45 minutes.
Property Prices: Stamford's property market is deemed 'warm' by Zillow, and the median property price is currently $474,000.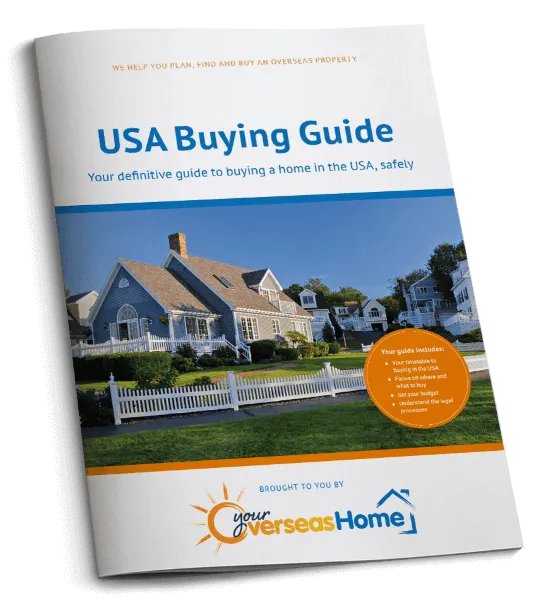 Download your free USA property guide
Our guide to buying a house in America is readily available online, but you can also a PDF version to view when you're offline or print. Simply fill in the form to the right and you'll be able to download your free copy.
Ask the right questions
Avoid the legal pitfalls
Find your property
Avoid losing money
Move in successfully
Download your free USA property guide