It can be tricky working out where to find the best bargains and finest quality goods when you move to a new country. Today we run you through where to start.
When you've lived somewhere your whole life, you know instinctively where to go for all your household needs: bedding – John Lewis, towels – Debenhams! When you move to another country with unfamiliar shop names it can be tricky to know where to find the best value dining room table, or where to head when that plate set is far too chipped for you to entertain your new neighbours. Whether you're emigrating permanently or looking to deck out a second home, you'll need to know which shops offer a bargain and where you can go to really splash out.
Michelle Obama said how excited she will be popping in to Target now she's been relieved of FLOTUS duties!
Where to find the bargains
Ikea
Fear not, the Swedes behind Ikea have made it across the pond, which means you'll be able to find the exact same items that you would at any Ikea across the UK – plus of course, the famous meatballs that will help you refuel before you have to load all your new items into the car! Prices are similar to the UK, and there are stores across the country.
Big Lots
Another great bargain store is Big Lots (INSERT LINK: ), which many choose when looking to stock up on patio furniture, electronics, bedding, bathroom and kitchen essentials. You can snap up a mattress topper for a double bed for around $69 (approx. £55) and a stove-top kettle for just $10 (approx. £8). If you decide to buy online, shipping is completely free for all orders over $99 (approx. £79).
Walmart
At Walmart you can shop for basics like cutlery, saucepans, utensils and labour-saving gadgets like waffle machines and bread makers, while picking up your weekly shop. Electronics are good value for money, a Samsung 32" TV is just $177 (around £140), and you can buy a set of dinner plates from as little as $25. Walmart is also an affordable option for towels and bedding.
Target
Target is another great value spot for towels, bedding, clothes baskets, shower mats, bins and kitchen and bathroom items. This is one of the US's most popular stores – even Michelle Obama said how excited she is to return there now she's been relieved of FLOTUS duties. In addition to household items, you can also snap up electronics, clothing, pharmaceuticals, stationary and all the items your pets will require.
Mid-Range
Pottery Barn
Pottery Barn is a bit of a US institution. If you're looking for the big items, like sofas, bookcases, dining room tables, lighting and so forth, Pottery Barn offers unique items that are a little bit special. There are a number of designer collections to choose from, featuring pieces that work together to give your home a specific look. You will find beautifully designed signature pieces like mirrors, coffee tables, ottomans and bookcases covering all budgets. Coffee tables, for example, range from just $129 all the way up to $2,000.
Crate and Barrel
Crate and Barrel is another choice that stocks absolutely everything you will need to furnish your new home. Expect everything from cheese graters and chopping boards, to rugs, curtains and soft furnishings. Much like Pottery Barn, the items here are slightly more stylish, and therefore a little more pricey. For a decent duvet cover set and pillowcases, you're looking at around $130 up to $250.
Pottery Barn, Crate and Barrel, and West Elm (another popular choice) are all great places to stock up when they have sales on – so make sure you keep your eyes peeled!
Is there an equivalent of John Lewis?
We all have our trusty favourites that we return to for the same items, because we know they will last the test of time. For many of us in the UK John Lewis is that place. So, where should you go if searching for a US equivalent – where you'll pay slightly above the odds, but you know that the items will last?
Nordstrom is perfect for those who enjoy the super swanky. Their home range is of the finest quality and they stock everything you could possibly need to deck out your dream home – kitchens, bedding, office supplies, rugs etc. They even have limited edition designer collections from the likes of Calvin Klein.
Bed, Bath and Beyond is one of the most popular spots with home owners for anything bathroom, kitchen, or bedroom related. Plus they stock a range of personalised gifts, art, storage options and dining room essentials. You'll also find they have a range of curated collections if you're looking for inspiration for new themes for the boudoir or bathroom.
If you have any questions at all about making your dreams of moving to the USA a reality, give the Resource Centre a call today on 020 7898 0549.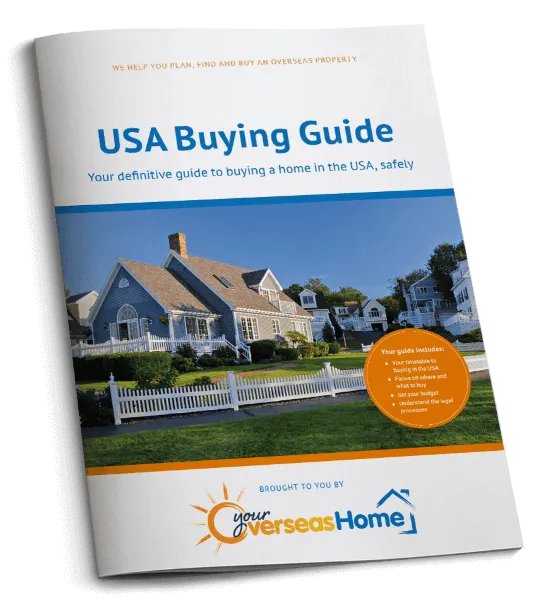 Download your free USA property guide
Our guide to buying a house in America is readily available online, but you can also a PDF version to view when you're offline or print. Simply fill in the form to the right and you'll be able to download your free copy.
Ask the right questions
Avoid the legal pitfalls
Find your property
Avoid losing money
Move in successfully
Download your free USA property guide