America is the original can-do country: if you can make it there, you can make it anywhere. But they don't give out visas to just anyone, so getting a job there is your first test of whether you'll make a success of living stateside. Hundreds of thousands of us have already done it.
A report in 2006 found that 678,000 British people were living and working in the USA. Did the financial crisis kill that off? Nope, by 2010 it was up another 20%. Fortunately for those of you hoping to find work in the USA, the country's economy has been improving ever more over the last couple of years, and appears set to continue doing so. There is "close to full employment", despite what you might have heard during last year's election.
There are two ways to get a Green Card (lawful permanent residency): by securing sponsorship from an employer, or from a close relative who is already a lawful permanent resident.
So don't let anyone tell you that you can't work in America!
However, the job market is highly competitive and being granted a visa that allows you to work legally in the USA is not straightforward. Here is what you need to know.
How can I work legally in the USA?
There are two main ways to get a Green Card (lawful permanent residency): by securing sponsorship from an employer, or from a close relative who is already a lawful permanent resident. Before you can seek work, you will need to get an Employment Authorisation Document (EAD card), which can only be issued by the United States Citizenship and Immigration Services. All information on whether or not you are eligible and how to apply can be found here.
What's it like working in the US?
It's hard work. Much like the UK, if you're working in a full time role you can expect to work around 40 hours a week, but you may get far less holiday, usually just two weeks per year. This can sneak up depending on your experience and how long you are at the company. Maternity pay and other in-work benefits are also less or non-existent in many jobs and if you or your family have health needs then keeping your job can be all-important in getting insurance.
On the other hand, the rewards for working hard tend to be pretty good too, including lower taxes (around 26% of GDP compared to 33% in the UK.). Once you have a Green Card, you will be subject to the same tax rates as your fellow US citizens. Before making the move, you will need to contact HM Revenue and Customs to ensure your tax liabilities are in order, and to make sure you're not losing any of your pension rights back in the UK.
If you can find work with a big employer their HR department may well do all this legwork for you.
Applying for jobs
If an internal transfer is impossible, it is worth speculatively contacting employers in the USA to see whether your skills are desirable to them. This is only likely to be an option for highly qualified and experienced professionals. UK qualifications are well recognised around the world, but it's always safer to check before you set the ball in motion. You can do so by contacting the relevant professional body in the USA for your profession, or by checking with potential employers. If you work for a big employer their HR department may well do all this legwork for you.
If you secure a visa that allows you to live and work in the USA, but you haven't secured a job prior to your move, you'll find that the application process is much the same as here in the UK. You'll need to get your CV (résumé) spick and span (three pages is standard in the US), research the companies you'd like to work for, and scan the job listings every week. Always send your CV with a cover letter that is individually tailored to the employer. You may find that the first stages of any job interview involve some form of psychological or psychometric testing.
Where to search?
Where you search will depend upon what kind of job you are seeking. For example, for highly qualified positions or academic jobs at a national level, Saturday editions of national papers like the Washington Post and the New York Times are your best bet. Local job listings will be found in your local paper, usually on Sunday, but ask your neighbours which is the best source of job ads locally. There are a huge array of recruitment companies located all around the country, many of which help to place people in specific fields. Try reaching out to the companies that specialise in your profession to establish what your chances are, what opportunities are out there, what steps you'll need to take, and how to improve your chances.
For standard job listings, some of the most popular sites include Linkedin, Simply Hired and Indeed.
For more casual work, if you are legally allowed to work in the US, it always pays to ask around in your local community. You never know who might be looking for a handyman, a hairdresser, or an extra pair of hands. Word of mouth is a powerful tool – use it! It's a bit of cliché, but true, that Americans like the British accent and tend to trust us, so get out and about, introduce yourself, and you should be able to secure work in no time. Maybe you could be a butler?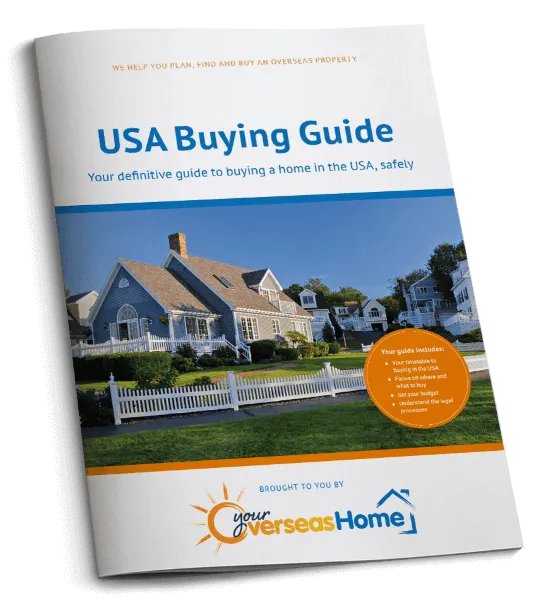 Download your free USA property guide
Our guide to buying a house in America is readily available online, but you can also a PDF version to view when you're offline or print. Simply fill in the form to the right and you'll be able to download your free copy.
Ask the right questions
Avoid the legal pitfalls
Find your property
Avoid losing money
Move in successfully
Download your free USA property guide