In honour of the arrival of spring, today we're listing our top ten Spring Break getaway destinations in the USA.
April is a wonderful month for travelling, particularly in the USA. Snow in the north is thawing, the beaches are heating up and you will pay considerably less compared to summer.
Do be warned that choosing a destination at this time of year can be a little tricky. College revellers across the nation pack their swimming gear and head to the party hot spots to celebrate Spring Break. While that might be right up your street, today we're considering some lesser-known, considerably quieter spring-time destinations in the USA. We're also providing some insight into property in a few choice destinations just in case you can't bear to leave!
April is a wonderful month for travelling, particularly in the USA.
Cape Ann, Massachusetts
While less famous than its neighbours, Cape Ann offers Spring Break visitors plenty of New England charm. But without the price tag or the throngs of people who descend during summer months. We recommend heading to the fishing village of Gloucester, just a 45-minute drive from the centre of Boston. Here you can enjoy exploring old-fashioned streets, visiting historic lighthouses and scoffing lobster and chowder and walks down white-sand beaches.
Sanibel Island, Florida
Located off Florida's western coastline, Sanibel Island is accessed via the three mile Causeway road, connecting it to the mainland. The island is beautiful at this time of year. Especially if you're in pursuit of idyllic beach holiday complete with warm waters, swaying palm trees and relaxing naps in the afternoon sun. If you insist on expelling some energy, there are ample activities to appeal to the outdoor enthusiast in you. You can also fish, play tennis, or enjoy a round of golf. As is the case with most islands, the seafood you'll find here is something special.
Point Pleasant, New Jersey
If you're keen to enjoy the kind of seaside holiday you enjoyed as a youngster head to Point Pleasant in New Jersey. Here you'll be able to scoff candy floss and toffee apples to your hearts content. The resort town is located just 70 miles to the south of NYC. It's where folk from The Big Apple, New Jersey and Philadelphia head during warmer months, to get their fairground fix. Once April rolls around the area springs to life. Especially at weekends, but accommodation prices remain a third of the cost of what's charged in summer.
Wherever you buy, getting a good deal and buying under market value is often a question of good research and planning. Read our guide: How to Negotiate Abroad, to maximise your bargaining position.
Washington DC
If you're in the market for a city Spring Break destination, Washington DC is a superb choice. Not only are the majority of major attractions completely free to visit, but you can also coincide your visit with the blooming of the Japanese cherry trees, which were given to the US capital by Tokyo back in 1912. DC's National Cherry Blossom Festival is a three-week long event featuring a parade, all-day concerts and much more. Expect pleasant temperatures of around 20°C. Ideal for exploring the sites of the world-famous city on foot, bike, or Segway.
Charleston, South Carolina
It's a canny idea to head to the Deep South in April, long before the temperatures and humidity ramp up to summer extremes. Charleston offers visitors a chance to combine trips to the beach with exploration of the historic streets of the city. Rumour has it the city's streets are haunted – so keep your eyes peeled for ghosts and ghouls! Pay a visit before April 21st and you'll be able to enjoy a nosey around some of Charleston's most beautiful private gardens and stately homes as part of the city's Festival of Houses and Gardens.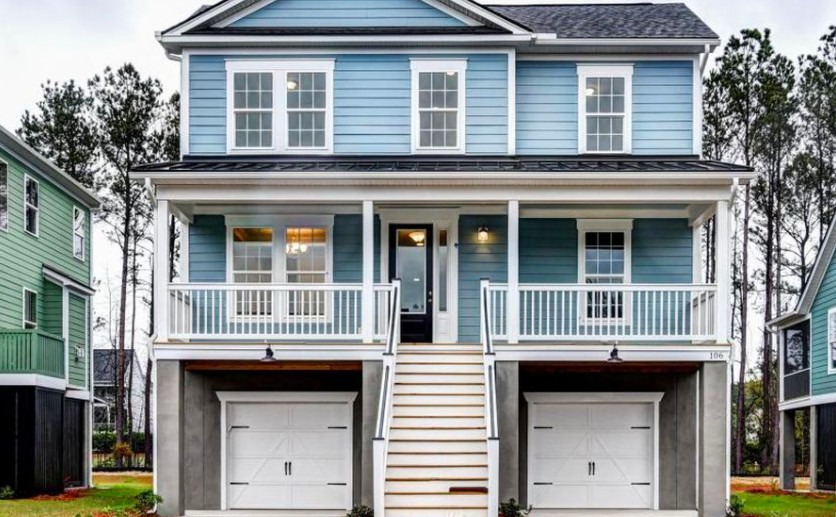 This four-bed on Charleston's gorgeous St Thomas Island is on the market for $454,000 (£320,000). The new build property is beautifully finished, enjoys access to a communal pool and has a deep-water dock perfect for boat owners!
Santa Fe, New Mexico
Santa Fe is another spot where temperatures hit the roof in summer months, when it averages between 26-32°C. In April, you're more likely to see the mercury comfortably hovering around 20°C, plus Santa Fe enjoys more than 300 days of sunshine a year, so you're almost guaranteed dry weather. In 2017, Santa Fe was named one of the best cities in the world to visit due to its incredible food scene and for having more than 200 art galleries over a patch of just two square miles.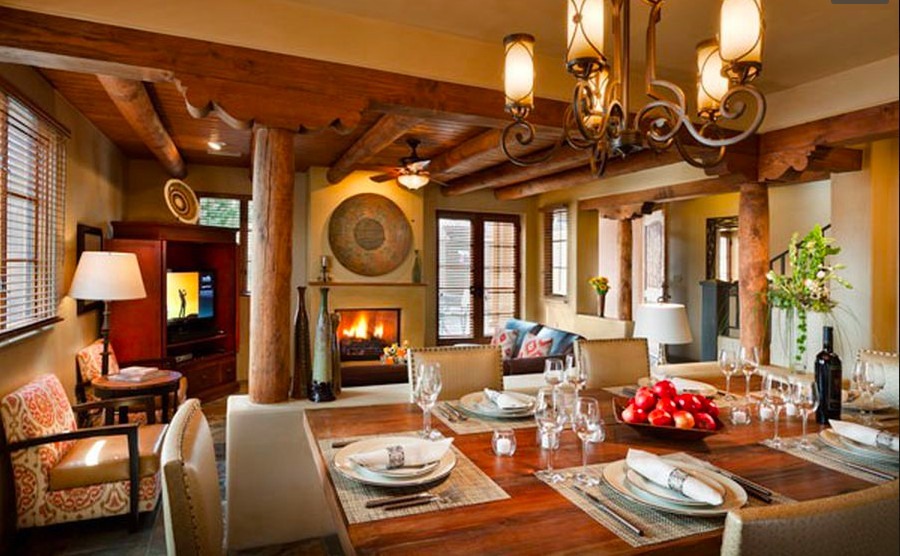 You can buy fractional ownership of this two-bed condo in the heart of Santa Fe for just $185,000 (£130,000). While the times of year you can stay in the property will be dictated, this is an excellent way to own a holiday home in a city that's rapidly growing in popularity.
Redwood National Park, California
Pleasant temperatures, fewer coach trips, stirring wildlife and blooming blossoms make Spring Break a perfect time to visit any of the USA's National Parks. April also offers National Park Week from the 21st-29th which means complimentary admission. Redwood National Park offers incredible redwood groves and miles of pristine Pacific coastline. If you so wish, you can camp within the park or enjoy nature walks, kayak-trips and campfires alongside the Park's rangers. The Grand Canyon is another great choice if you're intent on avoiding serious crowds. If you're a wildflower fanatic, you should head to Great Smokey Mountains National Park, which spans both Tennessee and Virginia. Peak time for the wildflower blooms is during the Spring Wildflower Pilgrimage, which takes place from the 24th-28th April.
Pleasant temperatures, fewer coach trips, stirring wildlife and blooming blossoms make Spring Break a perfect time to visit any of the USA's National Parks.
Orlando, Florida
April is just perfect for making the most of all of Orlando's attractions while the kids are still at school and before tourism to the city reaches its summer peak. Orlando has been ranked the second most fun city in the USA, second only to Las Vegas, which is probably to be expected! Temperatures are usually in the high 20s at this time of year, but you're guaranteed they'll never drop below 15 C. Lots of events happen in Orlando during April including Mardi Gras at Universal Studios and Epcot International Flower and Garden Festival.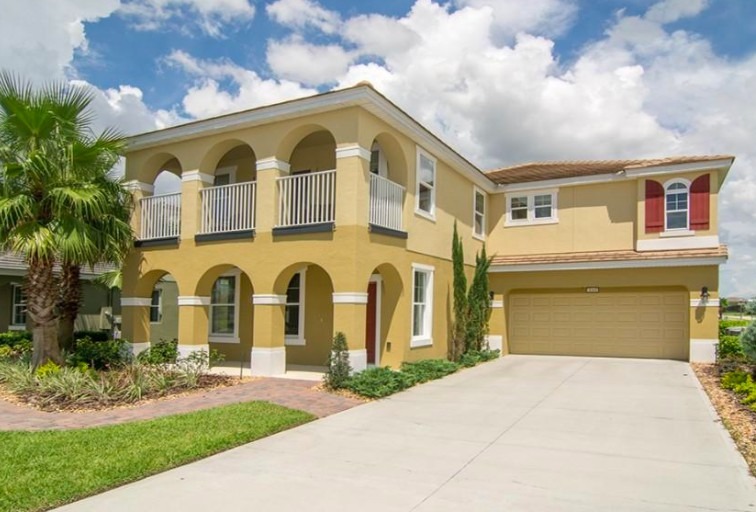 If you leave Orlando wanting a place where you can bring your friends and family every Easter, this six-bed house could be for you. You'll enjoy easy access to all the theme parks, $15,000 towards closing incentive and guaranteed rental for the first year. The property is on the market for $423,000 (£297,000).
Maui, Hawaii
Good news! To celebrate United Airlines flying to Hawaii for 70 years, cheap flights from mainland USA to Hawaii are on offer. If a bargain ticket to paradise isn't enough to entice you consider this. Maui was voted the 6th best island in the whole world by Travel + Leisure? Hawaii boasts incredible cuisine, friendly people and wonderful scenery, beaches and swimming holes.
Bend, Oregon
If you're still hoping to spend some time on the slopes, you'll need to head north. Bend in the Pacific Northwest is an excellent choice due to Mount Bachelor, which boasts 3,683 acres of skiable terrain. The resort is located within Deschutes National Forest, with spectacular views and even the odd wildlife spotting as you carve it up. When the day is done and you're keen to quench your thirst, tap into Bend's locally-grown beer. The town is famous for its micro-breweries. In fact, there's a beer trail that you can undertake that takes in 22 brewing establishments.
For a detailed explanation of how you can protect your protect budget from currency risk, read the Property Buyer's Guide to Currency. It is written by our currency partner Smart Currency Exchange, rated "Excellent" on Trustpilot.