Sunshine, beaches and culture are just three of West Florida's most enticing qualities. Today we look at the region's most popular locations and what you can get for your money.
While the east coast of Florida may have all the attractions any holidaymaker could dream of, those looking for something more permanent in a laid-back, peaceful part of the Sunshine State are starting to look west. Florida's Gulf Coast, the most popular stretch of which runs from just north of Tampa to the fringes of the Everglades, is known for its white sand beaches, calm warm waters, mangrove swamps swarming with wildlife, and its intoxicating cities known for their culture.
If you need extra finance for your US home, read up on all your financing options in our new guide, How to Pay for an America Property.
Oh, and did we mention that the average temperature on this stretch of coastline sits at around 29 °C and enjoys a whopping 360 days of sunshine! Today the USA Property Guide are taking a closer look at some of the best spots in the west and providing a glimpse into what kinds of properties you can secure for your money.
Clearwater and St Petersburg
First off we have West Florida's twin cities of St Petersburg and Clearwater. This part of the state is made up of 16 coastal communities, all as family-friendly and charming as the next. The 35 miles of uninterrupted coastline made up of St Petersburg Beach and Clearwater Beach is consistently voted as the best stretch of beach in the state. This means that days at the beach and watersports are just a wonderful part of everyday life.
The twin cities are also known for their culture. Highlights include The Dali Museum, the Museum of Fine Arts and over 70 street art murals that have popped up in the Central Arts District of St Petersburg. Tourism is the biggest industry around these parts but it's also possible to secure work in manufacturing, IT, marine sciences and financial services. Popular corners of town include Tarpon Springs, Treasure Island and Gulfport.
Bradenton/Sarasota/Venice
If a thriving cultural and arts scene is essential for you then the Bradenton-Sarasota- Venice municipality could be perfect for you, given it's a cultural spot to rival Miami. This area of West Florida is known for the Sarasota Opera, Sarasota Symphony Orchestra, numerous theatres, open-air dining and having upwards of 40 golf courses!
Could you share the cost and workload of buying in west Florida by buying with family or friends? Read how to do it in our free guide, How to Buy Abroad with Family.
The beaches around this area are some of the best in the region, including Siesta Key Beach and Anna Maria Beach. In Sarasota, popular areas include Palmer Ranch, Lakewood Ranch and Downtown. If you want your money to go further, you're advised to set your sights on Bradenton or Ellenton to areas like Forest Creek and GreyHawk Landing. This is a perfect location for those wanting to bask in art, music, culture, architecture, performing arts and of course sunshine!
Naples (The Paradise Coast)
Any place dubbed 'The Paradise Coast' is likely to grab people's attention and this area, the furthest south spot on the west coast before you hit the Everglades, more than lives up to its name. Naples is one of the wealthiest cities in the USA and has the country's second highest population of millionaires.
Any place dubbed 'The Paradise Coast' is likely to grab people's attention.
While property prices certainly reflect the status of those who call the area home, there are more affordable options to be found in Cape Coral, Fort Myers and Bonita Springs. If you love golf you'll be delighted to hear that the city was recently voted the fifth best golf destination in the US by USA Today, mainly due to the fact that you can play all year round and there are over 70 courses!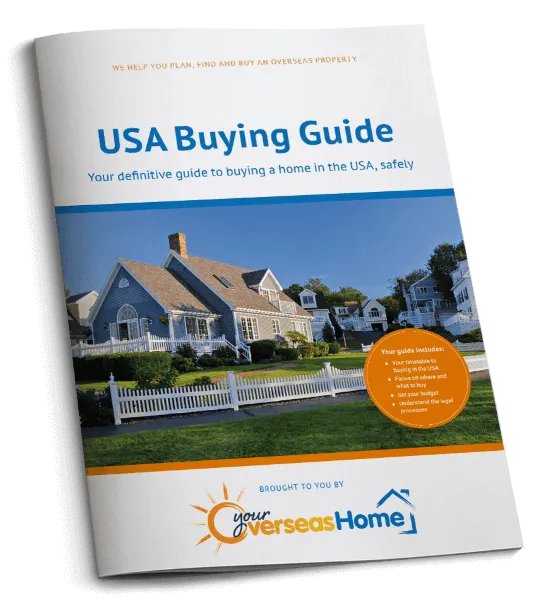 Download your free USA property guide
Our guide to buying a house in America is readily available online, but you can also a PDF version to view when you're offline or print. Simply fill in the form to the right and you'll be able to download your free copy.
Ask the right questions
Avoid the legal pitfalls
Find your property
Avoid losing money
Move in successfully
Download your free USA property guide