Today we're travelling to Miami and south-east Florida to consider what this corner of the Sunshine State has to offer residents and what types of property you can get for your money.
Miami and Florida's south-east corner is known for its beautiful beaches, wonderful culture and outdoor lifestyle. Although walloped by recent hurricanes, this is unlikely to dent the area's incredible popularity with Americans, Canadians, Colombians, Spaniards, and of course the British.
This corner of Florida has been heavily influenced by the cultures of those moving in from foreign countries, particularly Cuba, the Bahamas, Colombia, Spain and the Caribbean.
The way of life
While the north of Florida is considered similar to other US southern states such as Georgia and Alabama in terms of outlook and way of life (hence its nicknames 'Florgia' and 'Floribama') the south-east corner is known for being a multicultural melting pot, perfect for those in search of a cosmopolitan lifestyle that combines the vibe of New York's East Side, the Caribbean and Central and South America. This corner of Florida has been heavily influenced by the cultures of those moving in from foreign countries, particularly Cuba, the Bahamas, Colombia, Spain and the Caribbean. Expect delicious food, wonderful live music and some of the best art in the USA.
Climate
Of course, we can't mention this region without addressing the fact that hurricanes are a problem. The last few weeks have been a frightening time. It's important to know the facts and to understand the risks before you commit to a life here. Hurricane season "officially" runs from 1st June to 30th November. The peak time for Miami to be hit is mid-August through to the end of September. Along with New Orleans and New York City, Miami is one of the most vulnerable locations to hurricanes due to its location, which is surrounded by ocean and low-lying coastal plains. But we must stress that hurricanes are not that common.
In general the south-east has a tropical monsoon climate. This means you'll enjoy hot and humid summers and short, very warm winters. Winter (December to March) is the driest time of year, which means it's also the busiest time of year in terms of tourists. Summer falls between June and September and much of this encompasses the wet season, lasting from May to mid-October when temperatures usually sit at around 29–35 °C. The humidity you get at this time of year is often relieved by afternoon thunderstorms and a lovely sea breeze coming from the Atlantic Ocean. Thunder occurs on average 80 days per year.
Employment opportunities
The main economy in all of Florida is tourism, so a lot of the available jobs revolve around this – hospitality and leisure activities for example. Construction is also a massive industry as a lot of people moving here are doing so to retire, and therefore either wish to build their dream homes or expand the ones they have. There are also employment opportunities available within banking, financial planning, farming, commercial fishing, and light manufacturing – many businesses are moving their headquarters to Florida due to the competitive tax rates.
Of course you will need a visa, so do check out our comprehensive guide to US visas.
Best locations
Miami
There's no doubt that Miami is an exciting place to be. Multicultural neighbourhoods, cutting edge art, excellent restaurants and museums, beautiful properties – life on the water in the sunshine is an incredibly desirable prospect. You'll find hints of the city's various ethnic influences in Little Haiti (the furniture, antiques and art district), Little San Juan (where you'll find many galleries and museums). In Little Havana, you'll find excellent coffee and hand rolled cigars. The city itself, set against the stunning backdrop of Biscayne Bay, is modern, attractive, but not especially affordable unless you're willing to move a little inland.
This beautiful and deceptively large property is located along the tree-lined streets of the popular area of Coconut Grove. The main property has two-bedrooms with en-suite bathrooms and walk-in closets. There is a handy annex complete with double bedroom and en suite bathroom, which is just perfect for when family or friends come to stay. $595,000 (£441,000)
Fort Lauderdale
If you're looking for a slice of luxury, look no further than the boardwalks and beaches of Fort Lauderdale – known for its upmarket resorts, yachts and exquisite properties. Water sports are incredibly popular in this part of southeast Florida – you'll be able to enjoy an eclectic range, from fishing and water skiing to scuba diving and free diving. The town even has its own Venetian-like canal system weaving through its streets where you can hail a gondola to take you to your morning coffee date!
This spacious two-storey, two-bedroom townhouse is in a prime location just three blocks north of the centre of Fort Lauderdale. The spacious property has been recently updated inside and out. The current den could be easily renovated to create a third bedroom. $498,000 (£369,000)
Key West
Walk in the footsteps of Ernest Hemingway and Harry S Truman down in the colourful streets of Key West. This archipelago of islands located off the coast of Miami has a distinctly Caribbean vibe, and that's no surprise given that Havana is just 100 miles to the south. This is a popular tourist area – particularly with cruise ships – but property remains affordable. Nearby, Dry Tortugas National Park is a particular highlight and is a great spot for snorkelling and diving in crystal clear Caribbean waters.
From the outside, this stylish condo could be mistaken for being Cuban. Inside the property has been expertly renovated, with no expense spared. Exposed brick, stainless steel appliances, hard wood floors, sizeable closets – there's even a pool. The outdoor terrace is a beautiful space for entertaining and relaxing in the shade. The property is wonderfully located in Old Town Key West close to all the attractions. $614,000 (£455,400)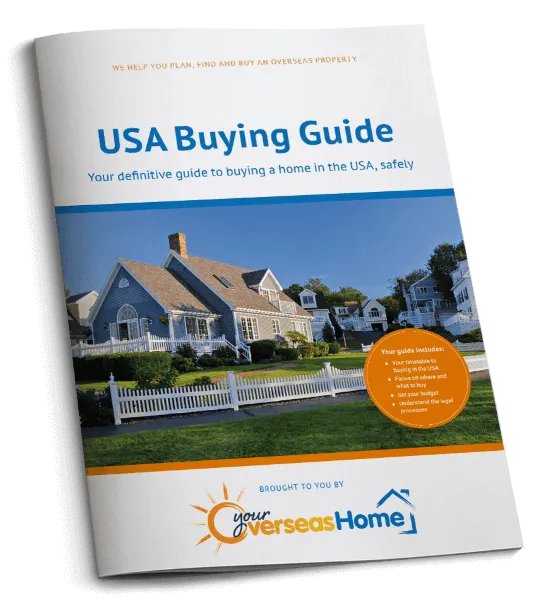 Download your free USA property guide
Our guide to buying a house in America is readily available online, but you can also a PDF version to view when you're offline or print. Simply fill in the form to the right and you'll be able to download your free copy.
Ask the right questions
Avoid the legal pitfalls
Find your property
Avoid losing money
Move in successfully
Download your free USA property guide