Why and where to buy in the Central Algarve
If you picture the international homeowning lifestyle in Portugal, you're probably thinking of the central Algarve. It's a land of bling, spas, golf, Michelin-starred restaurants and super-expensive villas. But the "Golden Triangle" of Vilamoura, Quinta do Lago and Vale do Lobo is a long, long way from being the whole story. There are also fishing villages, enticing inland communities, old towns and modern, but affordable, resorts. 
Slap-bang in the middle of the Algarve is where many of us begin our property search in Portugal, and where many of us end it too. It has everything from stunning beaches to the most sensational golf courses. It has beautiful countryside, including Cliff Richard's vineyard, and enough evening entertainment to keep you busy all year.
And this really is a year-round option. You can forget frost, and the sun shines for about 3,000 hours per year: twice as much as in the UK. But while property is getting more expensive, according to the Property Guides' Cost of Sunshine Index, the Algarve offers the most sunshine for the lowest property prices of all the major hotspots in western Europe. Check out these highlights.
If you would love to buy in the central Algarve but don't quite have enough funds, download your Portugal Finance Guide. It's packed with ideas for raising money, including mortgages, equity release and sharing the cost with family
Albufeira
Albufeira has long been a favourite with holidaymakers and property buyers. It is one of the most popular destinations in Portugal, offering plenty to see and do: a lively mix of restaurants, bars, nightclubs and beaches. However, it started life quite differently; it was first a walled Roman town and a traditional fishing village until the 1960s. In the 1980s, the area boomed, growing significantly and developing into more of a city.
It's in two halves, an old town and a seaside strip. The strip (including Montechoro and Areias de São João) is a hugely popular seaside resort, that's as loud and lively as anything in Spain or Greece. The old town is also busy in summer but retains more of a traditional Portuguese charm, with good quality Portuguese restaurants and quirky bars.
The old town is also busy in summer but retains its traditional Portuguese charm, with good quality restaurants and quirky bars.
The beaches in Albufeira are beautiful, but the most popular can be busy in high season. It's worth doing your research to find some of the quieter spots to get away from it all. The old town hosts festivals, concerts and firework displays throughout the summer. There's also a huge party on New Year's Eve that attracts people from all over the country. One famous property owner is Bonnie Tyler, who has lived here since 1988.
You can read much more about Albufeira here and see some Albufeira properties here with apartments from €100,000. This is real holiday apartment territory, but there are villas too, from around €300,000.
Armação de Pêra
Around the next headline or two from Albufeira is Armação de Pêra. It's another popular destination – both for holidaymakers and for those seeking Central Algarve property.
Armação de Pêra's great claim to fame is a stunning length of golden, sandy beach. And unlike so many resorts, there isn't a smelly, noisy dual carriageway between the resort and the beach, but golden cliffs with coves, caves and lots of other nooks and crannies to explore. No wonder it's popular with families.
Armação de Pêra's great claim to fame is a stunning length of golden, sandy beach.
The town is also known for its annual sand sculpture festival (held away from the beach). This is on a breathtaking scale and well worth a visit. Armação de Pêra is also close to a number of attractions, including Albufeira and the local town, Pêra, for shopping. Also nearby is the medieval walled town of Silves – for a history and culture fix, and the Zoomarine Park in Guia.
As you leave the beach area – although still well within walking distance – you'll find plenty of affordable apartment blocks, with homes starting at between €125,000 and €250,000. Beyond these, the land behind Armação de Pêra is still quite rural, with attractive villas barely more than 15 minutes walk from the beach for €500,000.
Guia
Guia is a small town, a little inland and popular with celebrity homeowners. These include Cliff Richard, who bought his vineyard, Quinta do Moinho, here in 1994. He writes lovingly about "looking out across my sun-baked Algarve vineyard, past the white houses of Albufeira to the Atlantic beyond."
Cliff could walk to Albufeira from Guia in little over an hour. The atmosphere is quaint, relaxed and authentically Portuguese. There's a small "old town" with traditional bars and restaurants offering typically Portuguese fare. In contrast, there's also a large, modern shopping mall on the outskirts of the town. Additionally, you'll find an abundance of DIY stores and garden centres along this stretch of road.
If you've also had 14 number one singles and have a budget like Cliff's, there are some sensational multi-million-euro villas around Guia, in a range of exciting modern designs. For more modest budgets, Guia has a good range of smaller developments with communal pools from little over €100,000. Although they're a little out in the country they're perfect for a summer holiday, and you can bring the young ones or impress your living doll.
The closest Blue Flag beach to Guia is around a ten-minute drive away, at Galé. This west-facing beach offers watersports and a small selection of bars and restaurants. For more peace and quiet, try nearby Armação de Pêra, or for nightlife and more hustle and bustle, head to Albufeira. Both of these resorts are only around 15 minutes away by car.
Carvoeiro
You'll reach Carvoeiro just before the Central Algarve becomes the Western Algarve. Carvoeiro is a small resort that has graced a million tourist brochures due to its lovely location around a small beach with brightly-coloured fishing boats. So while the town gets very busy with tourists in summer, it retains a little of the fishing village from days gone by. And it's not the only beach. Just walk along the coast to find a picturesque series of small coves, with a beautiful network of caves within the cliffs.
Carvoeiro is a small resort that has graced a million tourist brochures due to its lovely location around a small beach with brightly-coloured fishing boats
The centre of town is essentially based around just a few cobbled streets with pretty white-washed buildings, bars and restaurants. There are apartments within the centre of the town and as you climb the roads that lead off from these you'll find quiet lanes with spacious plots and delightful villas. All are within walking distance of the beach.
When looking for property you'll often see Carvoeiro listed with Lagoa (not to be confused with Lagos, further west). Lagoa is around five kilometres further inland, a hill town with beautiful buildings around narrow cobbled streets. It has a delightful pedestrianised centre with good quality restaurants and little shops.
Property in Lagoa e Carvoeiro starts at around €150,000 for an apartment and €400,000 for a family villa.
Quinta do Lago
When you hear a name like Quinta do Lago, and know that it sits at the apex of the Algarve's "Golden Triangle", you might assume you'll never be able to afford a home here. Especially when it's just 20 minutes by car from Faro airport and in an area of outstanding natural beauty. But there are more affordable homes, with a good range of apartments at under €300,000. Many will have access to pools, because the beach is a couple of miles away.
Quinta do Lago is at the start of the Ria Formosa Natural Park, an area of lakes, lagoons, wetlands and barrier islands that stretches along the Atlantic Ocean towards the Spanish border. The resort itself is gorgeous: surrounded by pine trees, hills, rare plant and animal life, and ample greenery. In addition, you'll find over two miles of sandy, Blue Flag beaches and an impressive network of sand dunes.
Quinta do Lago is an exclusive golfing location, with four courses
It's an exclusive golfing location, with four golf courses. And Portugal is proud of its golf, an important part of its culture since the 1970s, when the first Portuguese Open was held. This region also provides plenty of opportunities to participate in other sports and leisure activities. These include tennis, horseriding, watersports and fishing.
The exclusive nature of Quinta do Lago has seen it become home to celebrities. It is one of the most expensive places to buy Central Algarve property. Townhouses cost from around €300,000 and detached villas with gardens from €650,000.
Vale do Lobo
Vale do Lobo, also approximately 20 minutes away from Faro, is made up of some of the most exclusive residences in the Algarve. Here you will find luxury villas, an impressive beach and a world-renowned golf resort.
There are plenty of restaurants and bars, offering a wide variety of food and drink. There are also lots of leisure activities on offer. For those who prefer relaxation and pampering to a few rounds on the golf course, there is the Royal Spa, offering a wide variety of spa treatments and therapies. The resort is particularly well taken care of and everything is clean and tidy.
Convinced? If you're ready to buy in Portugal, contact the Property Guides Resource Team to plan your next move. We can introduce you to a trusted estate agent or lawyer. Call us on 020 7898 0549 or email

[email protected]

.
Vilamoura
Vilamoura has a reputation as one of the top resorts in Europe and is a top choice for those seeking Central Algarve property. Vilamoura spans a variety of terrains and scenery, including pine filled woodland, complete with a series of picturesque trails for hiking and biking.
The focal point for Vilamoura is the striking marina, where you can while away the hours admiring the luxury yachts. You may well spot some celebrities in one of the many bars or restaurants within the complex.
Again, there are plenty of outdoor sports and leisure activities to enjoy in Vilamoura. Tennis, horseriding and watersports abound. There is also a casino and the inevitable world-famous golf courses!
For culture vultures, there is an archaeological site and museum. You can chart the region's rich history, including its Roman and Moorish influences, over the centuries.
So for such a desirable area, a holiday apartment would be well out of your price range, presumably? Well, maybe not. Vilamoura property prices start at around €130,000 for a one-bedroom flat, and double that for a villa. You can, of course, pay ten times that amount if you like!
Quarteira
Quarteria is almost equidistant between Faro and Albufeira. It's also just next door to the popular resort of Vilamoura. It's a potentially more economical place to look for Central Algarve property.
Like many locations in Portugal, Quarteira was originally a Roman settlement, and then a sleepy fishing village. However, it has grown considerably since the Portugal tourism boom of the 1960s. Quarteira is popular with regular visitors and holiday home owners, including those from elsewhere in Portugal. The long stretch of sandy beach and its pretty, palm decorated walkway, have enduring appeal.
Quarteria is very close to Vilamoura and has easy access to the famous golf courses of the region.
Another resort with something for everyone, Quarteria is very close to Vilamoura and has easy access to the famous golf courses of the region. There's also a large selection of seafront bars and restaurants. These serve a wide range of local delights, particularly fresh fish and shellfish. For shopping, there is a very popular market held every Wednesday. This proves a considerable draw for visitors from across the Algarve.
There are plenty of options when it comes to central Algarve property. Click here for lots more information on buying in Portugal.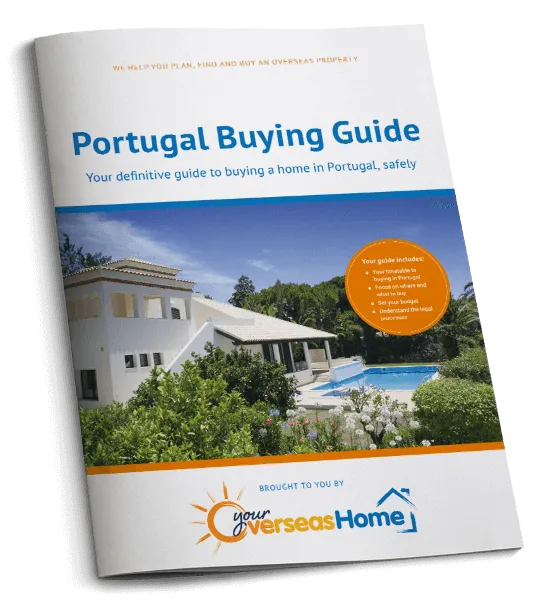 The Portugal Buying Guide is designed to support you through each stage of buying property in Portugal, providing relevant, up-to-date information and tips from Portugal property experts and expats who have been through the process themselves. It helps you to:
✔

  Ask the right questions
✔

  Avoid the legal pitfalls
Download your free guide to buying abroad