Albufeira is the heart of Portugal's Algarve in more ways than one. Right in the centre of the region, the town has long been one of Portugal's best-known tourist hotspots. Buying property in Albuferia puts you in a thriving location with plenty of amenities. It also gives you great rental potential for your home.
Overseas visitors have been flocking to Albufeira since the 1960s. Many people head straight there from Faro airport. Once there, they spend days exploring the sparkling cove beaches, and nights enjoying the area's thriving restaurant and bar scene. It's important to note that there's far more to Albuferia than the town's frenetic, neon-lit "strip." The old town provides a more authentic and laid-back experience. The colourful up-scale marina reveals yet another side to Albufeira's varied personality.
Find out how to finance your move to Albufeira in the free 

Currency Guide to Emigration,

 with advice from industry experts.
Albufeira is an undeniably busy place in the summer. The population can swell from 40,000 to 300,000 in the peak months. However, there are always areas where you can find pockets of calm, and plenty of room to lay out your beach towel.
When it comes to buying property in Albufeira, there's plenty of choice. There are traditional homes in the old town, apartments near the strip (that will always be in tourist demand), and plenty of modern, new developments with pools and sports facilities.
Insider Tips
Albufeira thrives in the summer. Thanks to the Algarve's wonderful climate, it's a long season. This is great news if you're looking for business opportunities or seasonal jobs.
Although the area does have a distinct peak season, it's far from "shut" during the cooler months. With over 300 days of sunshine each year, Albufeira's varied beaches are always an attraction. There are plenty of permanent residents, off-season tourists, and people from colder climes enjoying extended winter stays.
Albufeira is quite a sprawling area, so a little insider knowledge is handy for making the most of it. Here are a few ideas:
Diverse beaches
Albufeira has two main old town beaches: the Praia dos Pescadores (Fishermen's Beach) and the Praia do Túnel (so named because it's accessed via a short tunnel from the town centre).
However, the Albuferia area's coastline stretches way beyond these beaches, in both directions. There are "party beaches," backed by resort hotels. The main one is Praia da Oura. Then there are more sophisticated and quiet options, such as Praia de Santa Eulália and Praia da Falésia.
When moving abroad, healthcare can be a concern – so read our free Guide to Healthcare to find out about accessing medical care overseas.
While none of these beaches could claim to be undiscovered, making a careful choice of which to visit at which time of year pays huge dividends. Off-season, it's easy to find a vast swathe of sand all to yourself. Temperatures can still hover around 20 degrees Celsius in the middle of "winter!"
Food and drink
Albuferia's restaurant scene is a big deal. There are 800 different establishments listed on TripAdvisor. There's plenty of international cuisine if you manage to get bored of the Portuguese favourites, with Indian restaurants particularly well represented.
For Portuguese food, A Ruina is a must-try, if only for a one-off treat. It's located in an historic building right on the fisherman's beach. The prices are above average and the place inevitably attracts tourists. However, the setting is dreamy, and it would be a shame to miss out on the ritual of choosing from the sparkling fresh fish at the downstairs counter.
Another choice that's popular with overseas residents is Happy House. It's a large oriental buffet restaurant with low prices and consistently good reviews. You'll find it a short hop away from the town centre, near Santa Eulalia. Make sure you try the sushi!
Finally, at the budget end of the market is Albufeira Gourmet Churrasqueira, a straightforward barbecue restaurant specialising in piri piri chicken and ribs. This is a great choice for a rustic feast. It also offers takeaway.
Practical amenities
Approximately 10 km from Albufeira is the town of Guia. While the tourist guides would describe it as the home of piri piri chicken, for local residents it's more the home of the area's practical amenities.
There's a huge mall here called Algarve Shopping, plus several other "strip mall" style developments. There's also a series of garden centres and DIY stores. Unsurprisingly, this is a popular weekend destination for lots of overseas residents. There's also a large Iceland Overseas supermarket here, for all those things from home that people simply cannot do without!
The property market
Portugal's property market has been through a period of considerable growth in recent years. However, things are a little more stable and calm at the time of writing. This is no bad thing if you're thinking about buying property in Albufeira. It should mean you will have time for a good look around at plenty of options.
Getting there
Albufeira is just a 40 kilometre drive from Faro Airport, which has year-round flights to most major UK airports. The drive takes around 40 minutes on the Algarve's good roads. Unfortunately, there is no train service to central Albufeira, the railway station is several kilometres out of town.
If you're buying soon in Portugal, but you still have questions, don't hesitate to contact our free Resource Centre. Simply call us on +44(0)20 7898 0549 or email

[email protected]
One-bedroom apartments in the Albufeira area start at about €115,000, with two bedrooms costing from around €150,000. Townhouses are from €275,000, and villas from pools from €400,000. In recent years, many luxurious developments have sprung up, so there are plenty of upscale options if you're fortunate enough to have the budget.
With its year-round facilities and huge summer tourist market, property in Albufeira offers that dream escape for British retirees. You can have shelter from the British winter for six months, then rent your home out for profit all summer.
Example Properties
In the Old Town:
Do you prefer the idea of being in the heart of the old town to living in a condominium development? If so, this two-bedroom apartment has a lot to offer. It's less than 200 metres from the beach, and there's an enormous terrace if you'd rather soak up the rays on your own turf. The fixtures and fittings are super-modern, and the location gives it fabulous rental potential. On offer at €280,000.
State of the art:
These brand new four-bed villas in Brejos are nearer the "new" town. However, they are far enough away to avoid the hectic "strip." They come with high-tech amenities such as a centralised vacuum system and solar heating. They have small, manageable gardens, with plenty of space for a private plunge pool. There are also basement garages and laundry areas.  For sale at €430,000.
An interesting project:
If you're interested in an inspiring but manageable project, this five-bed villa offers a huge amount of property for the money. Decorated in a traditional style, it's completely ready-to-go. However, it would also serve as an inspiring blank canvas for anyone wishing to modernise it. There's a sizeable pool, and lots of terraces and outside space. On the market at €460,000.
Getting to Albufeira
It takes just 40 minutes to get to Albufeira from Faro airport, and there are plenty of year-round flights from all over the UK. Albufeira is just minutes from the A22 motorway, so very easy to reach by car.
Albuferia does have a train station, with 40 minute connections to Faro. However the station is several kilometres from the town centre. As such, exactly how useful it is depends on where you want to get to in the area.
If you're planning on buying property in Albufeira and you need more information on life in Portugal, check out this article.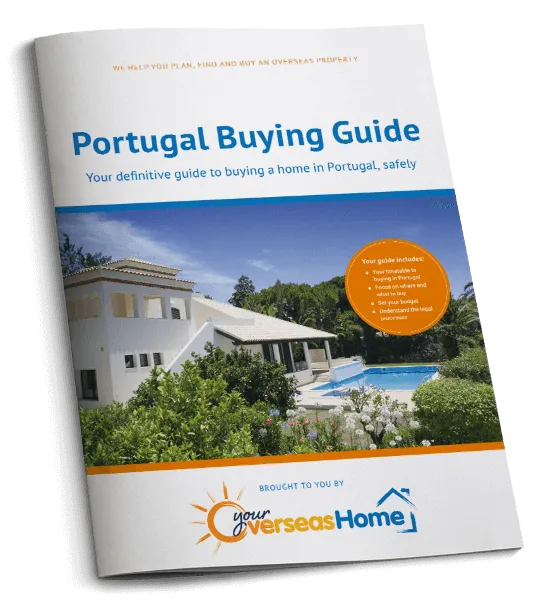 The Portugal Buying Guide is designed to support you through each stage of buying property in Portugal, providing relevant, up-to-date information and tips from Portugal property experts and expats who have been through the process themselves. It helps you to:
✔

  Ask the right questions
✔

  Avoid the legal pitfalls
Download your free guide to buying abroad