How much do everyday items cost in Portugal
Portugal is one of the cheapest countries in Europe to live, and every year, Portugal Property Guide pulls together a survey comparing the average cost of life in Portugal to live in the UK.
It's so important to spend some time considering the cost of living in Portugal before you make your move.
You will soon find that Portugal has one of the lowest costs of living in Europe, although this will always depend on where you spend it. It's quite possible to find yourself spending between 80 cents and €3.50 for the same bottle of beer – depending on whether you are ordering it at a small locals' snack bar or glitzy beach front restaurant. The same goes for food shopping; fresh produce is least expensive at the many markets and often actually better quality there – we would always recommend buying fresh produce and seasonal fruit and vegetables at a market instead of a supermarket, where costs can be variable.
You will soon find that Portugal has one of the lowest costs of living in Europe.
As is the case in many small countries, many products are imported, which results in some interesting price disparities. Cosmetics, for example, are often more expensive than they are in Spain, because they're imported from there. In addition, anyone who insists on having lots of UK products on hand will pay a heavy price, as these imported products don't come cheap. Many people actually use shipping services to bring these items over in bulk from UK supermarkets.
The costs provided here for items in Portugal are, however, good averages, and the grocery item prices are taken from the Continente supermarket, which can be found all over the country. With a bit of careful shopping, life in Portugal can be very inexpensive indeed. We used the exchange rate on 18th May 2016, GBP/EUR: 1.28.
| | | | |
| --- | --- | --- | --- |
| Grocery basket in average supermarket | Cost in Portugal* | Cost in UK** | Comparison |
| Loaf of bread | £1.01 | £0.89 | Portugal is 13% more expensive |
| 12 medium eggs | £1.48 | £1.75 | Portugal is 15% cheaper |
| 2 pints of milk | £0.51 | £1.00 | Portugal is 49% cheaper |
| 1kg of apples | £1.01 | £2.00 | Portugal is 50% cheaper |
| 1kg bananas | £0.73 | £0.68 | Portugal is 7% more expensive |
| 500g tomatoes | £0.66 | £0.69 | Portugal is 4% cheaper |
| 500g chicken | £2.34 | £3.50 | Portugal is 33% cheaper |
| 500g beef | £3.13 | £4.00 | Portugal is 22% cheaper |
| 500g fresh fish | £4.30 | £6.75 | Portugal is 36% cheaper |
| 1kg potatoes | £0.43 | £0.80 | Portugal is 46% cheaper |
| 500g pasta | £0.58 | £0.59 | Portugal is 2% cheaper |
| 500 g standard cornflakes | £1.16 | £0.99 | Portugal is 17% more expensive |
| 40g bar of chocolate | £0.77 | £0.60 | Portugal is 28& more expensive |
| 200g Instant coffee (Nescafe) | £4.91 | £2.80 | Portugal is 75% more expensive |
| 20 teabags (Tetley cha preto) | £1.01 | £0.75 | Portugal is 35% more expensive |
| Bottle of red wine | £1.56 | £6.50 | Portugal is 76% cheaper |
| Domestic beer | £0.39 | £1.13 | Portugal is 65% cheaper |
| 1.75l Coca-Cola | £1.29 | £1.84 | Portugal is 30% cheaper |
| 500ml washing up liquid | £0.53 | £0.50 | Portugal is 10% cheaper |
| 100ml of toothpaste | £1.55 | £1.50 | Portugal is 3% more expensive |
| 40 wash laundry detergent | £3.90 | £9.00 | Portugal is 57% cheaper |
| 12 x 400g dog food | £6.94 | £4.75 | Portugal is 46% cheaper |
| | | | |
| Home costs — comparing a two bedroom apartment*** | | **** | |
| Electricity***** | £78.13 | £540 (yearly, so £45 monthly)† | Portugal is 74% more expensive***** |
| Internet 30 per month | £23.44 | £20.77 | Portugal is 13% more expensive |
| Mobile phone tariff 30 per month average | £23.44 | £439 (yearly, so £36.59 monthly) | Portugal is 36% cheaper |
| Council tax (and other housing costs, such as septic tank cost) IMI property tax | £156 (yearly) | £1200.61 (yearly)†† | Portugal is 87% cheaper |
| Pool maintenance (if appropriate) | £39.06 | N/A! | N/A |
| | | | |
| Transport | | | |
| 1 litre petrol | £1.14 | £1.09 | Portugal is 5% more expensive |
| 1 litre diesel | £0.93 | £1.09 | Portugal is 15% cheaper |
| One way train ticket in large town | £1.09 | £2.30 | Portugal is 53% cheaper |
| Monthly train pass in large town | £27.34 | £60.00 | Portugal is 54% cheaper |
| Taxi starting tariff | £1.56 | £3.00 | Portugal is 48% cheaper |
| Taxi Km/mile tariff in large town | £0.74 | £1.40 | Portugal is 47% cheaper |
| Car tax for the average five door hatchback | £97.66 | £130††† | Portugal is 25% cheaper |
| | | | |
| Social | | | |
| Three course set meal for two | £18.75 | £50.00 | Portugal is 63% cheaper |
| Glass of white wine | £1.17 | £4.50 | Portugal is 74% cheaper |
| Bottle of beer | £0.98 | £3.50 | Portugal is 72% cheaper |
| Cup of coffee | £0.63 | £2.51 | Portugal is 75% cheaper |
| Cinema ticket | £3.91 | £9.00 | Portugal is 57% cheaper |
| Gym membership (monthly) | £23.44 | £33.56 | Portugal is 30% cheaper |
| | | | |
| Insurance | | | |
| | £195 | £100 | Portugal is 95% more expensive |
| Car (fro the average five door hatchback) | £312.50 | £400 | Portugal is 22% cheaper |
Property (for property outlined above)
*Portugal grocery prices from continente.pt , other costs from personal expat experience
** prices from Tesco.com, 18th May 2016
*** Housing costs are very subjective depending on usage etc.
****All UK housing, transport and social costs from www.numbeo.com unless otherwise stated.
***** Please note: electricity costs include TV licence
† https://www.gov.uk/government/statistical-data-sets/annual-domestic-energy-price-statistics
††https://www.havering.gov.uk/Pages/Services/Council-Tax-charges.aspx
††† www.dvla.gov.uk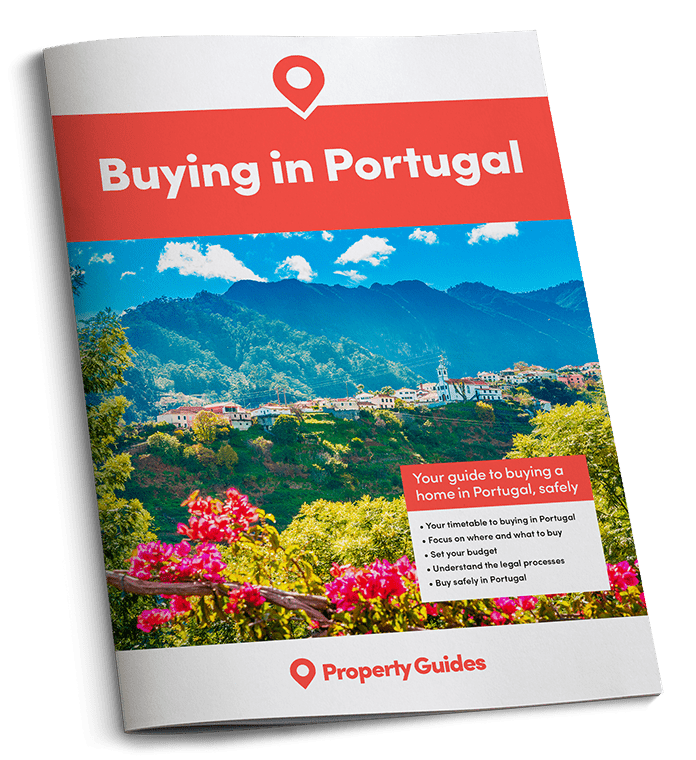 The Portugal Buying Guide is designed to support you through each stage of buying property in Portugal, providing relevant, up-to-date information and tips from Portugal property experts and expats who have been through the process themselves. It helps you to:
✔

  Ask the right questions
✔

  Avoid the legal pitfalls
Download your free guide to buying abroad