Finance matters when buying property in Portugal
Portugal Property Guide can guide you through every aspect of your finances for your move to Portugal. Through our extensive network of partners, we can put you in touch with the right people to help you with currency exchange, as well as independent financial advisors who can help you with any tax issues. We can also offer guidance around the financial pitfalls that you will need to avoid.
Before you can even begin making plans, you need to know exactly how you are going to pay for your property. There are a number of options you can choose from; through your own savings, the sale of your UK property, or through other loan options – most commonly a mortgage.
You will soon discover that it's not just the cost of the property you need to consider when budgeting for your purchase. The money that you can afford to spend will also need to cover the other costs associated with your purchase, such as fees and taxes; you will also need to consider the impact of exchange rate fluctuations on the money you actually have to begin with.
You will need to make sure that you are aware of all necessary tax formalities that will affect both any time spent in your home country and in Portugal. You will need to consider how your Portuguese property purchase or a permanent move to Portugal will affect your worldwide estate – particularly your entitlement to your pension and any other assets.
As with any major purchase, inheritance is something that needs to be considered when buying property in Portugal. Recent legislation means that you can choose whether you follow the inheritance laws of Portugal or your home country – making it a good idea to assess your options as soon as possible to see which would suit you best.
When moving to Portugal permanently, you may wish to consider moving your pension overseas as well. There are several overseas schemes available, and you may find that moving your funds into one of these could afford you greater control over your pension and reduce your tax bill.
Natural disasters, accidents or thefts are a risk wherever you are in the world, making it prudent to ensure that you, your property and your possessions are all adequately protected from your arrival in Portugal. You will usually find that property insurance is a mandatory condition of your mortgage agreement, making it doubly important.
Many people don't realise just how much of an effect the constantly fluctuating exchange rates will have on the price of your property purchase and any associated costs in Portugal. Using a currency specialist to convert your sterling into euros and send it into the country, you could save thousands of pounds – after all the currency market is live and fluctuating all the time, meaning that even when you think you know how many euros you are spending on your new property in Portugal, its price in sterling or any other currency is constantly changing.
You can also save money on the exchange of any regular payments you need to maintain your life in Portugal after your purchase. This can ensure you protected from the risk of currency fluctuations affecting mortgage payments, bills, pension transfers, or property service fees, for example.
Smart Currency Exchange's free guide, Three essential steps to buying property abroad, can help you through any stage in you Portuguese property purchase. Like the team here at Portugal Property Guides, Smart Currency Exchange recommends investing in the following three steps for a successful property purchase: a trustworthy estate agent, an independent solicitor and a currency exchange specialist.
Portugal is traditionally one of the most popular European countries with British pensioners. With this in mind, it's important to consider the best way to transfer your pension into Portugal to fund your lifestyle there, as well as how and where you would pay tax on this money.
Once you are a home owner in Portugal, whether this is your new permanent home, second home or an investment property, there are further taxes and costs you will need to consider. There will be different rules in place depending on how long you are in the country and what your property is to be used for, which is why it's incredibly important to speak to a qualified advisor who can ensure you are on the right side of your legal liabilities in Portugal.
Many buyers from abroad choose to generate income through buying property in Portugal and renting this out to tourists and holidaymakers. As Portugal can be a fairly bureaucratic country, it's important to make sure you are knowledgeable about the numerous legal and logistical steps that need to be taken before you can actually place your property on the market.
Before you make the move, you will need to spend some time thinking about the cost of living there compared with what may be used to in the UK. Luckily, Portugal has one of the lowest costs of living in Europe – but it's still important to make sure you keep to a budget and live within your means.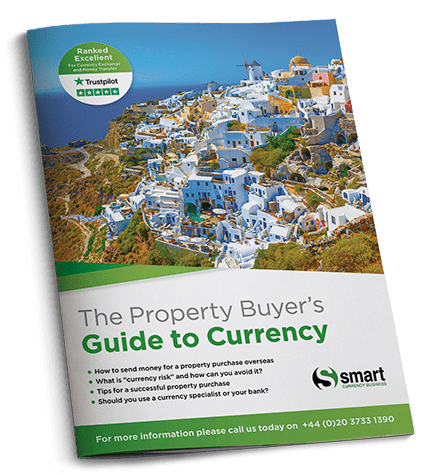 The Property Buyer's Guide to Currency will help you:
✔

  Understand the currency markets
✔

  Protect your property budget
✔

  Use a Currency Specialist
✔

  Learn from other overseas property buyers
Download the Property Buyer's Guide to Currency