Property Purchase Costs in Portugal: All you Need to Know
Property purchase costs in Portugal mean that the price you see advertised for a property will not be the final price you need to pay. As is the case anywhere you purchase a home, there are a number of other costs that you need to allow for. These include property taxes and legal fees. In addition, you also need to consider the ongoing effects of currency market fluctuations. These can have a significant effect on the amount you need to pay in Pounds Sterling.
The first thing to work out is exactly how much you can afford to spend on a new home in Portugal. Also, you need to know where the money is going to come from! Then, by making yourself aware of the typical property purchase costs in Portugal, you can determine exactly what the money needs to cover. You need to ensure you have enough funds available to cover all the additional costs, on top of the purchase price. It's also best to have a contingency for anything that could pop up unexpectedly.
If you have £270,000 available to purchase property, you should be looking at homes for less than £250,000.
How much do you need to cover property purchase costs in Portugal?
We recommend allowing yourself at least 8% on top of the purchase price for your property. 10% is advisable to ensure you have a comfortable contingency fund. As an example, this means that if you have £270,000 available to purchase property, you should be looking at homes for less than £250,000.
Here are some of the additional costs you need to allow for:
Transfer Tax (IMT: Imposto Municipal sobre a Transmissão Onerosa de Imóveis)
The most significant of all the property purchase costs in Portugal is the IMT. This is a property transfer tax and levied based on a number of factors. These include the price of your property, whether it's rural or urban, and whether it will be your primary residence.
The standard rates of IMT tax in Portugal are 5% of the property value for rural dwellings and 6.5% for urban properties. However, there is a sliding scale in place that can mean you may pay nothing at all for a low-cost property if it's your main home. Alternatively you could find yourself paying up to 8% on high-value properties.
When planning your finances in Portugal, you should also allow for ongoing taxes such as IMI. This is the equivalent to council tax in the UK.
Stamp Duty (Imposto do Selo)
The amount for this varies by property type and value, and is usually between 0.4 and 0.8%.
Notary and land registry fees
It's essential to use a notary to legally validate a property purchase in Portugal. Typically you can expect to pay a notary between €800 and €1000. To be on the safe side, allow around 1.5 to 2% of the total property price for notary and land registry paperwork.
Independent solicitor fees
These will generally be between 1-3% of the purchase price, depending on a number of factors.
Currency transfer costs
You need to ensure that you are not spending more than necessary when you transfer your funds from the UK to Portugal. You can do this by making sure you get the best exchange rate on every transfer. The best way to do this is by using a currency exchange specialist, such as our partners Smart Currency Exchange. They offer favourable exchange rates and do not charge fees on transfers of more than £3,000.
Smart Currency Exchange give you access to your own personal account manager, who will be able to work closely with you on your transfers. This ensures you make the most of your transfers, and protects you from ongoing volatility and fluctuation in the currency markets.
Living costs
You will also need to consider the cost of maintaining your life in Portugal after your move. There are numerous costs that you will need to allow for on a monthly or yearly basis. These include local property and council taxes, community fees, utilities, insurance, maintenance costs, and council tax (IMI).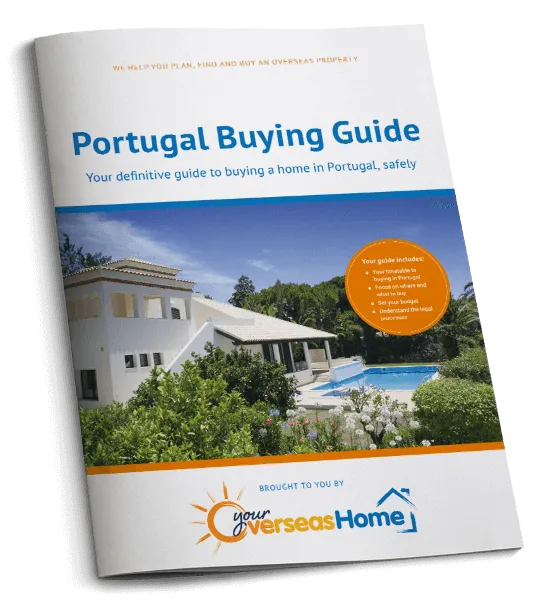 The Portugal Buying Guide is designed to support you through each stage of buying property in Portugal, providing relevant, up-to-date information and tips from Portugal property experts and expats who have been through the process themselves. It helps you to:
✔

  Ask the right questions
✔

  Avoid the legal pitfalls
Download your free guide to buying abroad