What types of property in France could you buy?
France is full of different types of property that mirror the diversity of its regions. Traditionally, British property buyers who are relocating to France love buying homes that require a little 'TLC'. There are still plenty of these renovation opportunities available across the country. However, if you're looking for a turnkey property, you can still find a good number of ready-to-move-in villas. Here, we look at the different types of property in France. 
Country-wide types of property in France
Although there's lots of regional variation, you'll find a few terms are in common use across the country. These are handy to know as you begin your search.
Traditionally British property buyers relocating here love buying homes that require a little 'TLC', and there are many of these still available across the country.
Domaine
A domaine is a large plot of land or property, and can be loosely translated as an estate in English – it originally came about as the 'domain' or 'demense' of a lord in feudal times. Often the land will be there for a specific reason, e.g. a vineyard, golf, hunting etc.
Fermette
In contrast to a domaine, a fermette is a small farm. They're usually found in the countryside or on the outskirts of a village. Generally stone-built, fermettes will consist of a farmhouse and outbuildings. Moreover, they will normally have some land attached. You could consider them as analogous to a smallholding in the UK.
Gîte
You would be more likely to develop a gîte rather than live there yourself, as this has evolved into a catch-all term for small holiday accommodation (cottages, converted barns, farms and so on). Usually, they are found in rural areas.
Longère
The longère is another kind of rural property, similar to longhouses in southwest England. Normally rectangular in shape, a longère is usually built with materials from the region and often just a one-storey dwelling, with perhaps an attic.
Maison de maître
Meaning "master's house", a maison de maître is found in a town, a village or sometimes a rural area. It could be translated as a property 'of standing' in English. In fact, you might even see the anglicism 'maison de standing' used on some property sites. Square, practical layouts dominate, with an imposing front door, double fronted, high ceilings, a grand staircase and at least two rooms at either side.
Pavillon
A pavillon will usually be a more modern detached house, with a cellar and garage on the ground floor. This is the most common type of property in most areas of France. You will equally find that bungalows in the North of France for the most part are also called pavillons.
The pavillon, a detached family home, is among the most common types of property in France.
Villa d'architecte
This is an 'architect-designed' modern property. They will generally have been built in the last 50 years or so, varying in design from one-storey houses to more extensive properties. The style will generally resemble that of older properties of the region. For example, there are several villas in the Languedoc-Roussillon of this type with the typical "languedocienne" roof of curved slates in earthy colours.
Regional types of property in France
France is blessed with a huge amount of regional diversity, from the Mediterranean regions in the south to Alsace with its Germanic influences and Brittany with its Celtic past. It's not surprise therefore that there are a number of idiosyncratic styles of architecture that have developed in individual regions, especially in rural areas in the southwest and central regions.
Bastide
The name bastide is used equally for a certain type of village and for property. They go back to the 13th and 14th centuries, and these were an early form of town planning – often with the marketplace as the central square and small roads radiating out from it. Bastide villages still around today can be found in the Aquitaine and Midi-Pyrenees regions. However, when it comes to property, a bastide is a style of stone-built house, sometimes with timber in between (colombages). You can find them both town and countryside locations, too.
Download our free France Buying Guide here for more tips on the property buying process.
Charentaise
This is a style of house unique to the Charente region. On the whole, it is markedly similar to the bastide style of property, and will generally have square shaped rooms and gently sloping roofs.
Mas
A mas (pronounced 'mah') is a largish property, again in the countryside. Provence is famous for them, as well as the wider southern area of France. The layout normally has a southern orientation, as protection against Provence's famous mistral wind. Additionally, the north front usually has few windows. This is in order that the building retains heat in the winter and stays cool in the summer
Maison à colombages
These are analogous to 'Tudor houses', or wattle-and-daub construction, in the UK. The style is generally found towards the north and east of France. Alsace is a particular centre for these types of property in France, with many impressive examples to be found in the capital Strasbourg. As well as the east, you can sometimes find them in Normandy.
Questions to ask yourself
When thinking about types of property in France, we would recommend first making some notes about what you want and need in a property. Here are a number of questions for you to ask yourself to help you choose:
Size and style
What type of property do you see yourself living in? A modern apartment, villa, village or town house, character home, or a farmhouse with outbuildings?
Any size requirements? How many bedrooms and bathrooms?
Would you prefer to live in an old house or something new? If old, are you happy to manage a serious renovation? Or perhaps a redecoration is more in line with your plans?
Extra requirements
Do you need a terrace? Off-road parking? A garden or a swimming pool? Maybe you are looking for some land with fruit trees?
Are you looking for a property that you can open as a gîte or a B&B business?
Should the property have views?
Is there anything else needed to fulfil your property requirements?
How can you ensure that you will find the right property from a good, trustworthy agent?
Look through our our property portal to see what types of property in France fit your budget and needs. Having worked in the field for over a decade, we can also easily put you in touch with a reputable and qualified estate agent.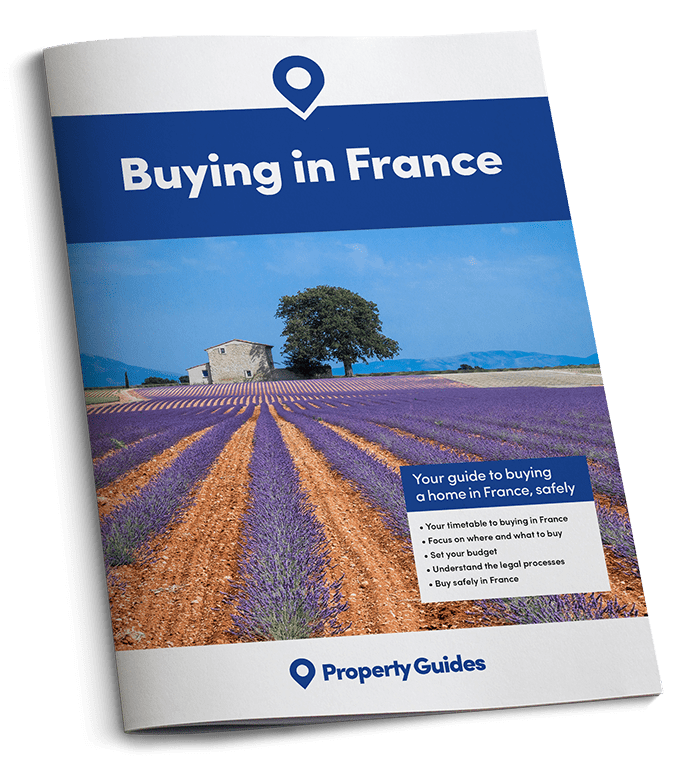 The France Buying Guide walks you step-by-step through each stage of the property buying process in France. Additionally, there are also practical recommendations from our experts who have been through the process themselves. The guide will help you to:
✔

  Ask the right questions
✔

  Avoid the legal pitfalls
Download your free guide to buying in France