How to make the most of your Viewing Trip in Portugal
In order to get a true feeling of your preferred part of Portugal, many buyers choose to make a leisurely visit to get to know the area, without feeling under pressure to buy somewhere.
Your viewing trip gives you the time to explore, speak to the locals, visit the shops and check out attractions. It's a good idea to spend time actually experiencing what it's like to live in the prospective town – rent a property in the area rather than book into a hotel. Having to go out and get groceries will allow you to navigate the area and give you an idea of the accessibility of shops and amenities, as well as the cost of everyday items.
When planning your viewing trip, make sure you are giving yourself enough time to fit everything in.
When planning your viewing trip, make sure you are giving yourself enough time to fit everything in – and anything that crops up unexpectedly. Don't feel like you have to rush, as you want to feel happy and be able to take it at a leisurely pace, while you enjoy your potential new area.
The timing of your trip is very important; look up public holidays – after all, the last thing you want to do is get to Portugal and find that nothing is open! It's also a good idea to make sure you are visiting Portugal in the winter so that you can assess what the region is like in the off season. This also might make it more convenient to view properties as agents may not be as busy.
Your estate agent will be the most important element of this trip, and finding one before you actually set off over to Portugal is essential. They will be able to find properties that meet your needs in advance, and be able to answer all your questions and concerns. Make sure you take photos and make notes on every single property you see so that you can remember all the details later – and it's also a good idea to rate every aspect of the property and its location so you can compare each one fully.
The main thing to remember when you are taking a viewing trip is that there are no rules. It's not unknown for prospective buyers to first take a very leisurely trip to an area, exploring and making notes on different villages visited, but not actually viewing a property. On your return home, you can reflect on what you have seen and fine tune your criteria for a second trip dedicated to just viewing properties.
Find this information helpful? Share with your friends[social_share_buttons]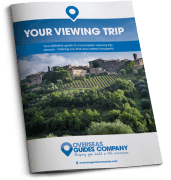 The Viewing Trip Guide is designed to support you through the process of a successful property viewing trip, with tips and information on the most important steps to take. The guide will help you to:
✔

  Find out what makes a successful viewing trip
✔

  Get the right legal advice before and after your trip
✔

  Choose the right estate agent to meet your needs
✔

  Understand the important financial considerations
Download your free guide to viewing trips