How to make the most of your viewing trip to Portugal
Going on a property viewing trip to Portugal is the perfect way to get a sense of the true feel of your preferred area of the country. Many prospective buyers enjoy making a leisurely visit to Portugal – with no pressure to buy anything. Once you're there, you can truly get to know the place that may become a huge part of your future life.
A viewing trip to Portugal gives you time to explore, speak to the locals, visit the shops and check out the local attractions. It's a great idea to spend time actually experiencing what it's like to live in your chosen region.
Establishing your requirements
Before you embark on a viewing trip to Portugal, it's wise to have a firm idea of your requirements. You don't want to waste time on dead ends, so advance preparation is key.
Where do you want to buy your property?
If you've spent a considerable amount of time in Portugal before, you may already have a good idea of where you want to concentrate your search. Even if that's not the case, it's best to concentrate your viewing trip to Portugal on one area at a time. Knowing where you want to focus on will also help you to give a firm brief to your chosen estate agent.
What kind of property do you require?
Do you want a central townhouse, a sprawling rustic country home, or a resort property steps from the beach? You can read about the different types of Portuguese property here. While there's no harm in leaving your options open to an extent, this is the kind of decision you can reflect on from a distance. This will help you to really focus your search and make the most of your viewing trip to Portugal.
How much do you have to spend?
It's easy to get carried away during your exciting trip abroad, but there's no point in falling in love with a home you cannot afford. Decide your budget before you leave, remembering to leave a substantial surplus. You'll need around 10% to cover purchase fees. Furthermore, you will probably need to budget for furnishings, moving costs, and any renovations you feel are required.
Arranging the right support
Having the right people around you will make a huge difference to the success of your viewing trip to Portugal. It's worth giving some thought to the following people:
A trusted estate agent
The right estate agent will save you time, help you uncover available properties you didn't know were out there, and hopefully make everything as stress-free as possible. You'll find information on finding the right agent here.
Before you go on your viewing trip, you'll need to have your finances arranged. Otherwise, any delay in going home to sort them out after you've found your dream home could result in someone else putting in an offer. Find out your options for financing a property purchase abroad in your Portugal How to Pay for It Guide.
Remember that your estate agent will be key to the success of your trip. Therefore, finding one before you actually set off to Portugal is essential. They will be able to find properties that meet your needs in advance. It also great to have them there to answer all your questions and concerns.
A solicitor
When you're buying your home in Portugal, you'll want to be sure that your solicitor is working exclusively for you. While going with an estate agent's recommendation may seem straightforward, you can end up with a solicitor with conflicting interests. Information on finding a good English-speaking lawyer is available here.
A currency exchange specialist
With exchange rates fluctuating all the time, transferring money to Portugal at the right time, and the right rate, can make an enormous difference to the real-life cost of your property, and any other fees you need to hand over. A trusted currency exchange specialist can help you to navigate these tricky waters, and ensure you get the best value from your currency transfers.
Practicalities of your viewing trip to Portugal
When planning your viewing trip, do make sure you are giving yourself enough time to fit everything in. Then, add on a little extra time to cover anything that crops up unexpectedly. You won't want to feel like you have to rush. It's important to be able to take everything at a leisurely pace while you enjoy your possible new home!
When planning your viewing trip to Portugal, do make sure you are giving yourself enough time to fit everything in.
Timing your viewing trip
The timing of your trip is extremely important. Firstly, look up public holidays. Many of them differ from those in the UK, and the last thing you want to do is get to Portugal and find that nothing is open. Next, it's a very good idea to visit Portugal at least once in the depths of winter so that you can assess what the region is like in the off-season. This can also make it more convenient to view properties. Agents may not be as busy then, and are also less likely to be on holiday themselves.
Types of viewing trip
Not all viewing trips to Portugal are the same. You have the choice of:
Arranging a viewing trip by yourself.
Arranging a trip with an agent.
Arranging a trip with a specific property developer.
There are obvious differences between these types of trip. A self-organised trip will give you more freedom, but perhaps less structure. A trip with a specific developer will probably involve some "hard sell," especially if the developer is paying towards it! In many ways, a trip involving a trusted estate agent is a good compromise.
Things to remember
If you're organising your trip yourself, it makes good sense to rent a property in the area rather than booking into a hotel. Having to go out and get groceries allows you to navigate the area and give you an idea of the accessibility of shops and amenities. In addition, you'll learn the cost of everyday items.
Similarly, it's worth remembering that journeys to and from the airport (at both ends), and other such practicalities are things that could soon become part of your life. Therefore, it's worth paying attention to these things, and making note of costs and timings.
It's a good idea to take photos (or videos) and make notes on every single property you see so that you can remember all the details later. Also, it's wise to rate every aspect of each property and its location, so you can compare them all fully once you're back home.
The main thing to remember when you are taking a viewing trip to Portugal is that there are no rules! It's quite common for prospective buyers to first take a very leisurely trip to an area. On this trip, you can explore and make notes on different towns and villages visited, but without actually viewing any properties. Then, on your return home, you can reflect on what you saw and fine-tune your criteria for a second trip – one primarily dedicated to viewing potential homes.
Find this information helpful? Share with your friends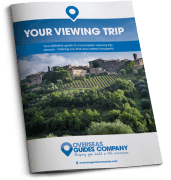 The Viewing Trip Guide is designed to support you through the process of a successful property viewing trip, with tips and information on the most important steps to take. The guide will help you to:
✔

  Find out what makes a successful viewing trip
✔

  Get the right legal advice before and after your trip
✔

  Choose the right estate agent to meet your needs
✔

  Understand the important financial considerations
Download your free guide to viewing trips