Why and where to buy in the Western Algarve
If you were to conjure up a postcard image of Portugal, the chances are that it would involve one of the stunning cove beaches in the Western Algarve.
Traditionally, the Western Algarve has been known for its slower pace and more old-school Portuguese lifestyle than the central area closer to Faro Airport. However since the new A22 road now means that the 95-kilometre drive to Praia da Luz takes barely more an hour, it has opened up to more tourists and holiday home buyers too. That has certainly pushed the prices up. But what you get for that is year-round warmth (tempered by breezes) and a lovely mix of a green hinterland and fun resorts. 
The fishing village vibe is still alive and well here, but backed up by superb new infrastructure, resorts and amenities. Could you bear to spend all winter here?!
The Atlantic coastline features heavily in the West. Its unspoiled beaches and cool breezes are beloved by surfers and those who like their southern European hotspots a little wilder than the Mediterranean.
Beginning at Praia da Luz, the large stretch of the Natural Park that stretches to Cape St Vincent and then north feels very different to central Algarve resorts like Vilamoura. Yet being so easy to reach you can enjoy the best of both worlds. This is a sparsely-populated area of sparkling wild beaches and small villages, and it has lots to offer.
However, most of the time, people discussing the West Algarve mean the western end of the south-facing Algarve coast. This is an area that spreads from just past Albufeira to the surfer's paradise of Sagres.
The scenery
The West Algarve is a breathtakingly beautiful part of the world. The main towns and resorts sit between the mountains and the sea, and the beaches are hugely varied. However, the ones that create the best postcard images are the secluded, rocky coves of places like Praia de Marinha and Praia de Dona Ana. The latter is one of many beaches in the vibrant city of Lagos.
Your Western Algarve property could just as easily be a country villa as a beachfront apartment. Inland, the air is thick with the scent of orange blossom
This is undoubtedly a region where sun, sea and sand are the main attractions. However, there's plenty more to the area. Your West Algarve property could just as easily be a country villa as a beachfront apartment. Inland in this region, the air is thick with the scent of orange blossom and there are still plenty of families living a traditional Portuguese lifestyle.
Amenities
Thanks to its popularity with tourists, the West Algarve is packed with amenities and attractions. There's no shortage of golf courses, watersports facilities, marinas and health spas. For those who fancy something a little crazier or have children to entertain, there's the huge "Slide and Splash" waterpark or the more laid-back Lagos Zoo.
When it comes to drinking and dining, the options are endless. The resort towns deliver plenty of international cuisine as well as Portuguese favourites. Meanwhile, those who'd rather relax among the locals can choose village bars and restaurants. Alternatively, there's central Portimão, which is largely ignored by tourists on their way to the huge resort of Praia de Rocha.
The West Algarve gets a big tick for practicality too. There are numerous shopping centres in the region, including the huge "Aqua" mall in Portimão. For even more shopping options, it's only a short drive to the Algarve's new designer outlet mall and the IKEA store in Loulé.
Transport
If you buy a West Algarve property, your route there will inevitably involve Faro airport. The airport is very well organised after significant upgrades. By car, the trip along the A22 (toll) motorway from the airport takes between 40 and 70 minutes, depending on where in the West Algarve you're headed.
The A22 runs all the way to Lagos. Beyond that, places such as Praia de Luz, Burgau and Sagres involve trips along smaller roads.
The Algarve's train line also terminates in Lagos, so there's a public transport option for many towns in the West Algarve. Buses and coaches from Faro are an option too. It is, however, worth noting that these forms of transport can take quite a while to make the journey along this coastline. Furthermore, these journeys sometimes prove stiflingly hot in the peak of summer.
Connections to Lisbon are good. You have the option of driving along the A22 and joining the A2 toll road. Alternatively, you can use the train line and connect with a high-speed Alfa Pendular train service. Either way, you can be in Portugal's capital in a few stress-free hours.
Where to buy your West Algarve property
In this section, we look at some of the key towns and resorts along this desirable area of Portugal, starting nearest the airport and heading west. It's important to note that there are plenty of smaller towns and villages along the way.
One of the wonderful things about the West Algarve is that the region accommodates all types of lifestyle. If you want to be in a busy resort, you can be. But if you'd rather be hidden away in a detached villa or a sprawling, rustic country pile, that's possible too.
Silves
We begin inland in Silves, a historic fortified town built on the banks of a river, and home to a stunning castle. Silves has a population of around 11,000. While there are international residents in the area, the feel of the town is distinctly Portuguese. Life here is about simple pleasures, such as walks around the cobbled streets and long, lingering lunches at pavement cafés. It is, however, worth knowing that once a year, one of Portugal's largest medieval fairs brings thousands of people to the town!
Good quality apartments in the town cost from €120,000. Townhouses start at around €200,000. Villas in the surrounding area with plenty of privacy start from around €400,000.
Carvoeiro
Carvoeiro is a popular hotspot for expats, and has been for generations. While the town beach is small, this is the jumping-off point for many of the regions most stunning coves, including Praia de Marinha. 
Simple apartments start at around €150,000. Villas nearby start at around €450,000, and the sky's the limit for luxury homes in this area.
Portimão / Praia de Rocha
Where the central Algarve becomes the western, Portimão is a bustling, vibrant town. It's been a popular tourist hotspot since the 1970s and is now a firm favourite with both homebuyers and holidaymakers. Indeed it is the Algarve's second biggest town, with a population of nearly 60,000 (and far more in summer).
It has a cosmopolitan feel and an endless variety of activities on offer, pretty much throughout the year. The town has a theatre, museum and plays host to numerous concerts including classical and jazz.
The marina and waterside provides a lively hub for restaurants and bars, and is a reminder of the town's heritage in the sardine trade. You can enjoy some fresh sardines on the waterfront, or even participate in the town's annual sardine festival, held in August.
Sport plays an important role in Portimão, too, with Formula 1 teams training here and numerous motorsport events at the Motor Park, including superbikes. Watersports are again popular here.
Portimão is a place with two distinct halves. The city itself is an administrative centre and not really on the main Algarve tourist trail. However, visitors do venture into the town for its shopping centres and specialist fish restaurants.
You can still move to Portugal now that the UK has left the EU! Find out how in our Guide to Living in Portugal After Brexit.
The main draw, for many, is the thriving resort of Praia de Rocha. Backing miles of vast, sparkling beach, this is a place that's part-brash and part-upscale, especially at the eastern end, which is technically the marina of Portimão. This area is home to luxury hotels and beach clubs.
Portimão city centre is somewhere where it's still possible to find a good apartment for €100,000 and a townhouse for €200,000. These prices increase significantly nearer the beach and marina.
Lagos
Lagos has a rich history based around its wonderful position within a huge bay, the setting off point for explorers for over 2,000 years. Lagos is  especially associated with the likes of Henry the Navigator during the Age of Discovery in the 15th and 16th centuries, and it has ancient ruins and castles to explore.
Indeed it has something to offer all tastes, with stunning beaches, restaurants and bars galore, the sleek marina and the bohemian old town. Thanks to its serious surfing and boating credentials, the city attracts visitors from all over the globe. It's the one place in the Algarve where it's normal to see backpackers from the US and Australia. In the marina area, complete with hotels, shopping centres, bars and restaurants, they rub shoulders with owners of luxury yachts
You can now drive here in an hour from the airport or take a train in less than two hours.
Check out our property listings for the Lagos area. There's a good choice of property starting at around €150,000, but for the swishest two-bedroom apartments you'll need double that. For those with a big budget, there are plenty of glitzy villas in the surrounding areas, starting at around €500,000.
Praia da Luz
Just six kilometres from Lagos lies Praia da Luz. This former fishing village has grown in popularity with visitors, especially the British. All the picture box traits are there: whitewashed houses, cobbled streets and historical architecture in the Roman ruins and what's left of a 17th century fortress.
Praia da Luz has an unspoiled, Blue Flag beach, with a walkway along the length of the shore, also popular for watersports and rockpooling. A family friendly resort, although there is plenty of choice of bars and restaurants. No surprise it has become so popular with both second homers and permanent expatriates. There are three major golf courses within miles of the town, all of which are hugely popular with residents and visitors.
You'll need to pay from around €200,000 for an apartment and from €350,000 to €1,000,000 (and well beyond, of course) for a villa.
Burgau
Burgau is a great example of the kind of uninterrupted village life you can enjoy in the West Algarve. Located just west of Praia da Luz and Lagos, the village centres around a sheltered and sparkling cove beach (complete with a well regarded restaurant). Other than a few other restaurants, bars and shops, there's little else here to disturb your peace. However, all the facilities of nearby towns are only a short hop away.
Transport links aren't quite so straightforward once you get to Burgau. It's beyond the train line and the end of the A22 toll road. As such, a car is essential and you'll need to allow a little more time for airport runs, but this pays off in terms of atmosphere and solitude.
Sea-view apartments are available in Burgau from around €170,000. Townhouses begin at around €290,000.
Sagres
No roundup of West Algarve property would be complete without a mention of Sagres. Located right next to Cape St Vincent, the "southwestern extremity of Europe". Understandably popular in the summer, although small, the resort has a number of restaurants and bars. The cuisine on offer is likely to be eclectic, with some trendy spots frequented by the uber-cool surfer and bohemian crowds.
Surrounded by sea and beaches, expect memorable, picture perfect scenes as the sun sets. It also lends its name to Portugal's most popular beer.
Sagres is a little out of the way in transportation terms, but a drive to Faro airport only takes around 90 minutes. If you like the idea of living somewhere with a unique atmosphere and a sense of history, it's well worth a look.
Villas and townhouses are popular options in Sagres, and typically start at around €400,000.
Aljezur
In the North-Western Algarve, Aljezur lies among rolling hills and is an area of unspoiled, natural beauty. An agricultural town situated within the national park, Aljezur borders the river and lies on fertile land, home to a wide variety of nature. The area also has hints of its history remaining, with 10th Century Moorish castle ruins in the old town centre and the traditional whitewashed buildings and cobbled streets you expect from traditional Portugal.
Surrounded by a stunning 25-mile coastline and breathtaking countryside, the area offers nature walks, mountain biking and horseriding in the hills, where you can take in the views and observe the abundant wildlife, both inland and at sea. The rich variety of local produce in the region is an important part of the local culture, with a wealth of seafood on offer from local fishermen and a Sweet Potato festival, celebrating the large local Sweet Potato harvest, held every October.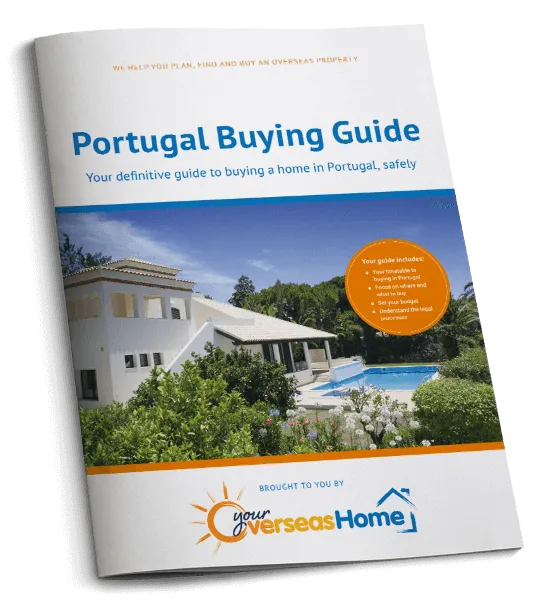 The Portugal Buying Guide is designed to support you through each stage of buying property in Portugal, providing relevant, up-to-date information and tips from Portugal property experts and expats who have been through the process themselves. It helps you to:
✔

  Ask the right questions
✔

  Avoid the legal pitfalls
Download your free guide to buying abroad