Ever thought of purchasing property in Normandy? From its history to its cuisine, here is why Normandy might be the place for you. 
Normandy is made up of 5 departments: Calvados, Manche, Orne, Seine-Maritime and Eure and as well as mainland France, interestingly it comprises of the Channel Islands which are now a British Crown Dependency. The Queen held the title of "Duke of Normandy" and King Charles inherits this same title, all thanks to William the Conqueror!
It is our nearest neighbour, really just a hop, skip and a jump from the UK. There is so much to enjoy in this beautiful ancient region, as popular with the French as it is with the British.
Its proximity is not the only thing which makes it attractive to British buyers. Normandy is a region blessed with a fascinating history, stunning towns and coastal villages, meandering rivers, quaint harbours, unspoilt countryside, sandy beaches and excellent cuisine.
Here are 7 compelling reasons why Normandy could be just the place for you to find your French holiday home:
Its gorgeous villages and towns
You don't have to travel very far to find some enchanting towns and villages across the region. The delightful coastal towns of Honfleur, Deauville, Trouville, Etretat, Cabourg are a must see for those who love the sea. Beuvron en Auge is listed amongst "The most beautiful villages in France". It is a fabulous medieval village with charming half-timbered buildings and medieval town centre. The island of Mont Saint Michel is a UNESCO World Heritage site. The capital, Rouen, is a picturesque town with quaint cobbled streets and pretty timber houses as well as the imposing cathedral.
Additionally, there are numerous small villages which are well worth exploring either on a road trip or by bike. Veules-les-Roses lies on the bank of France's smallest river, the Veules, and consists of pretty chalets with thatched roofs close to the beach. Pont-L'Eveque in the Auge department is beautiful and is home to the well-known cheese which takes its name. The tiny ancient village of le Bec-Hellouin in the Eure is incredibly pretty with its streets full of flowers and timber and stone properties.
The beautiful landscape
The rich and tranquil landscape of Normandy inspired impressionist artists to the region. There are several sites across the region which have been painted, the most famous perhaps being Giverny where Claude Monet painted his Water Lilies. The countryside is ideal for hikers and cyclists to explore the rolling hills, pretty little farms, chateaux and of course the rugged coastline.
Its history
The history of Normandy stretches right back to the Roman era, on through to the Battle of Hastings, commemorated in the Bayeux Tapestry, the massive work of art. More recently of course the terrible events of the Second World War are remembered in various sites, museums and cemeteries.
Its beaches
There are several beautiful beaches in Normandy. Deauville and Trouville, right next door, are 2 lovely coastal towns with wonderful beaches on their doorstep. Deauville has a certain cache about it with the rich and famous flocking there in Victorian times. Today, many Parisians have second homes here. Trouville is a little less glitzy but no less pretty. Cabourg has a superb long promenade lined with pretty buildings and a great beach.
Then, there are the famous Normandy D Day landing beaches: Omaha, Utah, Juno and Sword. It is impossible not to be moved by the history that these beaches represent.
Its easy access from the UK
The best way to get to Normandy from the UK is by ferry from Portsmouth, Newhaven or Poole to either Caen, Cherbourg, Dieppe, St. Malo or Le Havre. A quicker crossing is Folkestone to Calais and then it is a short drive through to Normandy. Taking your car means you can stock up on French goodies for your return. Alternatively, there is a good choice of cheap flights from various UK airports to Paris which is under 2 hours from Normandy.
Its food and wine
Normandy is well known for its gastronomy. Naturally with its long coastline, seafood is a speciality in many restaurants and oysters, as well as some cheeses and Normandy cider, are actually classified with their own AOP or designation label! Dishes such as Marmite Dieppoise – a kind of fish stew – can be seen on menus across the region. Chicken and duck are also often featured. As for cheese, Normandy is home to some of the best cheeses in France. Camembert is the best known.
Apples feature across the region! Almost everywhere you look you will see apple trees growing. Thus you will find a huge range of apple-based dishes as well as cider, pommeau (a kind of apple liqueur) and of course calvados (apple brandy) which is not only drunk as a liqueur but occasionally poured over an apple ice cream or sorbet. Benedictine also comes from Normandy and is drunk both as an aperitif and a digestif.
Its choice of properties
Normandy provides the perfect place for a weekend bolt hole and prices are reasonable in many parts of the region. Obviously, properties close to the coast are higher in price but by going just a little further inland, you can still pick up a bargain. The most expensive department is Calvados, home to the rather ritzy Deauville. Further inland you can find a decent village house for around €100,000 – even less if you are prepared to do some renovation work.
Traditional farmhouses are in abundance here. Expect to pay from €200,000 for a 3–4-bedroom farmhouse with some land.
Here are a couple of gorgeous properties to tempt you further!
Two-bedroom, Domfront, Orne, €150,000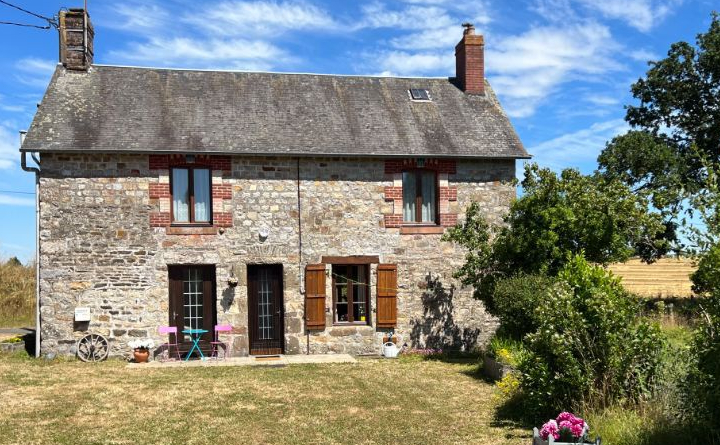 This two-bedroom farmhouse in the Orne department with outbuildings is set in over 8 acres of land! On the market for just €150,000.
Two-bedroom, Champsecret, Orne, €136,000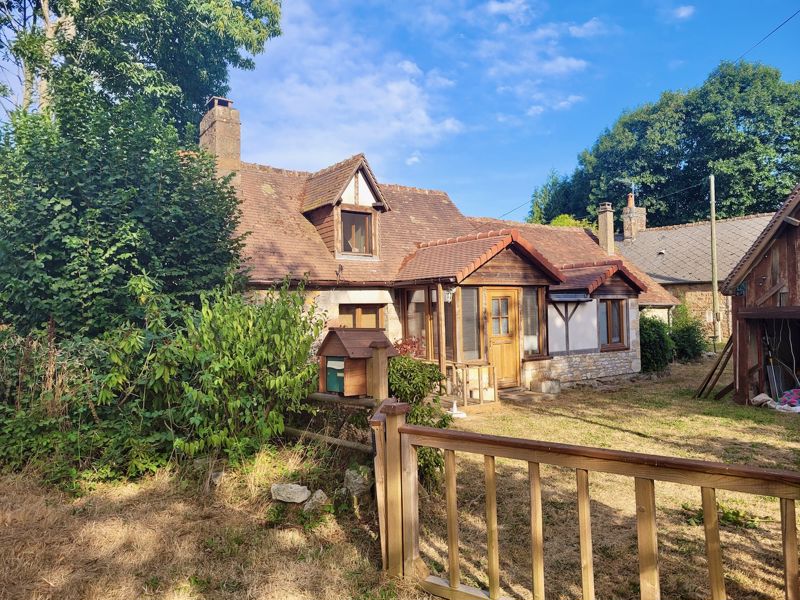 How about this delightful stone cottage also in the Orne and close to the spa town of Bagnoles de l'Orne? On the market at €136,000, it comes with a separate barn and is fully furnished.
Normandy is a delightful region with warm temperate summers and relatively mild winters. Being close enough to warrant having a weekend French bolt hole and with reasonable properties, this just may be the place for you to buy your French dream home.