Diane and Kevin Sowells knew there was more to life than daily commuting to London from their Brighton home, struggling with their mortgage and yearning for warmth and sunshine. Six years ago, they realised their long-held dream when they found their perfect home in the Minervois wine region. I spoke to them about their new life in the sun.
You've been here in beautiful southwest France for around six years now, but I know before then that it was a long-held dream to move, which finally came to fruition when you found your perfect home. Could you tell us a little about what sort of property you've bought and what it was that made you fall in love with it?
We bought an old but renovated village house in Peyriac-Minervois, in the heart of the Languedoc-Roussilon wine region in the south of France. The house lies in the heart of the village, probably dating from the late 19th century. As it had been renovated, it fortunately only needed some decoration works! It has a large garage, which was important to us, a big open-plan kitchen/living room, three bedrooms and large bathrooms. We love the sun terrace, with direct access from the living area.
Make sure to protect your money from the risks of foreign exchange transfers, which can cause you to lose thousands without forward planning. Find out about the risks and how to control them in Smart Currency Exchange's free guide, The Property Buyer's Guide to Currency.
So how did you decide on the area?
We knew we wanted somewhere with a sunny climate close to the Mediterranean, the mountains, ski-ing and Spain and also within easy reach of at least one airport serving the UK. We both had fond memories of visiting the incredible Cathar monument "Cité de Carcassonne" when we first met. We didn't know very much about the area other than that but knew it had a huge amount to offer. So it was something of a leap of faith but a leap which worked!
We did a lot of research around the area and looked at lots of different homes on the internet and from estate agents' portfolios. We eventually found ours through a locally based agent.
Did you come out on a viewing trip before buying?
Yes, we went on several and we saw many properties to get a proper idea of what we really wanted for our budget. Many houses just weren't right: either too dark, not enough outside space or not the right location. We knew we wanted to be in a village and not too isolated. When we saw the one we bought, we actually knew instantly it was 'the one', mainly due to its superb open-plan kitchen/living area, lovely south-facing sun terrace and that large garage.
Our only regret is that we did not decide to do it earlier!
It's been a few years since that first trip, now – how are you enjoying your life in France?
It's perfect! There are so many things we enjoy about life here. We love the French culture, the more laid-back lifestyle, the food, the wine, the fact that presently there is no border control and we can pop over to Spain in little more than an hour, the mainly traffic-free roads and just meeting people and generally integrating!
How long did it take you to settle in?
It probably took us six months to a year to really settle in. I (Diane) had trained as a hairdresser from a young age in the UK, but then took up teaching there. I returned to hairdressing once I moved to France, and now have my own mobile hairdressing business and am fully registered here in the tax system. Kevin set up his building business and has plenty of work amongst both French and British people here, having left his job in admin with the London Tube system. We were lucky in that a neighbour, a very pleasant French lady married to an English man, helped us with the paperwork and set us both up as 'auto-entrepreneurs'. You can do most things online here and, once you are in the system, it is relatively easy.
Kevin continued to work in the UK after we moved here for a while, basically commuting four days, but he took another leap of faith and set up his own building business here, as he has always had an extensive knowledge of building and knew there were plenty of British people in this area who prefer to employ someone from the UK. Our businesses have grown through word of mouth. If you offer a good service here, you don't really need to advertise!
What tips would you give to anyone in the same situation?
We have made sure we tried from day one to truly integrate with our neighbours. Although our French is not fluent, it is improving and we make a real effort to try and have been warmly welcomed and encouraged by everyone we meet. What you put out, you get back here! There are many village activities and it is a great and very friendly community.
Although our French is not fluent, we make a real effort to try and have been warmly welcomed and encouraged by everyone we meet
It is important to remember also that many shops close between 12:00 and 2:00pm and all shops are closed after 1:00pm on Sunday. The key is to go with the flow and wish everyone "bon appétit!" at midday as the French do! But our best tip is to embrace the way of life and get out and socialise as much as possible with the French. Oh, and keep up with the French, even if you make mistakes! We had what one might call "schoolboy" French when we moved here but made a real point of speaking to as many people as possible and also reading children's books to get to increase our vocabulary. We are by no means fluent now, but we cannot over-emphasise how important it is to keep speaking French, to listen to the response and thereby improve.
Any final thoughts? It sounds like everything's been a roaring success!
We have never looked back! We are happy to be mortgage-free in our village house here, and, although we still visit the UK regularly to see family and friends (we are only half an hour from Carcassonne Airport), we are very happy we decided to make our home in the south of France. Our only regret is that we did not decide to do it earlier!
To find out more about buying in France and starting a new life like the Sowells, don't miss your France Buying Guide below.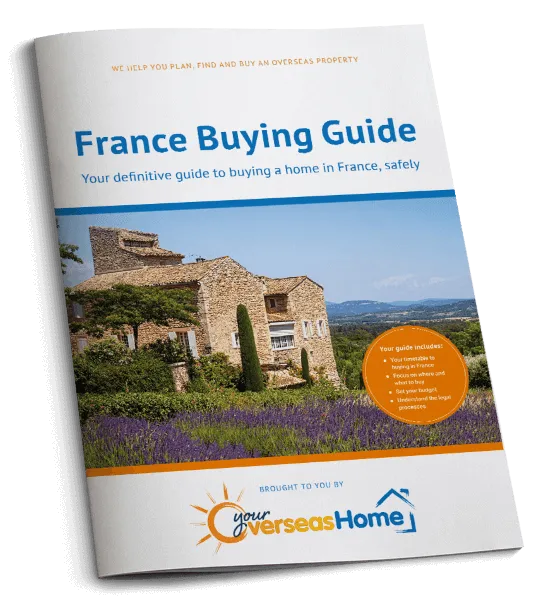 Buying a property in France is extremely exciting, but it can be nerve-wracking: in what ways is the process different to the UK, how do you cope with the language difference, what fees should you expect and just who is the notaire? That's why we've put together our France Buying Guide, to help you through the process, step by step.
Written by experts, it covers every stage of buying, from viewing to contracts and fees. Get your copy of the French Property Guide by simply filling in the form below.
✔

  Ask the right questions
✔

  Avoid the legal pitfalls
Download your free guide to buying in France