Moving can be an exciting and scary experience; moving to a new country is even more so. I found that, despite the homework I did on life in France, the best advice often comes from someone who has "been there, done that"! I feel I've learnt a huge amount over the years about how to integrate happily with the French. So, I'd love to share my own tips with you, so you're better prepared for your own new life in France. 
There will be times of great joy as you start your new life in France but also times when you may feel homesick and perhaps even like a fish out of water. Do not worry, this is all completely normal!
When I moved to France over 12 years ago, I already knew a lot about the country, had friends in Paris and had travelled fairly widely within it. However, actually living in France – or even living for part of the year here – is very different from any visit or holiday. There are so many quirks, so many little examples of how the French live and how things work which may be unfamiliar and totally different from what you are used to. You will really only get to know the differences once you have been in the country for a while.
Here are my top tips for settling into your new life in France…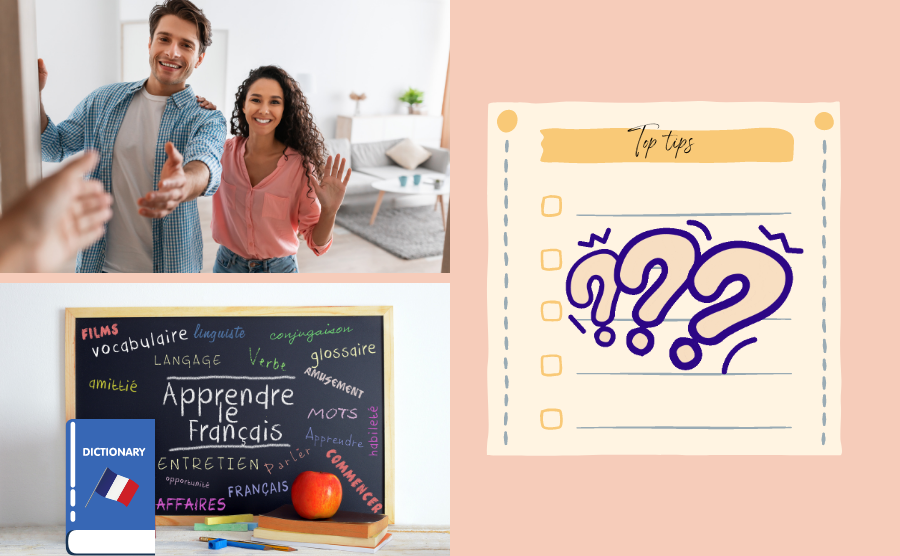 Language
Whatever your level of French, get out there and speak it! Nobody minds if you make mistakes; the key is to make the effort. If you are struggling, find someone with whom you can arrange a weekly conversation and invest in some children's books in French. They're a great way to learn new words. Don't be shy, smile, and practice your French every day. Not only will you make progress in the language, you will almost certainly make new friends too.
Introduce yourself to your "Maire"
Every town or village has a "Maire" (mayor) in France and they play an important role in the lives of their communities. Go and introduce yourself and let him know where you live, what attracted to you to the town or village and mention that you are keen to become involved in any aspects of local life. When it comes to festivities, markets, fetes, musical evenings or art exhibitions, the Maire will be the first to put the information out to the residents and this is a wonderful opportunity to introduce yourself to all aspects of village life.
Talk to everyone you meet
In the beginning, I decided to leave the unpacking and sorting in the house and made a point of going out every single day to shop, stop for a coffee, look at the local landmarks and generally get a feel for my village. This really paid off: people in general are friendly and love to give advice. Ask for directions to somewhere or recommendations for a builder/accountant etc and you will soon get talking and start to make friends.
Get a little involved in the expat community
It's always nice to compare notes with people who have had a similar experience. You are bound to find some British people around and this is important for moments when things seem a little strange or unfamiliar. I say "a little" because you really want to strike a balance between your local expat community and your French friends and neighbours. Both are important and need gently cultivating!
Embrace the differences!
When I first moved to France, most shops, including larger supermarkets closed for two hours at lunchtime and local restaurants were unwilling to serve customers after about 1:30 pm or 8:30 pm. Nowadays, there is a little more flexibility in most parts of the country but still, this is going to feel rather difficult at first. I certainly found it frustrating! The trick in dealing with the different ways in France is to accept them for what they are and turn them into a positive. I realised that it is nice to see people either go home for lunch or have a proper break from work for an hour or two every day. As for restaurants, you soon get used to being prompt and realise that you don't actually need or want to eat as late as, say, 9 pm anyway!
Invite neighbours and friends over
"Aperos" or early evening drinks are popular in France. This is a great way of getting to know more people: keep it simple, just invite as many people as you know for drinks and nibbles at your new home. Your welcoming will be much appreciated and will mean you are becoming well-integrated into your community.
Shop locally
Take full advantage of all the lovely market produce available. There will be a market every day in a village in your area and not only is this a much more healthy way to shop for food but it is a good social scene too. Make it a habit to pop into your local bakery early in the morning for your fresh baguettes and croissants. This is almost a French ritual in many villages, often followed by a coffee in your local cafe: a great way to start your day.
Overall, the French way of life is far more relaxed than the UK way of life. The French tend to linger longer and enjoy the little things, whether over a coffee and a chat or while choosing their purchases from the market! The trick to being happy in France is to join in and be guided by your new French friends and neighbours.
You might also enjoy: