What comes to your mind when you think of a picturesque lively ancient French village? Perhaps pavement cafes, timber framed buildings, cobbled streets, local art, a market, the smell of freshly baked bread emanating from the local boulangerie? What about affordable property?
Let's take a look at some beautiful villages with a buzz and find you your dream home in the process!
French village life
Village life in France is all about community. The French are justifiably proud of their villages and the local mairie works hard to make their village attractive to everyone. It is not hard to find a most beautiful French village in all parts of the country offering all sorts of activities from markets, art exhibitions, concerts, theme evenings in local restaurants, regular fetes and organised sporting activities. The key is to immerse yourself in one you like the look of, talk to the locals and join in with whatever is going on! Here are my top five villages with a buzz in the south of France!
For a smooth move to France, you need to make sure that your budget is protected to reduce risk from exchange rate flux. Find out how in our partner Smart Currency Exchange's guide, The Property Buyer's Guide to Currency.
Rocamadour
This stunning village in the Lot department is hugely popular due not only to its fabulous ancient buildings and incredibly awe-inspiring setting on a cliff edge but also due to it being a pilgrimage destination with walkers coming from far and wide on the path to Santiago de Campostela. It is only small but its numbers swell during the summer months with international visitors, such is its breathtaking beauty.
There is plenty of life here with a weekly market year round, some lovely restaurants, cafes and individual shops along its main street and for walkers and hikers, lots of fascinating lanes and hills all around as well as the Gouffre de Padirac, one of the most visited caves in France. Fancy a holiday home here? The average house price is €1,220 per square metre. It may be tough to find anywhere with decent outside space but to be in such a fabulous village with such history and plenty of places to explore on foot, this may not be such a problem!
Download your comprehensive France Buying Guide for everything you need to know about purchasing a property.
Minerve
We live around 20 minutes' drive from this fantastic ancient Cathar village situated in the Languedoc-Roussillon. It is classified as "one of the most beautiful villages of France" and is truly breathtaking. I still remember driving there for the first time some years ago and looking down in complete awe as we approached the tiny village crafted between two gorges over the River Cesse. It looked like an advert for a fancy car as we drove on down! Some of the medieval fortifications are still in place in solemn memory to the group of Cathar rebels who escaped from the city of Beziers in the early 13th century and hid themselves here only to suffer a siege headed by Simon de Montfort which resulted in many Cathars being burnt at the stake.
Today this wonderful little village attracts people from all over the world to its narrow cobbled streets. There are several lovely restaurants, the best being "Chantovent" which has a terrace sitting seemingly precariously over one of the gorges and if you fancy staying the night, has some pretty rooms right across from the restaurant at very affordable prices. You'll find several quaint little shops, including a fascinating book shop, where you can grab a cup of coffee whilst you browse and the village puts on art exhibitions in the summer.
I still remember driving there for the first time some years ago and looking down in complete awe as we approached the tiny village crafted between two gorges over the River Cesse. It looked like an advert for a fancy car as we drove on down!
There is also a very interesting museum. For energetic types, here you will find plenty of wonderful hiking trails around the cliffs and gorges as well as extensive Minervois vines. Minerve is a tiny place but houses do sometimes come on the market. Expect to pay around €860 per square metre for a property here. The village is rightly proud of its heritage and is kept beautifully.
Lagrasse
Lagrasse is again classified as "one of the most beautiful villages in France" and boasts a very rich heritage. Situated in the Aude department, it lies about halfway from both Narbonne and Carcassonne and is connected via an ancient bridge to a wonderful 8th century Benedictine medieval abbey still inhabited by monks. Lagrasse is a vibrant and very pretty village with plenty of life.
The main street is home to several super restaurants all with outside seating areas, some lovely little shops selling everything from local honey to wines, vinegars and home grown produce. There is a real "arty" feel to this village with several local artists often showing their work and regular activities going on such as musical concerts, fetes and circus events.
Property prices are a little higher here at around €1270 per square metre for a property. Most houses again are old and a mixture of renovations and houses to be renovated. This could be a good investment, however, as this is a much larger village than the first two we have looked at and is busy with activities year round.
Could you get a mortgage in France? Find out with specialist guidance from our recommended partner.
Uzerche
A little further north now and we find this lovely and less well known village perched rather imposingly on an overhang above the River Vézère in the Corrèze department of the Limousin.  Once an important stronghold during the Middle Ages, this is a beautiful village with fabulous architecture and a huge amount to discover for walkers. There is a real mix of ancient houses, châteaux and towers as well as the Château Bécharie, which served as a defence during the 15th century. Don't miss either the Abbey of St. Peter with its medieval art and 11th century crypt or the huge 12th century tower, said to have been built by the Black Prince.
Brimming with history, this village is not only beautiful but also nowadays has plenty of super restaurants and cafés to linger in as well as numerous cultural activities such as a weekly market, Christmas market, a special Uzerche festival each Tuesday during the summer months with street artists and performers and a classical music festival in August. There are also several craft fairs throughout the year. Property prices are cheaper here! The Limousin is one of the cheapest areas of France in which to buy property and the average house price comes out at around just €700 per square metre for a property. The airport at Brive la Gaillarde is nearby so this is somewhere well worth considering buying in.
Saint-Rémy-de-Provence
Back down south to the wonderful Provence now and St-Rémy-de-Provence has everything to offer in terms of culture, shopping and history. Situated in the Bouches-du-Rhône department of Provence, this is definitely one of its loveliest parts. St. Remy of course is best known for its most famous resident, Vincent Van Gogh who painted over 150 paintings of the countryside around the village. It is wonderful to amble around the village and even see the famous café where he painted as well as the wonderful fields of wheat and lavender. The village is filled with super and very picturesque restaurants and cafes and some pretty upmarket shops and boutiques.
You will also find many art galleries, chapels and beautiful old houses. Its very beauty inspired not only Van Gogh but several other artists and writers as it does to this day. The surrounding countryside and amazing golden light still inspires them all. Property-wise, this is not cheap, but there are some fabulous old houses to be found both in the village and the outskirts. Expect to pay about €4074 per square metre for the average house and about €3502 per square metre for an apartment.
If you are ready to buy in France within the next few months, call our friendly France Resource Team on 020 7898 0549 or email

[email protected]

.
Village life generally in France is a true joy with so many ancient traditions still being adhered to and as mentioned at the start, a real sense of community and care. Many villages feel like they have been stuck in a different age but this of course is part of their charm. You will doubtless discover many more villages of your own!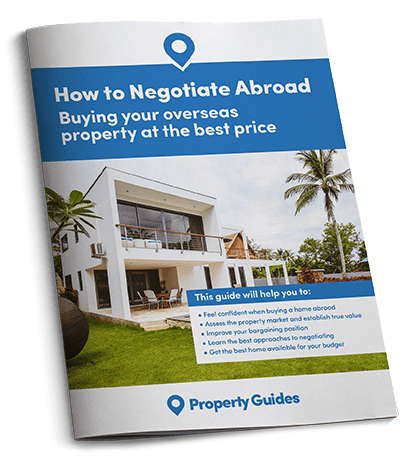 How to negotiate abroad is the guide to put you back in control:
✔

  Feel confident when buying a home abroad
✔

  Assess the local property market
✔

  Improve your bargaining position
✔

  Learn the best negotiating tactics
Download your free Negotiation Guide