Property for sale in the Haute-Vienne offers a wealth of choice at affordable prices. Whether you're looking for a relaxed or a busy fast paced town life this department offers something for everyone!
In central France sits the magical department of Haute-Vienne. One third forest with a relatively low population per square metre, it's the perfect place for those seeking a tranquil and outdoor life. Agriculture certainly plays a big part of life here, particularly when it comes to the bovine breeding of the Limousin!
With a trusted and reliable team in your corner, buying in France is easy. Let us introduce you to the estate agents, lawyer and currency specialist to help you buy safely in the Haute-Vienne.
Bordered by the Charente, Dordogne, Vienne, Indre, Creuse and Correze and in the Nouvelle-Aquitaine region of France, Haute-Vienne boasts forests, lakes and rivers, rolling countryside and châteaux and is reminiscent to some of the English countryside at its best.
In stark contrast, the capital Limoges is a large bustling city centre full of shops, restaurants, theatres and coffee houses, and is full of life. Famous for its porcelain, enamels on copper and oak barrels used for wine and Cognac production it provides plenty of employment opportunities to its inhabitants. A large university town, the city is steeped in history (the "Quartier du Chateau" and the gothic architecture of the Saint-Etienne cathedral) and peppered with beautiful botanic gardens.
Travelling from the UK
Property for sale in the Haute-Vienne attracts many British buyers due to its easy transport links with the UK. Limoges airport runs regular services to the UK, or, if you prefer to travel by road or rail, Limoges is a relatively easy drive at 680km from Calais, whilst the Eurostar from Paris provides a direct TGV link there.
Property for sale in the Haute-Vienne
Property prices in the Haute-Vienne remain below those of other popular departments
Property prices in the Haute-Vienne still remain below those of other popular departments, such as the Dordogne and Charente, with a large percentage of properties being larger houses rather than apartments due to the sprawling countryside. The style of houses in the area are typically farmhouses (normally on one level but with cowsheds or stables, outbuildings and barns) and Limousin cottages (generally two-storey houses with courtyards and outbuildings). The area provides the opportunity to really grab a bargain, be that a "doer upper" or a more established "ready to go" property.
Popular towns and villages in the Haute-Vienne
Bellac
The pretty market town of Bellac is a typical French picture postcard vista. Its beautiful bridge crosses the glistening water of the Vincou River and the town is overlooked by Notre-dame church (it's oldest relic) around which are nestled many of the towns' houses. It is proud to host the annual festival dedicated to jazz and theatre (in July) and was the birthplace of the writer Jean Giraudoux in 1882, whose home is now a museum. It's a favourite for expats searching for property for sale in the Haute Vienne due to being relatively small and peaceful, but providing all the amenities one could need including shops, a theatre and a cinema and being a popular destination for tourists.
Average property price: €690/m2
Forewarned with average prices, be ready to negotiate over the price of your property with your free guide, How to Negotiate Abroad.
Dournazac
Home to the famous Château de Montbrun, an important "monument historique" protected by the French Ministry of Culture, Dournazac is a small but perfectly formed village. Hosting the brilliantly infamous Chestnut fayre (which takes place annually on the last Sunday of October), for many the charm of this village is only increased by its proximity to the larger towns of Chalus and Limoges as well as the easy access to the Dordogne.
Average property price: €930/m2
Oradour-sur-Glane
Yes, that Oradour-sur-Glane. The original village was destroyed and most of its inhabitants murdered by the Nazis on 10 June 1944. But the village has been completely rebuilt alongside the original site of Oradour, which remains a permanent memorial to the atrocities of the past. It stands exactly as it was left, providing a telling visual for those who come to pay their respects.
The new village is within beautiful surroundings of green landscapes, lakes and forests, providing an ambiance of rest and relaxation and a place to truly be at one with nature.
Average property price: €1,160/m2
Saint-Yrieix-la-Perche
Known as one of the "most beautiful detours in France", and significant in being the first place that kaolin (white clay) was discovered in France, Saint-Yrieix is renowned for its porcelain production. Dotted with lakes and popular fishing lakes and not far from Limoges, it offers a beautiful combination of culture and life and is popular with ex-pats looking for life balance.
Average property price: €840/m2
Rochechouart
The picturesque walled town of Rochechouart is overlooked by the community-owned Chateau containing both a museum dedicated to the meteorite crater that created the location within which the town sits as well as a modern art museum. It is the mix of both the old and new that this town provides which draws both property hunters and tourists alike.
Average property price: €1,060/m2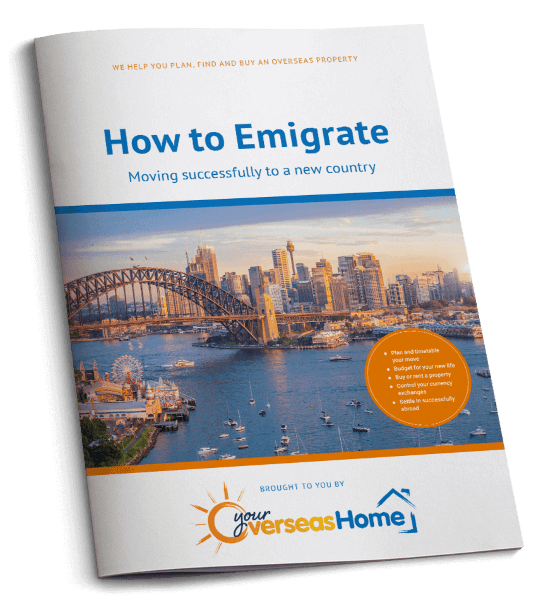 The Emigration Guide has been put together by overseas property experts and expats who understand the process of emigrating inside out, having emigrated themselves or helped others to do so. The guide will help you to:
✔

  Ask the right questions
✔

  Avoid the legal pitfalls
Download your Emigration Guide