The Rhône-Alpes is one of the most stunning and prosperous areas of France not only for its winter sports but for its thriving cities, spectacular mountains, rivers and countryside, excellent climate and sound investment opportunities. There are some simply wonderful properties for sale here too!
Region overview and property market
The Rhône-Alpes in the south east of France consists of 8 departments: Rhône, Isère, Ain, Drôme, Haute-Savoie, Loire, Savoie and Ardèche, with the major city being Lyon, the 'gastronomic capital' of France, designated a UNESCO World Heritage Site in 1998. It borders both Switzerland and Italy and stretches from the Massif Central in the west to the Alps in the east. In between there is the Rhône Valley, an utterly stunning area and hugely popular with all nationalities. It is often termed the second region of France according to its economy and area.
What are your options for financing a property purchase in France? Find out with your free France 'How to Pay for It' Guide.
The skiing resorts around Mont Blanc have mainly tourist-based economies whilst to the east are some of France's best winter sports resorts such as Chamonix, Meribel, Courchevel, Megeve and Val d'Isère. A property purchase here will serve you well not only in the winter time since even in the summer months these resorts are now very popular with plenty of hiking, biking, river swimming, golf going on and thus the rental market is alive and well and likely always will be!
The property market is consistently buoyant here and prices have increased faster during the last year than most other French regions. Similarly to the Provence-Alpes-Côte-d'Azur area, prices vary a great deal from department to department. The more inland Rhône area has cheaper properties and as may be expected, the alpine ski resorts are more expensive. However, their excellent transport links, spectacular mountains and continued popularity means that from an investment point of view, this is an area well worth considering in which to buy property. Average prices across the region according to the Immobiliers Notaires website range from €1280 up to €3970 per square metre.
If you are ready to buy in France within the next few months, call our friendly France Resource Team on 020 7898 0549 or email

[email protected]

 for help and guidance.
The most expensive department in which to buy property is the Haute-Savoie with an average price of a house at €357,000. The cheapest department is the Haute-Loire with an average price of €110,000. There is plenty of property for sale throughout the area for most budgets although you may need to win the lottery to invest in some of the higher end large chalet style houses. There is no limit to how much some of them sell for – think several millions! Buying property here though need not cost a fortune. Small studio apartments can be found for under €200,000 in most of the departments.
Transport connections within France and to and from the UK
The area is a major transit hub basically linking not only the north of France but other European countries right down to the Med. The main E15 autoroute from the north down to Spain runs right through the region and does get busy during the summer months with tourists from all over. Flying from the UK is easy with a choice of international airports such as Lyon, Grenoble and Saint-Etienne serving British regional airports. Geneva is another option. There are excellent train links with the TGV running down from Paris through Lyon and then right down to the Med.
Property for sale in Rhône-Alpes
This is an extremely prosperous area and although you can find very many spectacular and luxurious properties well into the millions, you can still find more affordable properties here and the market turns around much more quickly here than in many other areas of France where sometimes properties remain for sale for many years. Investment wise you cannot lose. The area is popular amongst the French and many other nationalities and it is possible to find small lock up and leave properties for sale at reasonable prices which are still convenient for the ski slopes. There are also some wonderful villages and towns away from the hub of the glamorous ski resorts so, even if skiing is not your bag, you will still benefit from buying a property in this region.
Find out in your Emigration Guide everything you need to know about safely and successfully moving abroad.
Take a look at the following properties for sale currently, all of which are in excellent condition and situated in top locations:
Les Arcs: one-bedroom apartment close to the ski slopes, €300,000
Located next to the piste in Les Arcs, this ski-in ski-out apartment presents a fantastic home and investment for families. With ski lifts easily accessible via the piste right next door, owners can be on the slopes in no time and conveniently ski straight back home at the end of the day.
Mollans-sur-Ouvèze: two-bedroom village house with garden, €175,000
Not everyone is dead set on skiing in the Rhône-Alpes! It's a beautiful area with fresh crisp mountain air and some stunning villages with plenty of other activities on offer, some super restaurants and cafes and decent shopping. So how about this lovely 2 bed village house set in a quiet Provencal market village in the Drome department. It comes with a pretty garden and not a huge price tag!
Combloux: two-bedroom apartment with views of Mont Blanc, €312,600
Combloux is an absolutely delightful village close to Mont Blanc and only a few kilometres from the glamorous skiing resort of Megeve. This apartment would make an ideal buy to let, since it is being sold fully furnished, is in excellent condition and benefits from a lovely balcony with views of Mont Blanc.
Châtel: New-build studio apartment with balcony, €189,000
Châtel is a charming and largely unspoilt village in the Haute Savoie department. This studio apartment may be small at just 26m2 but it is set in a lovely building with wellness centre close to the Super Chatel ski lift. Again, this would make a great buy to let.
Tulette: five-bedroom Provencal house, €380,000
Tulette is a gorgeous village with small shops and a school in the Drôme department with a fantastic history dating back to the Middle Ages. This lovely Provencal five-bedroom house offers fantastic value for money and comes with outbuildings and land of around 2300m2.
If you are looking for a property in the Rhône-Alpes area, you have a very wide choice in front of you. This is one of the loveliest parts of France which is highly likely to continue in its popularity with all nationalities.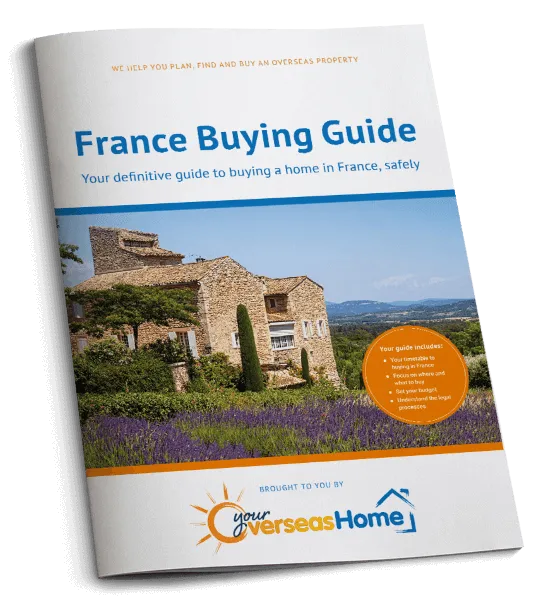 Buying a property in France is extremely exciting, but it can be nerve-wracking: in what ways is the process different to the UK, how do you cope with the language difference, what fees should you expect and just who is the notaire? That's why we've put together our France Buying Guide, to help you through the process, step by step.
Written by experts, it covers every stage of buying, from viewing to contracts and fees. Get your copy of the French Property Guide by simply filling in the form below.
✔

  Ask the right questions
✔

  Avoid the legal pitfalls
Download your free guide to buying in France