There are many wonderful reasons why we all love France, you will doubtless agree. One of them is exploring the fabulous plethora of markets in France, wherever you are in the country.
The French think of markets as a very important part of day-to-day life; not simply for fresh foods but also for all manner of household goods. The vast majority of French towns and villages – even small ones – have some sort of market going on at least once a week. They are usually filled with all sorts of characters selling their wares and one often has the feeling that the tradition has been going on for centuries.
As well as outdoor markets, often taking over the whole town or village sometimes, some towns have indoor markets known as "Les Halles". My nearest one is in Narbonne, in the south, which has displays of various artisanal foods as well as places to eat and drink after you have shopped.
We've picked out a selection of five top markets to focus on here but you will have tremendous fun seeking out any local market, wherever you are in France. However, before we go into that, here are my own tips for the best way to make the most of your trip to the market:
Take cash as some stalls will not accept cards.
Do not be afraid to bargain – this is pretty much expected.
Go early if you can before the best produce has gone!
Remember to take a large bag or two with you: you are bound to come away with all sorts of goodies.
The best markets in France
Versailles market  (Place du Marche, Versailles, Ile de France)
If you are visiting the Chateau de Versailles, this is a real must. It is one of the oldest markets in the country – said to have been founded by Louis XIII about 350 years ago! It is packed to the brim with the most wonderful stalls selling excellent produce and is open from Tuesday to Sunday.
Properties around Versailles do not come cheap, being so close to Paris. However, by driving a couple of hours north-west you can pick up some wonderful properties for a budget of around €250,000. Take a look at this gem of a cottage in the market town of Belleme, Orne, Normandy with 3 bedrooms, half an acre of gardens and outbuildings.
Arras market (Arras, Nord Pas de Calais)
A little nearer to home, Arras is well worth a visit and easy to reach for a weekend break from the UK. The market here is always a friendly, busy affair with clothes, household goods, bric a brac as well as some excellent fresh food produce. It is centred on the Place des Heroes but spreads out to surrounding streets and is open on Wednesday and Saturday mornings.
This lovely house with a heated pool in fine condition would make a superb weekend getaway.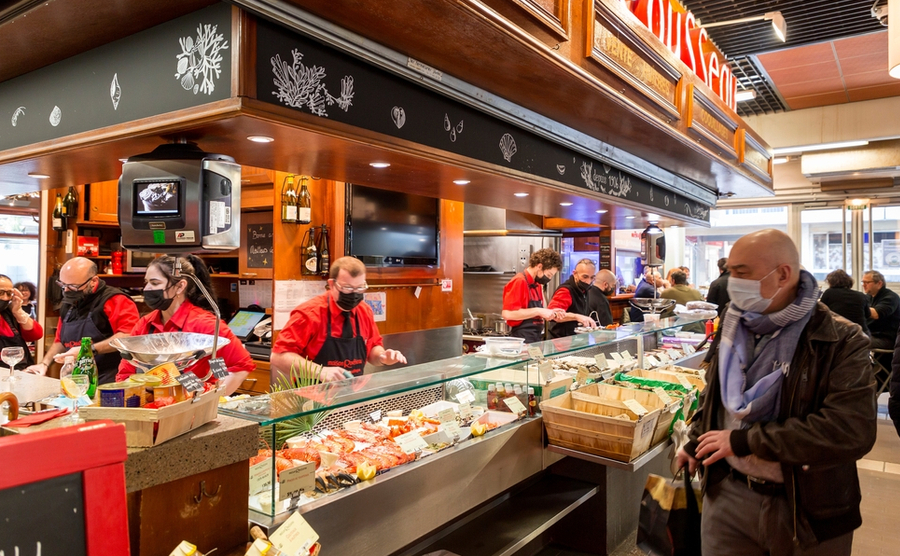 Les Halles Paul Bocuse market (Lyon)
Lyon is a culinary paradise and this market is named after the famous chef, Paul Bocuse, who hails from Lyon. An indoor market, it has numerous fantastic stalls selling all manner of foods and gourmet delicacies.
Lyon is a popular town, the third largest in France. There are some picturesque villages around it and this stunning, beautifully converted stone house sits in a pretty hamlet within an easy drive of the town.
Dieppe market (Normandy)
Dieppe is another lovely coastal town with regular ferries from Newhaven, so ideal for a weekend trip. The market here is lively and luscious, with an array of seafood, locally caught fish as well as local ciders and wines. It is a weekly event every Saturday.
Discover this lovely detached fully renovated village house in the department of Calvados, known for its apple brandy and within easy driving distance of the Mont St. Michel, the Bayeux tapestry and not too far from the coast.
Les Halles Narbonne (Occitanie)
This indoor market has a vast selection of fresh food, some little corner bars and restaurants and really everything you could possibly wish for in your kitchen! You can even buy, say, a piece of steak from one of the butchers and have one of the restaurants cook it right in front of you. It's open every day from 7am to 2pm.
This lovely four-bedroom, two-bathroom house with gardens and a pool has been entirely renovated and is situated in a tranquil village near the town of Narbonne and not far from the Med coast.
As well as being super places to buy fresh produce and grab a bargain or two, markets in France tend to be very sociable places. If you are spending some time in France, it can be super rewarding to go to the market. It's a great place to meet people, make new friends and get to know the stallholders. Even in smaller villages, you are bound to find a market to go to. If you are really keen, you can probably find one somewhere in your region every single day of the week.