Christmas in France is still very much a traditional affair. Different areas have slightly different ways of celebrating, all of which are very charming. Let us look at four different areas to find out just what their regional Christmas traditions are.
The lead up to Christmas starts later in France than in the UK. In short, it has less of a commercial feel to it with the emphasis on giving rather than receiving. Although particular ways of celebrating may vary from region to region, Christmas in France is centered around the family and the local community.
The nativity scene plays a big part in most families' celebrations. Christmas trees are more likely to be found in public places rather than private homes.
French children love the idea of Pere Noel (Father Christmas) climbing down their chimney. You will see many a Father Christmas climbing up a make shift ladder outside people's homes.
However, the atmosphere is rather more on the true meaning of Christmas, the birth of Christ, than the idea of worrying about presents one needs to buy! The lead up to the Christmas period is slower and you will not find many public decorations before November. There is less pressure on people to spend money on gifts and far more emphasis on kindness to one's family, friends and those less fortunate. Christmas is all rather heart warming in France.
Brittany
Brittany has many traditions of its own. Being so close to the sea, there is a story which has perpetuated here throughout the generations. An angel of the sea appears on Christmas Eve once the sun has gone down to guide sailors and ships to the shore safely. Christmas Mass is celebrated on Christmas Eve, after which the locals return to their homes to eat a Breton meal of crepes and cream.
The Christmas meal is eaten on Christmas Eve, like many other areas of France and the yule log takes pride of place. The yule log is lit with candles and often kept right through to New Year's Day when a slice of it is saved for the farmers to bring them luck in the New Year.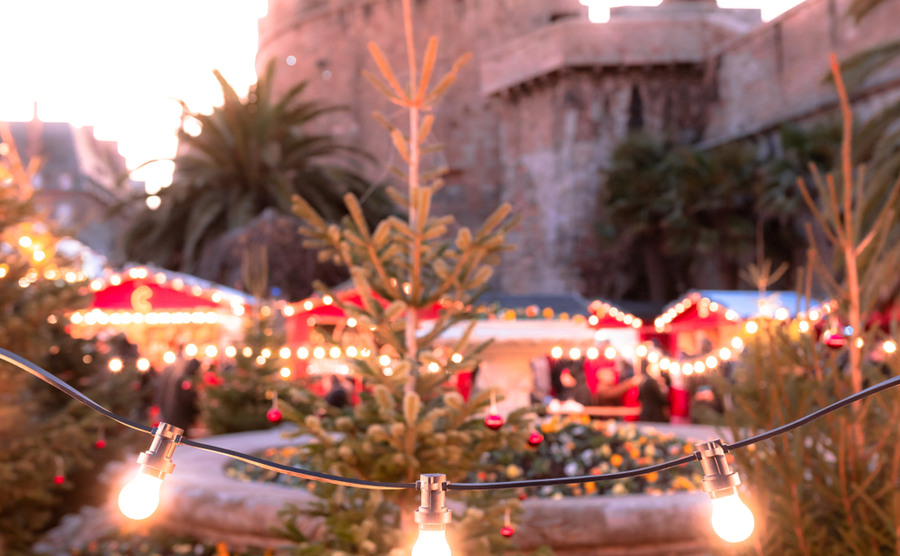 Nouvelle Aquitaine
Nouvelle Aquitaine is the largest area in France – even larger than Austria! As with many other areas of France such as Alsace, which shares its border with Germany, there is something of a German influence. Thus, in most towns and villages here you will find some wonderful Christmas markets: think wooden chalets, Christmas music, mulled wine, roast chestnuts and a general feeling of bonhomie.
As with other areas, children here will leave out their shoes to be filled with sweets by Pere Noel on Christmas morning. The nativity scene also plays an important part: most families will have one.
Provence
In Provence the most important date (along with many other areas) is Christmas Eve. The extended family will gather around a large table and eat a feast: often 6 courses! Seafood, in particular scallops and oysters are particularly popular in this area. The towns and villages are beautifully lit at Christmas time in Provence. Often concentrating on just one colour, the main avenues and promenades are a magical display of lights.
For a smooth move to France, you need to make sure that your budget is protected to reduce risk from exchange rate flux. Find out how in our partner Smart Currency Exchange's guide, The Property Buyer's Guide to Currency.
On Christmas Day and New Year's Eve, goose is the traditional meal. Indeed, turkey is not as widely eaten in France as it is in the UK.
Occitanie
Occitanie is again a very large area ranging from the Midi-Pyrenees down to Languedoc Roussillon. Here the children have a special tradition of dressing up as elves or fairies and, with their parents, go out into the streets on Christmas Eve to herald the birth of Christ. Seaside towns such as Collioure, Sete, Montpellier are just beautiful. There is a real feeling of warmth and a coming together of the community. Of course the southern parts of Occitanie, mainly the Pyrenees Orientales, will often have snow at Christmas time, giving a real feel of how Christmas really should be. Children make snowmen and frolic in the snow here.
Each community in France celebrates Christmas with an emphasis not only on the family getting together but also with a warm welcome to outsiders, those who have less than themselves and anyone in need. The French look on Christmas as a time for love, generosity and friendliness.
Christmas in France is probably similar to how it used to be in the UK, say 50 years ago! It is a time for a coming together of everyone's nearest and dearest and is a very special time throughout the country.