Of all the French regions, Nouvelle-Aquitaine has the largest population of British expats. We take a closer look at the numbers…
A quarter (26%) of all British residents in France live in Nouvelle-Aquitaine, the country's largest region, and half of these are retirees, according to new research.
The UK's love affair with the south-west corner of France is revealed in a report by France's national statistics institute, INSEE, which also highlights the profile of typical expats there.
A quarter (26%) of all British residents in France live in Nouvelle-Aquitaine
These findings are hardly surprising, given Nouvelle-Aquitaine includes the two neighbouring departments of Dordogne and Charente, which are home to the highest concentrations of Brits in France and well-known for it.
There was a significant surge in Britons settling in the region between 1999 and 2008, states INSEE. In fact, by 2014 the British population there numbered 39,000, with the average expat having lived there for 10 years. In 1968, the population was just 840! By 2014, the British population across all of France was 150,000.
INSEE's research showed that most British residents in Nouvelle-Aquitaine aren't based on the coast, but in rural locations. In some areas, particularly those where local French people have relocated, they account for more 15 per cent of the population, compared to 0.7 per cent of the region as a whole.
So who are typical Britons in Nouvelle-Aquitaine? Their average age is 52, says INSEE, but half are aged over 58, and 48 per cent of the total are retired. Overall, including retirees, 70 per cent are described as 'inactive' in terms of work.
Most British residents in Nouvelle-Aquitaine are based in rural locations
At a time when Brexit negotiations reach a critical point, INSEE underlined the importance of UK visitors for the region's tourism industry. Since 2010, Brits have occupied more hotel rooms annually than any other nationality in Nouvelle-Aquitaine. In terms of camping, the UK is third behind just Holland and Germany. In 2016, British people accounted for 545,000 nights in a hotel across the region, with the most visited region being Gironde (29 per cent of nights), followed by Pyrénées-Atlantiques (19 per cent) and Charente-Maritime (17 per cent).
Nouvelle-Aquitaine was created when the three regions of Aquitaine, Poitou-Charentes and Limousin merged. It has a twelve departments and its largest city is Bordeaux. The region with the second highest number of British residents is Occitanie (17 per cent), followed by Ile-de-France (13 per cent), according to INSEE. There are 1.5 times more British than German residents, but half as many as Spanish.
If you are ready to buy a home in France, Property Guides will be at Your Overseas Home. It's a new style of overseas property show, where those serious about buying can get detailed information and introductions to trusted lawyers, agents and currency providers. Click here to apply for FREE tickets.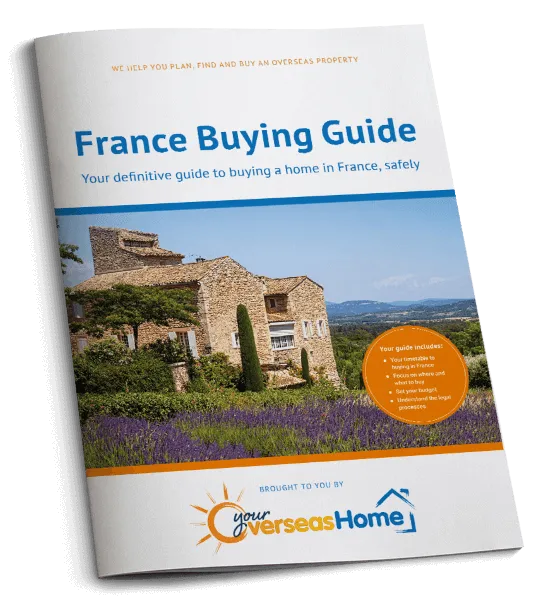 Buying a property in France is extremely exciting, but it can be nerve-wracking: in what ways is the process different to the UK, how do you cope with the language difference, what fees should you expect and just who is the notaire? That's why we've put together our France Buying Guide, to help you through the process, step by step.
Written by experts, it covers every stage of buying, from viewing to contracts and fees. Get your copy of the French Property Guide by simply filling in the form below.
✔

  Ask the right questions
✔

  Avoid the legal pitfalls
Download your free guide to buying in France