Village life in France may be peaceful but don't be fooled into thinking it will be dull. It's the people that make it and if you're lucky your life will be filled with wonderful colourful characters!
It's true to say that sometimes it's not where you are that matters but who you're surrounded by and this couldn't be more true than of village life in France. Of course, the pace of life may be slower but the people are no less interesting, and if you live in a tiny village like mine, half the beauty is being part of the community and getting to really know the people within it. Age ranges differ hugely here often because of the real sense of community – people look out and help other people to the extent that they often stay fairly independent within their own homes to a much older age than in the UK. And you may be surprised by the rich tapestry and range of interesting conversation of some characters who lead a quieter life…
You may be surprised by the rich tapestry and range of interesting conversation of some characters who lead a quieter life…
Les voisins – your neighbours
Village life in France is made or broken by your neighbours. If you're spoilt like me you'll be nothing but welcomed and looked out for but of course you have to show a reciprocal amount of interest. When you first arrive, use the opportunity to introduce yourselves and be warm and friendly attempting the best French you can possibly muster (in rural places they rarely speak any English). If you are about to have a large removal lorry causing chaos in your quiet little chemin, warn them about it in advance. Maybe plan an introductory apéro party. The one thing that no self-respecting French person misses is apero time. Alongside the usual traditional apéro nibbles offer them typically English fayre, as invariably people in rural villages in France have not necessarily travelled much. You may even change their views on English cheese with a bit of mature cheddar or stilton, and English cakes and deserts often provide a great talking point.
Despite neighbours not being so close in terms of proximity in villages in France, they do spend an awful lot of time in their gardens (the reason for which you will soon find out if you've bought a house with large grounds not necessarily thinking through the work it entails.) And often groups of neighbours have loosely scheduled daily chats from the boundaries of their gardens amongst each other. As well as acting as an invaluable social activity this also doubles up as checking that everyone is ok and all is well.
Mairie
Village life in France, particularly in smaller villages, centres around the Mairie (the town hall). Not only does the Maire act as the person to whom you need to make any requests for building and renovation works – especially for anything involving changing the external character of your home – they often know everyone and are very useful with contacts for any problem or query you may have.
Comité des fêtes
Most villages have a "Comité des fêtes" – a group of people who work voluntarily in order to create and organise village events. This is a great way not only to integrate into the local community but to really get to know people on a personal level. Clubs, societies and village based groups are also advertised at the Mairie so this is another way to get to know people within the locality.
La Chasse
Love it or hate it, village life in France makes it impossible to ignore "La Chasse" – the Hunt. A traditional way of life here, la chasse not only provides (as they see it) a service in terms of keeping the countryside safe but also an active social diary. Even if you don't hunt with the chasse, village life is very much based around their activities – mainly dinners – and are not only open to those that participate but by invitation. Be warned, these can often go on for days, testing even the biggest drinkers and gourmands amongst us and aren't of course particularly great if you're a vegetarian!
Markets and brocantes
Most villages in France have weekly locally produced food markets and throughout summer, there is a regular schedule of "brocantes". For those living village life in France, these are great excuses to get out, have a wander and meet up with friends and locals. Going to weekly markets will certainly help you build relationships with people within your community. Brocantes are essentially the French equivalent of a flea market, selling antiques, old furniture and anything else you could think of. Along similar lines, a vide-grenier, or 'empty-attic', is a bit like a carboot sale.
Take a walk
I hope not to offend when I say that people in rural France aren't the greatest of walkers (many even drive to and from the communal bins) but they do love to sit outside their houses and watch the world go by and can do this for hours on end. For that reason a mere stroll down to the village post box or bar can result in several new introductions or even an invitation for coffee or two on the way. Sitting outside just shooting the breeze is a national past time and one that very quickly becomes habit once you've been here for any length of time. And if you're lucky enough to have a village bar of course, after several coffees you can then have a real drink whilst making the acquaintance of everyone else who pops in and out!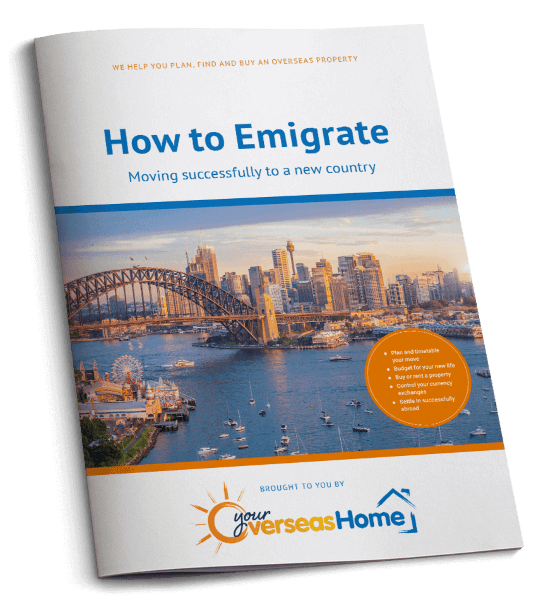 The Emigration Guide has been put together by overseas property experts and expats who understand the process of emigrating inside out, having emigrated themselves or helped others to do so. The guide will help you to:
✔

  Ask the right questions
✔

  Avoid the legal pitfalls
Download your Emigration Guide