France has for hundreds of years been a country to which so many artists have moved. Many have felt that only here can they truly indulge their artistic tendencies, become inspired to create works which they may never have dreamed of in their home countries. They also find they live a more uncomplicated life perhaps than they had done before. People from all over the world still seem to be lured by the beauty of France. No surprise with our stunning countryside, the golden light, the ancient buildings, the rugged coastlines.
Artistic heritage
Some of the great masters such as Henri Matisse, Claude Monet, Vincent Van Gogh, Charles Rennie Mackintosh, André Derain, Eugène Boudin and many others, fell in love with this beautiful country. However, it is not just famous artists who have flocked to France. Many British people also have been touched by its beauty and somehow felt that here lies the only place where they can give full rein to their artistic talents.
A new generation of artists in the south
Angela Saunders, curator of the art gallery "Inspiré" in Azille in the Aude department of the Languedoc-Roussillon (now known as Occitanie) moved here some 15 years ago and now exhibits many British artists in her gallery. "Occitanie is a landscape artist's dream, boasting traditional villages, flourishing vineyards, mountain ranges, the Canal du Midi and a wonderful coastline. There is so much here to be inspired by," she says. "Landscapes such as those at Collioure are already famed by great masters such as Henri Matisse. They continue to delight current artists due to their amazing sunsets, sunrises, strong colour and light. Then a stone's throw away Carcassonne stimulates the senses with stunning period architecture."
You can buy a beautiful, renovated stone property in this region with seven bedrooms and a large garden for €300,000.
Impressionism in Normandy
But it is not only the south of France which inspires artists. Normandy was the birthplace of impressionism, being a reasonable distance from Paris and boasting chic seaside resorts such as Deauville, Trouville, Honfleur, Le Havre. Artists in the late 19th century and early 20th century would travel there by train, set themselves up outside and paint all manner of landscapes and scenes from daily life.
Getting ready to go out to view properties? Make sure you know what to look out for with our free Viewing Trip guide.
My oldest French friend, Élisabeth Eychenne, moved from Paris to a small village near Dieppe over 15 years ago. She and I had corresponded over many years as pen friends. I remember her, even as a young adult when I visited her in Paris, constantly taking out her little artist's notepad to sketch whatever came to mind as we explored the city. "Normandy has a flavour all of its own," she told me. "I love the pretty painted buildings in Honfleur, the simplicity of life, watching people go by in local markets and sitting by the sea at Deauville as the tide rolls in."
David Hockney moves to France
Indeed, David Hockney, who just this week sold his famous painting from 1972 "Portrait of an Artist (pool with two figures)" for $90 million, breaking the auction record for a living artist, has decided to move to France from Los Angeles, stating "There is no spring in LA. I did all the seasons in Yorkshire and it seems right to see it in France. It will be stunning."
David Hockney, who just this week sold his famous painting from 1972 "Portrait of an Artist (pool with two figures)" for $90 million, breaking the auction record for a living artist, has decided to move to France from Los Angeles.
Are you feeling inspired to come and enjoy all the seasons in France as David is? How about this gorgeous detached house Normandy with a separate guest annexe for just over €100,000?
They say that sometimes living away from one's country of birth helps artists get a real feel for their identity. Whether it is this or simply the beauty of France which makes artists want to come here, the lure of France for anyone with an artistic nature is very clearly here to stay.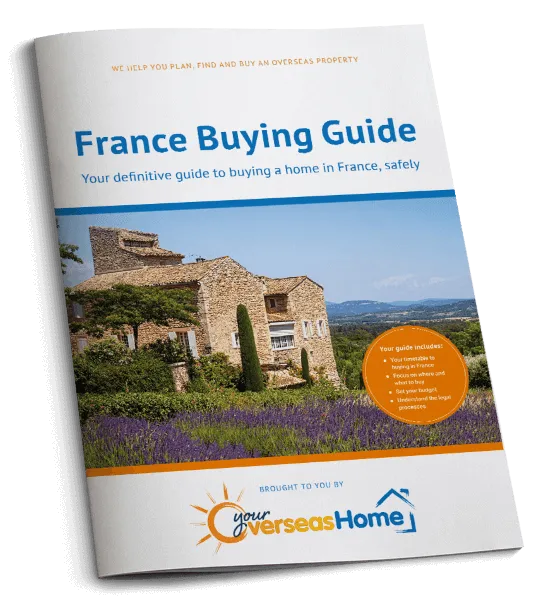 Buying a property in France is extremely exciting, but it can be nerve-wracking: in what ways is the process different to the UK, how do you cope with the language difference, what fees should you expect and just who is the notaire? That's why we've put together our France Buying Guide, to help you through the process, step by step.
Written by experts, it covers every stage of buying, from viewing to contracts and fees. Get your copy of the French Property Guide by simply filling in the form below.
✔

  Ask the right questions
✔

  Avoid the legal pitfalls
Download your free guide to buying in France