When you start your French property search, you may well dream of building your own swimming pool. The good news is that this is something which is fairly easily achievable, even with a relatively small exterior space, and there is a huge choice of types and sizes of pool in France now. Here's what to consider and the costs to expect.
Types of pool in France
Above-ground pools
The advantage of these is that planning permission is not required and it will not be counted when it comes to your property tax. You can choose from a completely overground pool, rather like a large paddling pool or a "half in ground" pool with a small wall surround. This is a great option for those on a budget. Only below-ground and "half in-ground" pools are covered by the security laws too, so this is an excellent option for something simple and affordable. Expect to pay between €3,000 to €10,000 for a wood or metal surround pool.
Fibreglass or "coque" pools
We have one of these! You simply choose the size you want and the pool is installed via a crane into your garden. The pool company will either quote for digging out the space to install it or you can arrange this separately. Various sizes are available from 3 x 5 metres and any type of filter can be used. The pool company will educate you on types of cleaning material and general maintenance. You do need planning permission and as always, the best place to start for this is at your mairie. There may be restrictions on the base colour. For example, we had to have a pale base rather than a blue one as we are very close to our church. The mairie will advise. Expect to pay between €15,000 to €30,000 depending on size, ease of access etc.
Liner pools
For these pools you can choose between a liner or tiling or simply a painted base. This is a more expensive option and depending on size, expect to pay anything from €20,000 to €50,000. Again, planning permission is required.
How do you maintain a swimming pool in France?
We chose a local pool company who installed our pump and filtration system and gave us a lesson and demonstration on how to maintain it and clean it so our advice is to make sure the company you choose offer this service. It will pay great dividends in the future as you marvel at how sparkly clean your pool is!
For filtration, sand is the most widely used material and chlorine is the most widely used cleaner. It is also possible to choose a salt pool if chlorine is not to your liking. The pool needs a regular insertion of chlorine tablets in the skimmer when it is open during the summer months and these days you will find many products in pool shops which claim to keep the water beautiful and clear. The sides of the pool often accumulate a greasy residue and we have found a specially made small sponge easily gets rid of this.
The commonest and probably cheapest cleaning method is with a hand held pool vacuum cleaner. Depending on where your pool is sited (ideally away from trees and bushes which can clog it up), this needs to be done about once a week. The sand filter in the pump needs to be backwashed about once every two weeks.
If you are feeling rich, buy a robot! These basically skim around the bottom of your pool giving it an automatic clean. They are not cheap at minimum €1,500 but they do do the job well and save your own elbow grease!
Once you have purchased either your robot or vacuum cleaner, the monthly cost of maintaining your pool should not really amount to very much more than €25 or so for the chlorine and cleaning sponges etc.
Download your comprehensive France Buying Guide for everything you need to know about purchasing a property
Legal rules
The law for pool security in France was passed at the beginning of 2003 and ratified at the beginning of 2006 and must be adhered to or you risk a fine! Basically all in-ground pools are subject to security regulations to prevent accidents, particularly with children but also of course with adults. The body in France which sets the standard is AFNOR and there are four kinds of security from which you can choose as noted below. Note that if you are selling your property you will have to provide a certificate proving that you have one of the systems to the notaire which is then added into the sales document.
Security fence
There are several types of fence and barriers from metal, UPVC, glass or mesh to wooden fencing. The fence or barrier needs to have a lockable gate with a childproof lock. Once installed of course, you can forget about it although not everyone likes the look of these. Expect to pay around €60 per metre for mesh fencing and around €400 for a gate or around €90 per metre for metal fencing. Glass panels will be yet dearer from around €200 to €300 per metre and a glass gate at least €600.
Pool alarm
Alarms are less popular as some need a key to be worn by a swimmer to activate them or a code to be put in ahead of anyone swimming and they need to be taken away before you winterise your pool with the cover. There are two types of alarm: an immersion alarm which senses anyone falling into the pool which will set it off and a perimeter alarm which has beams which when broken set it off. They are a cheaper option however, starting at around €500.
Pool cover
There are various types of security covers available now. The most important thing to decide is that it must be relatively easy to put on. The most expensive version is the automatic cover which works at the press of a remote controller. The manual version is obviously cheaper but may take two of you to put on properly. As a rough guide, an AFNOR approved security cover for a pool of 10 x 5 metres will cost around €4,000 and more for an automatic one.
Pool abris
Pool abris have the added advantage of keeping the water warm and keeping leaves and debris out.
These are popular in our area, the Languedoc-Roussillon. They are a plastic domed cover for the pool and although the most expensive of the four types of security, they have the added advantage of keeping the water warm and keeping leaves and general debris out of the pool. Having one fitted also means you will be able to use your pool throughout the winter months. Bear in mind that they do not always look very attractive and that you may feel a little closed in when using the pool. They are expensive too at minimum €10,000, depending on the size of your pool.
Top tips and what to bear in mind when building your pool
First, go to your mairie to ask what you need to do to apply for permission in your area.
Don't be tempted to pay extra for heating if you're in the south. We did this but regretted it as we have so much sun during the greater part of the year, that the pool is fine to swim in except perhaps during January and February!
It is wonderful to sit by your pool hearing the water gently lap as you sip your glass of wine on your sun lounger.
Remember that you will need to pay extra tax as your pool must be declared when you do your annual tax return – except as previously mentioned, if you have an overground or partly in ground pool.
In summary, building a pool is as popular as it ever was in France. Even if you don't swim, it is wonderful to sit by your pool hearing the water gently lap as you sip your glass of wine on your sun lounger so if your dream is to install one, we would say go for it!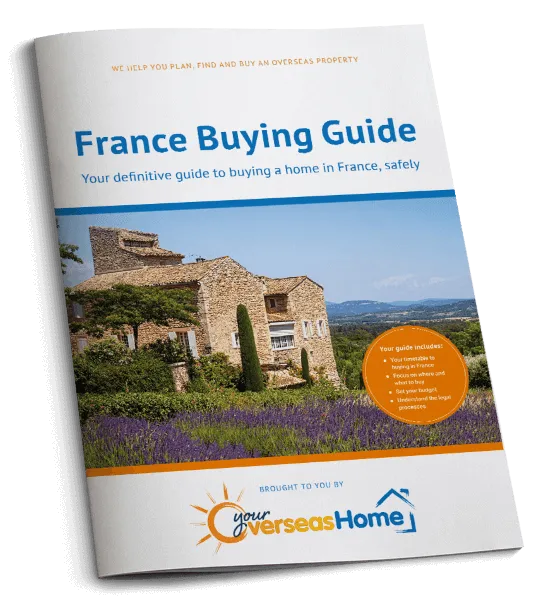 Buying a property in France is extremely exciting, but it can be nerve-wracking: in what ways is the process different to the UK, how do you cope with the language difference, what fees should you expect and just who is the notaire? That's why we've put together our France Buying Guide, to help you through the process, step by step.
Written by experts, it covers every stage of buying, from viewing to contracts and fees. Get your copy of the French Property Guide by simply filling in the form below.
✔

  Ask the right questions
✔

  Avoid the legal pitfalls
Download your free guide to buying in France