Going on a property viewing trip to France is an exciting moment in your home hunt, but how do you get the best out of your time? What do you need to think about and how do you plan it? We share our top tips for a stress-free trip. 
Planning in advance
Take time to plan your trip well in advance. Doing a little research at the start will save you time, make you feel far more confident and fine line exactly what you are looking for in terms of type of property and location. France is a big country: think about where you would like to be, how far from the nearest airport serving the UK, how near to the coast or mountains, which towns and villages appeal to you etc. Our advice is to set your net reasonably wide, depending on how long you are going for, whilst remembering that some properties may be quite a way from some others you like so it can take some time. Viewing properties is fun but remember to pace yourself as it can also be rather tiring! Plan your trip so that you have some time off to have a good general look around your chosen area. The location, after all, is every bit as important as the actual property.
Make sure your finances are arranged before your trip, so you can pay a the deposit when sign the compromis de vente. Find out how to finance a purchase in your 'How to Pay for It' Guide. 
Make a shortlist of properties which appeal to you and contact the agents to set up your viewings ideally before you leave. Give them as tight a brief as you can so that they have a good idea of your criteria including a maximum budget. Remember to factor in between 7 and 10% for further fees on top of any price you agree to pay for the property. Try to be flexible with your times and dates to an extent: not all properties are available to view all the time!
Ensure your finances are sorted before heading on your trip, including knowing how you would transfer money safely. If you send it with the banks, you will get the rate on the day, which could subtract thousands from your buying power. We recommend Smart Currency Exchange, who have been helping thousands of our readers to send money protected against the risks of the exchange markets since 2004. As a currency specialist, they can secure you a fixed exchange rate at no extra cost – find out how it works in their free Property Buyer's Guide to Currency.
What to take with you
Arm yourself with an A4 notepad, a map, plenty of pens, a camera, a laser measuring device and some highlighters. You may think you will remember the details of each property but making notes, taking pictures and measurements and highlighting the pros and cons of each as you go along will pay dividends later.
Managing your trip
Once you are in France, plan on viewing a maximum of 5 properties each day. Any more than this will likely make your brain sizzle! Remember it is a buyer's market currently in France and many properties take a while to sell so you are essentially in a very good position and will also have plenty of choice.
Give yourself at least one day off property viewing if you are going for a week, two days off if two weeks. This will give you a chance to really soak up the atmosphere of the locality, talk to people and explore generally; all very important in terms of getting the location right for you.
A good estate agent will make time for you beyond just the properties, driving you around various properties and supplying you with information on the local area. Feel free to ask questions: how long the property has been on the market, how keen the sellers are to sell, what exactly is included in the asking price etc. Some properties will include some of the furniture which may be ideal if you are looking for a "lock up and leave".
In this market you can expect to offer a lower price than the asking price. Be guided by your agent but remember you can always go up but not come down so a lowish first offer is worth going for. Agents in France offer a greater service than those in the UK. They are essentially selling a lifestyle and should be happy to provide you with plenty of information, not only on the village or town where you are looking but the whole area. Just don't be afraid to ask!
You will likely be asked to sign a "bon de visite" which is simply to ensure you do not view with one agent and then go through another, or privately through the seller.
Download your comprehensive France Buying Guide for everything you need to know about purchasing a property.
Although your criteria are very important, a good tip is to keep a fairly open mind as well. I have known people who have ended up buying something almost completely different from what they thought they wanted because what they eventually found had some overriding factor such as a fantastic view or a wonderful garden. Again, a good agent will throw in a bit of a wild card if there is something very special about a particular property. In a nutshell, think a little bit out of the box as you just never know, there may be a property which you fall in love with, even though it doesn't match your criteria.
Trying out your French!
You are looking to buy a home in France because you love the country. The French these days in most areas are well used to British people buying property in their country and you should find yourself welcomed. Looking ahead to when you actually find your dream home, it is important to speak a bit of French, even though you may be a little rusty. So why not make your viewing trip a time to practise? We have friends who have made a wonderful life here. Their French is not good but they practise wherever they can and have found most people to be very kind and friendly.
Points to remember during your viewing trip
Do  your planning in advance and set up appointments where you can but be a little flexible and keep a free day or two for anything which may come up whilst you are there.
Give yourself a break to mull over everything, find out as much as you possibly can about any properties you are interested in and getting to know the general area.
Remember that you are in the driving seat here! It is still a buyer's market in France as mentioned before and there will be lots of properties to choose from.
If you make an offer on a property, you can go lower than the asking price but try not to be unrealistic.
Finally don't necessarily expect to find your dream property during one trip. France, our nearest neighbour, is easy to get to and far better to be absolutely sure you are buying what you want rather than feel you simply HAVE to find something on your first trip.
With good preparation and planning, a sense of adventure and a realistic expectation of what you can afford to buy, now is an excellent time to go on a property viewing trip in France.
To find out more about organising your viewing trip to France, don't miss your free Viewing Trip Guide and worksheets below.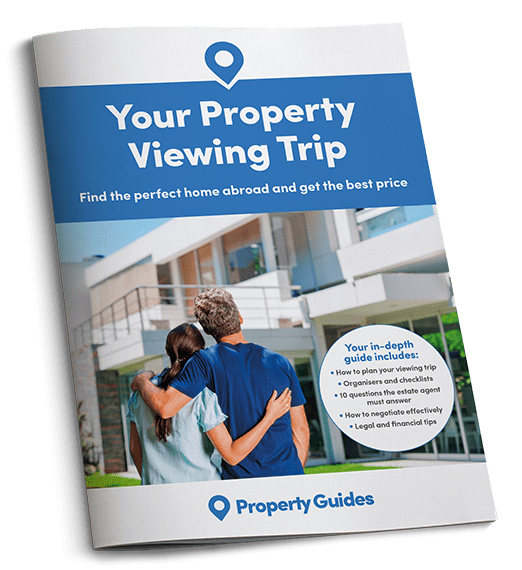 The Viewing Trip Guide is designed to support you through the process of a successful property viewing trip, with tips and information on the most important steps to take. The guide will help you to:
✔

  Find out what makes a successful viewing trip
✔

  Get the right legal advice before and after your trip
✔

  Choose the right estate agent to meet your needs
✔

  Understand the important financial considerations
Download your free guide to viewing trips