Unsurprisingly there are grave concerns about coronavirus in France and the government has taken strict and early measures to attempt to contain the virus. This is what lockdown in France means to us.
According to records, Coronavirus officially arrived in France on 24th January 2020 with the first Covid-19 case being in Bordeaux – a 48-year-old man returning travelling in China. The first death in France was on 14th February of a Chinese national marking the first death in Europe and France, and in fact outside of Asia. Response from the French government has been both swift and definite no doubt accelerated by the heart-breaking scenes from Italy, one of the several countries with borders to France.
Plan your move from home during this period by reading our expert guides. Find out how to finance your purchase in 'How to Pay for It'. 
Tourism
Being a country where many people make their living from the tourism industry (as well as many supporting services – restaurants, cleaning services and property management) the response was initially dismay from those that have a very real concern of the impact on their livelihoods, particularly the ex-pat community here. Rather quickly however, it seems that people have become all too aware of the need for the attempt to reduce the spread of this as quickly as possible. Tourism was already being impacted well in advance of official lockdown here with many visitors cancelling bookings for the coming summer season, so whilst the long term impact remains to be seen, everybody is well aware that we are all in the same boat and there is nothing that can be done other than sit it out and hope for the best.
Travel restrictions
People who live in France are currently still being allowed to return, provided they can prove that they are resident here.
People who live in France are currently still being allowed to return, provided they can prove that they are resident here. Although the French government is becoming increasingly twitchy about arrivals from the UK where until recently no real restrictions were in place. But travel out of the country is becoming rarer and rarer, as well it should.
As it happened
Rules issued by the government officially began on 12th March. Macron, the President of France announced that all schools and universities would close from Monday 16th March until further notice. On March 13th the Prime Minister banned gatherings of more than 100 people not including public transportation, closely followed by the day after by the closure of all non-essential public places including restaurants, cafes, cinemas, discos and nightclubs from midnight.
At this point, all but two departments in France had sadly already reported at least one case of the Coronavirus.
But the real change for those of us who live here, was on 16th March when the President announced a national lockdown starting as of midday on Tuesday 17th March. Whilst urging people to remain calm he reiterated that these measures were essential due to previous requests to stay at home just being ignored. It became clear in the explanation following this speech that this actually was a fairly significant change to the previous situation. And as of midday on Tuesday 17th March, there are now only 5 valid reasons for which it is acceptable to leave the confines of your house/garden:
Journeys between home and work if essential and you cannot work from home (proof required).
Travel to make essential purchases (food, prescriptions) in Authorised establishments listed on the government website.
Travel for health reasons.
Travel for compelling family reasons, for assistance to others in need (vulnerable or children).
Short trips within a close perimeter (1-2km max) of your home for the needs of physical activity or the needs of pets/animals. This MUST be conducted alone and not with others.
For every trip, a self-declaration form called an "attestation de deplacement derogatoire" must be printed and completed (or copied by hand if you do not own a printer) and you must also carry a valid form of Identification. Failure to do so will result (and already has) in fines when checks are deployed. In more rural areas, whilst we are not seeing bodies on the ground checking, they are also deploying drones to ensure that people are not meeting up against the ruling.
Impact and the future
I think it safe to say that no one in France believes that the restrictions will not either become even strict or be extended for longer than the originally stated period, but only time will tell. Macron has announced that "no business in France will go bust because of this" and has announced measures for those who have had severe impact on their earnings as a result.  Details are coming out slowly about this will work and how people should claim.
And whilst the worst of times, in some ways it has brought out the best in people.
Two things are for sure – firstly whilst at times (especially if you live in very rural France) it may be difficult to visually see what has changed, life very much has. Secondly this is something from which none of us should assume ourselves immune whether health wise or financially. Luckily for a lot of us ex-pats living here we have larger houses and gardens and believe me we are all very much thinking of those in apartments with no outside space during these times. It is more important than ever to try concentrate on what you have and can do rather than what you don't and can't. And whilst the worst of times, in some ways it has brought out the best in people. In France, at least rural France (although I admit the same may not be able to be said for towns and cities) there are no real shortages of essential supplies including food. People are also very much in touch with each other in the ways they are allowed in order to ensure each other's continued welfare. The sobering part is that the parting statement of French people for the moment at least has very much changed from "bonne journee" to "bon courage".
For anyone who has started their property hunt, lockdown does not mean everything needs to be put on hold. There will come a time when the situation is resolved, and you want to be ready to go when that happens! Use this period to talk to estate agents, search properties and explore areas on the internet, and read up on the nitty-gritty – legal, financial… – of moving abroad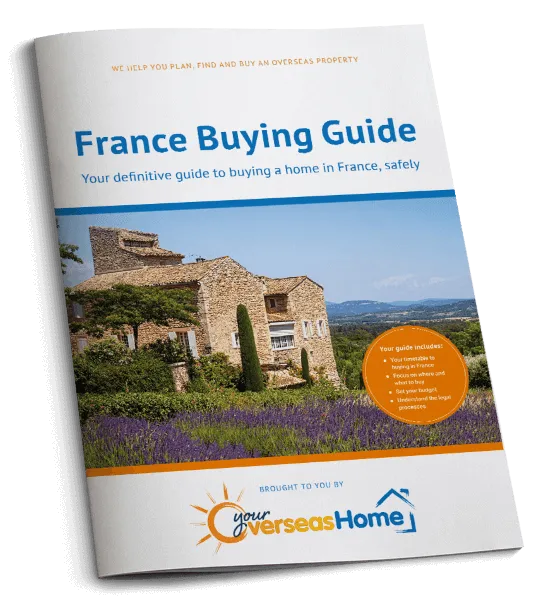 Buying a property in France is extremely exciting, but it can be nerve-wracking: in what ways is the process different to the UK, how do you cope with the language difference, what fees should you expect and just who is the notaire? That's why we've put together our France Buying Guide, to help you through the process, step by step.
Written by experts, it covers every stage of buying, from viewing to contracts and fees. Get your copy of the French Property Guide by simply filling in the form below.
✔

  Ask the right questions
✔

  Avoid the legal pitfalls
Download your free guide to buying in France