With little practical experience, I took on a project to renovate a sad and neglected grande dame on the quayside at the beautiful port of Barfleur in Normandy. Learning traditional skills from scratch, I managed to transform her into a quirky seaside retreat within a reasonable budget, with a mix of good luck, hard work and the help of excellent workmen.
If you missed it, don't forget to also have a read of part one here.
Calling in expert help
High on my list of priorities as I continued to slog inside my renovation project was a close look at my budget. Removing the external render had proved too tough a task for me, so I'd needed to call in expert help. As anyone who's renovated an old house will tell you, you always need a contingency pot, and I feared I'd have to hit it hard.
If you're thinking of doing a renovation or buying in France, don't miss your free 'How to Pay for It' Guide for tips on financing your dream home.
For example, it's become evident to me that I'll need new windows. I'd been hoping to conserve the old ones, but they're at least 150 years' old, and won't provide much in the way of noise or heat insulation, even after they're stripped back and made good.  So, I've taken the hard decision to invest in custom-made, double-glazed wooden windows (as would be required by the Town Hall). I'm pleased with my decision as I want the house to be snug in winter, but that will knock a €5,000 hole in my contingency fund.

After much teeth-sucking, my plumber has concluded he can tuck a bathroom into the middle floor. On my trips back to the UK with Brittany Ferries, I'd noticed that the tiny cabins are kitted out with en-suites, so I knew it was possible. We'd use a pocket door to maximise space and put a basin up in the bedroom for good measure (a clever hack from a cupboard and sink that were left on site by the prior owners).
One wonderful surprise was that my chipping away at the plaster had revealed a rather pretty fireplace – perfect for a wood-burner!
One wonderful surprise was that my chipping away at the plaster had revealed a rather pretty fireplace – perfect for a wood-burner! Hello, cosy winter afternoons, goodbye another €3,000 of my contingency fund!
As I mentioned in the last article, I decided to use lime products inside and out so that the stone-built house would be able to breathe. Once the façade had been fully exposed, it was time to put my new skills as a mason into practice. I mentally prepared myself to climb up onto the scaffold, six metres high above the quay and began to feel quite excited at the prospect.
However, I soon came down to earth when we made a smelly discovery in the newly-excavated kitchen.  When renovating a property in France, one important factor to bear in mind is whether your property is connected to the main sewer. If not, you'll need to install a septic tank, and this can cost anything between €6,000 and €15,000, depending on the site conditions and size of the tank.
In the case of my project, while the house was connected to the mains, the old septic tank had not been taken out. It was a particularly bizarre and inconvenient find, and the old 'fosse' had to be emptied (!) and removed before any further work could proceed.
Repointing the façade
After much huffing and puffing, a specialist contractor was called in (goodbye another €1,000), and I could at last get up onto the façade to repoint.
It felt incredibly high up on the scaffold, and with the ever-present Normandy breezes, not that stable.
The trickiest part of the job was negotiating the scaffold with my buckets of mortar and equipment. I'd purchased ready-mixed mortar from Mike Wye Associates in Devon, as I was wanted as little room for error as possible. To make lime mortar the old-fashioned way, you need to mix lime putty, sand and water, together with a powder accelerant in prescribed quantities to achieve a workable mix. In theory, that was great, but carrying 25kg tubs up a three-storey scaffold was a challenge. At least the view was stunning, and as the usual hustle and bustle of the quay continued down below, I set to work.
It was gruelling to say the least. The worst of it was the grime and damp, and the fact that my inexpert technique meant that huge clumps of mortar tumbled off the wall as I worked making a soggy mess below. Slowly however my technique improved, and I was finally able to achieve a reasonably professional finish.
When sending regular amounts of money to France for a renovation, a forward contract will ensure that you exactly what exchange rate you'll be on for the year ahead. Find out how in our partner Smart Currency Exchange's guide, The Property Buyer's Guide to Currency.
Inside, with the roof complete, and most of the walls stripped back to bare stone, the trades were able to start their first-fix plumbing and electrics, and I started to consider my next DIY job.
Tackling internal jobs
I'd hoped to line and insulate the roof myself, creating a tongue and groove ceiling in what would become the attic bedroom. As well as saving money, I was keen to learn some new joinery skills. Sadly, this was not to be. When renovating a property in France, building regulations stipulate that you must allow for an internal ventilation system (VMC) and the only room for this was in the top room, sandwiched between the eaves. What with the boxing around the VMC, the dormer window, and the oddly shaped beams and purlins, this job was too much for an amateur without proper wood-working tools. I could make that investment, but regrettably concluded to leave it to the experts. Goodbye, another €3,000 of my contingency budget.
I was able to put my newly-acquired repointing expertise to good use however, and after the ceiling in the bedroom was finished, I re-mortared the internal walls. With the room completed, I whitewashed the tongue-and-groove with breathable paint that I'd sourced from the UK.
Meanwhile, on the second floor, my plumber miraculously managed to create the tiny bathroom I'd envisaged, with just enough room for a metre-wide shower, a little washbasin and suspended loo, as well as a tiny closet!  One thing to bear in mind when renovating small spaces is that small certainly doesn't mean cheaper, in fact the opposite, and when renovating a property in France, you need to bear in mind that there aren't the same range of competitively priced plumbing stores as there are in the UK, so you may need to pay more for fairly standard kit.
In the meantime, the other (over ambitious) plan of mine to tackle some of the internal works like tiling and fitting-out also fell by the wayside, as the house proved simply too tiny for more than two workers inside at any one time, and even then, they'd need to be in the same room. So, regrettably, I left it to others to lay ceramic tiles on the ground floor, and fit the kitchen, and prepared myself for another large bill in the process. At least I'd invested in efficient underfloor heating, so I'd save money over the longer term I told myself.
I was able to live up to some of my expectations by plastering the internal walls, using a new gadget to mix my buckets of lime that made the job much easier. Some days I doubted the project would ever be finished, and at moments like that, I made sure to stand in the window and watch the comings and goings on the quay below. The little house is so very special, with its views from every room of the harbour and the sparking blue sea beyond, and I felt lucky she was mine.

Exterior-wise, my mason completed his final work to lay a new courtyard, using traditional 'washed cement' to reveal the stones in the mortar. It's a lovely effect, and I was glad I invested in those high-quality finishes that give a renovated house real kerb-appeal. Inside, I left the plaster to dry for a few weeks, and then decorated throughout with breathable, chalk paint that would, together with the lime products, finally allow this little house to breathe.
During moments of doubt, I made sure to stand in the window and watch the comings and goings on the quay below. The little house is so very special, with its views from every room of the harbour and the sparking blue sea beyond, and I felt lucky she was mine.
The big reveal
It was hard to keep the faith at times. Stepping out into the darkness before dawn to mix mortar and plaster, endless rounds of cleaning and scrubbing, and moments when I dreaded that some unforeseen defect would render the project unaffordable, I sometimes wondered if the house would ever be finished. But, in February 2019, it was.
Here are the final before and after shots, with my little house in Normandy fully dressed and ready for action! Find her on AirBnB, and come to stay one day?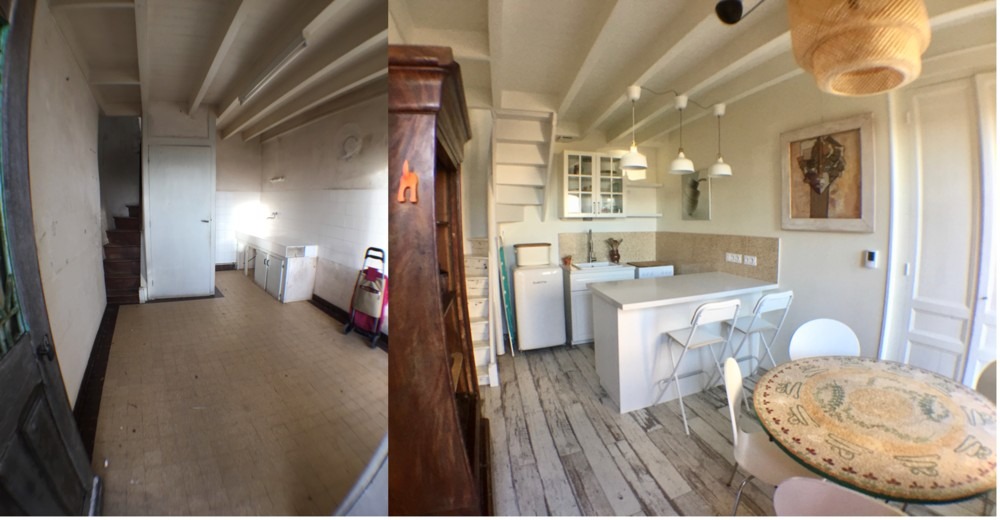 With the terrazzo splash backs and quartz kitchen island, this space on the ground floor has a vintage feel.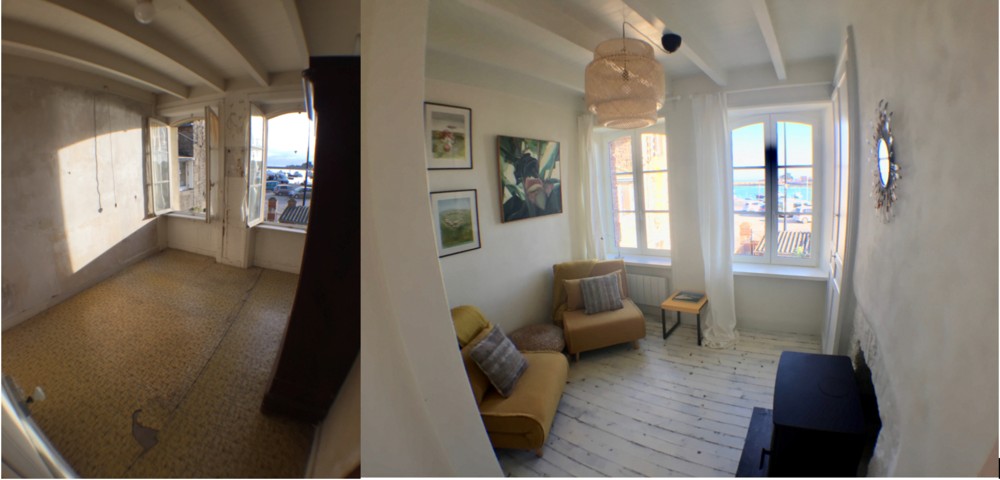 With this view, in the middle floor, I could stare out for hours. The wood burning stove gives the space a country feel, and the compact and comfy chairs fold down to become chaises longues. There's a tiny TV in the cupboard too for when you get bored with the view.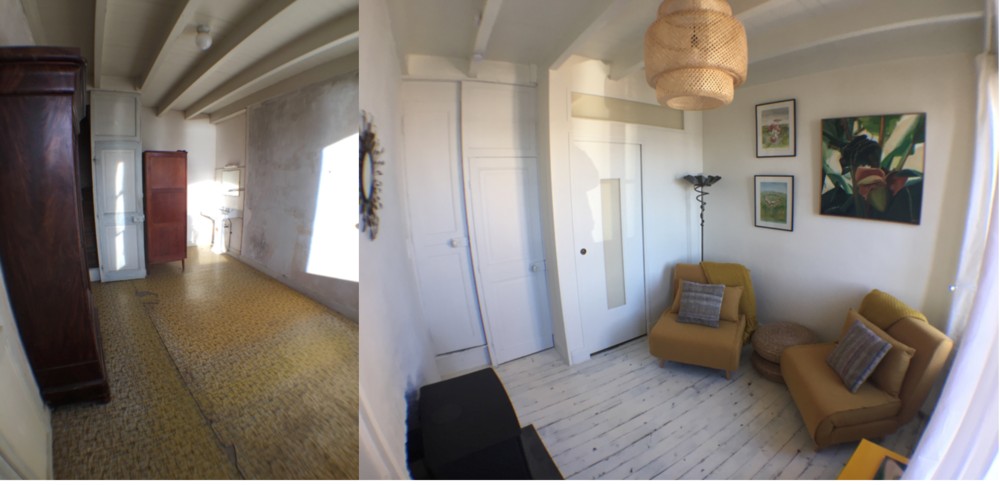 A little shower room has fitted neatly into the corner of the salon.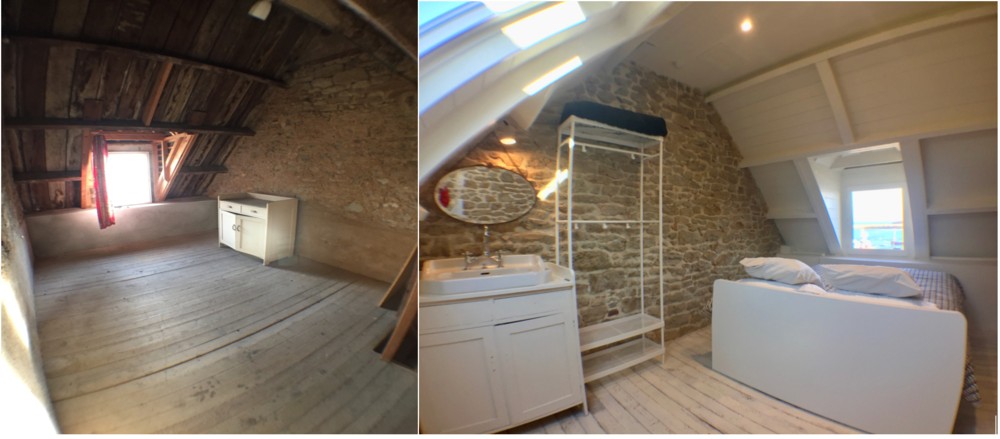 This is the new bedroom, up in the eaves. A new Velux window floods the tiny attic room with light – spot the re-purposed cupboard sink.
What did I learn?
So, what did I learn, and what did the project eventually cost?
When planning a DIY renovation, it's essential to budget for professional-level tools. For woodworking for example, you'd need a decent work bench and power tools and cutters that would make the job a breeze. Plus, the patience to measure and cut accurately every time (not a key skill of mine!).
You are going to use up your contingency budget and more. Even though I saved myself around €5,000 plus by repointing inside and out, and re-plastering walls and stairwells with traditional materials, I still ran significantly over budget.
Whatever the house is now worth, I wouldn't part with her for the world!
Renovating a property in France to a good standard would, to my reckoning, cost anything between €1,200 to €2,000 per square metre. If you want a higher specification, budget for more. Don't be tempted to skimp, particularly on major items like roof and windows, or you'll pay for it in future years in heating bills.
My final cost for the completed house, including furnishing and fit-out was around €180,000. Is the property worth that now?  Maybe yes, maybe no, but in any case, I wouldn't part with her for the world!