When I moved to Normandy in 2017, I had little intention of embarking on a renovation project. Having left a stressful job behind, my aim was to kick back and relax for a while, before easing my way into paid employment. But when I set eyes on a neglected fisherman's house for sale in one of the prettiest villages in France, I knew I had to have her. This is my story of how I gave this sad old lady with spectacular views a new lease of life. 
Finding the perfect project
Barfleur is a beautiful and historic port on the eastern tip of the Cotentin peninsula of lower Normandy. Grand granite houses and compact fisherman's cottages crouch around a splendid 11th century church, and pretty streets stream out towards the rich farmland and white sandy beaches beyond. It's popular with tourists and fisherman alike because its sheltered position and wide, accessible quay, is ideal for both strolling and landing the daily catch.
Find out how to secure a fixed exchange rate to stop the costs of your renovation jumping in our partner Smart Currency Exchange's guide, The Property Buyer's Guide to Currency.
It has an illustrious past – the wooden boat that carried William the Conqueror to England was built here, and the village features in numerous impressionist paintings. It's a pleasant place to spend a weekend or even longer, and the English clearly don't bear a grudge against the Normans, as there's a small but established ex-pat contingent of which I now form part.

The house I found was tiny; just 39 square metres distributed across three floors. She was tall though, with high ceilings and fabulous views. When I first discovered her, she'd laid practically neglected for decades, having been used as an occasional holiday home. Her exterior had been slathered in 'crepy' – a concrete render that, regrettably, was fashionable in the post-war period. As a result of this air-tight corset, her internal walls were sopping wet. Although she had power and running water, she had no kitchen or bathroom to speak of, and her bare boards were covered in retro 50s lino in a sorry state. Notwithstanding these problems, reader, I fell in love.
Don't leave your home uninsured. Get your free, no-obligation quote from our property insurance partner today.
At first glance, her structure seemed sound, but I called in a friend to take a look – surveys are not common when renovating a property in France. However, if you look carefully at any old house, structural problems are often apparent – cracking anywhere can be a tell-tale sign of subsidence or water ingress, especially around openings. In my builder's view the roof was OK if tired, as were the windows. The internal walls, aside from the damp, looked in good condition. The existing internal plaster was clearly lime (a good thing, as lime allows walls to breathe), and the wiring definitely needed replacing. I decided that thanks to the spectacular position in a sought-after area and compact dimensions, it would be worth my while to renovate.
When I set eyes on a neglected fisherman's house for sale in one of the prettiest villages in France, I knew I had to have her.
When sourcing a property to renovate in France, it's all too easy to get carried away by some of the lovely homes on offer. From crumbling chateaux to chocolate-box cottages, there's plenty on the market. But you need a cool head to take on a property that needs major work, as you are unlikely to recoup anything like your costs when it comes to sell. Houses are valued strictly by the square metre, and no matter how luxuriously they are appointed, any uplift in value is almost wholly dependent on the desirability of their location.
Putting in an offer
I decided to make an offer well below the asking price as the property had been on the market for some time. Despite its prime position and lovely views, it required some head-scratching to figure out how it could accommodate a kitchen and bathroom. What's more, since was within 500 metres of a historic monument (the church) – French planning rules are very strict, and there was little chance of being granted permission for an extension. To my delight my offer was accepted, and I set to work on obtaining planning consent for the changes I envisaged.
As I sat back and waited to hear back from the Town Hall, I started to wonder. Why don't more women do the "harder" stuff involved in home renovation, like plastering, woodwork, tiling and mortaring? Although I planned to use contractors for the major works (gros oeuvre) like a new roof, and specialist jobs like electricals, if I turned my hand to some DIY I could conserve my budget for some of the sexier items like the terrazzo tiles I'd been hankering after, I thought.
I'd renovated an old property before, so I knew that using lime to repoint the exterior and plaster inside was a must. I reckoned I could handle removal of the crépy, insulating the ceiling and installing new boarding. In a flush of enthusiasm, I also intended to tackle the internal demolition and some of the finishing touches like tiling and decorating. I set-to and invested some of my budget on appropriate tools like saws, jack-hammers, chisels, masonry bits and pieces and power tools. I allowed myself a budget of around €40,000 or €1,000 per square metre for the renovations, which is at the low-end of what it usually costs to renovate a home (between €1,000 and €2,000 per square metre), given that I'd be tackling some of it myself.
Choosing the right tradespeople
Having nailed down those parts of the project I would do myself, I called in a local plumber with whom I'd worked before to arrange our first site visit. Finding good tradesmen or 'artisans' in France is a tricky process, not least because of the language issues. If you are renovating a property in France and looking for reliable trades, then word-of-mouth is by far the best route. If you mine your local network for recommendations, a handful of names are bound to crop up, and you can ask two or three of these to prepare you an estimate or 'devis' of likely costs.
Is everything in your works legal under French rules? Get guidance from our firm of trusted solicitors.
By law, artisans are required to prepare detailed devis, and so it's easy to compare prices, although you'll need to get to grips with some technical terminology. If you are intending to use a building firm, then they will generally act as project managers or 'maître d'oeuvre', and will subcontract the specialist trades from their own contact books. Alternatively, as in my case, I relied upon my friendly plumber to provide recommendations – he's an extremely good and thorough worker, with a formidable contact book. I knew I could rely on him to find me the roofer, electrician and mason I'd need. Also, like many specialist tradesmen he can turn his hand to minor carpentry and fitting out ­– if my DIY aspirations proved too ambitious, I reckoned he would be willing to help. We agreed on those parts of the job he and his buddies would handle, and also concluded that a new, properly insulated roof would be a good investment.
Picking up new skills
One task I was determined to handle was the lime mortaring and plastering, so I booked myself onto a couple of courses at Mike Wye Associates, a traditional materials supplier in North Devon. I spent a fascinating (and exhausting) couple of days learning to build a stone wall using lime mortar, repoint, make cob blocks, render a wall and finally, apply fine lime plaster for a perfect finish. Mike specialises in traditional building and products, and at his well-run sawmill in Buckfast Filleigh you can buy everything the traditional homeowner may possibly need, as well as attend courses to learn how to use them (see his videos on YouTube too).

Once back in France, I set to removing the crépy with my new power tool. The roofing contractor having already started work, a decent scaffold was in place, and I reckoned it would only take me a week to strip it. How wrong I was. In places, the stuff was a good 15cm thick, and I had neither the physical strength, nor a powerful enough tool to handle the job. It was time to call in the professional, my friendly mason who was already on site who got the stuff off in an afternoon. Great for me, not so good for my budget!
For more advice on finding your dream French renovation, call our friendly France Resource Team on 020 7898 0549 or email

[email protected]

.
One job I was able to handle comfortably was removing the crumbling mortar and plaster on the internal walls. I started off using a small lump hammer and plugging chisel as I'd been shown at Mike Wye, working to remove the mortar joint by joint, but this proved slow work and I kept bashing my finger. At the suggestion of my lovely roofer, I changed to a pick, and while this was dusty and exhausting work, not just to hammer the stuff out but to carry it down two flights of stairs to the skip, it was rewarding to see the finished result!
In the second part of this series, coming next week, read about how I scaled my tall, tiny house to repoint the façade, discovered an unpleasant surprise in the kitchen, and find out how much my project to renovate a house in France eventually cost.
And, in the meantime, don't forget to download your free Property Buyer's Guide to Currency below, to find out how to organise your finances when moving to France.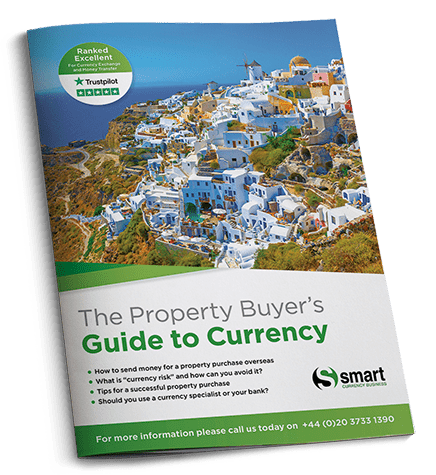 The Property Buyer's Guide to Currency will help you:
✔

  Understand the currency markets
✔

  Protect your property budget
✔

  Use a Currency Specialist
✔

  Learn from other overseas property buyers
Download the Property Buyer's Guide to Currency