The French property market has not seen the sharp price rises that we have seen in the UK in the last 10 years or so: quite the reverse, many areas have seen no price rises at all. However, new figures released by the French property market overseer "Se Loger" and "Insee" suggest that this is changing in some areas.
What's happening in the French property market?
Average prices having started to rise in the last quarter, which is great news for British buyers, coupled with a stay of Brexit till at least January 2020 (more on this later). In other words, there are still plenty of affordable areas in which to buy, but with the current trend, your purchase may also lead to an excellent investment in years to come.
With an election coming up, the pound/euro exchange rate could move anywhere – and, if you put in an offer, you could find the price has changed by the time you come to pay. Find out how to protect your money against this risk in the free Property Buyer's Guide to Currency.
Although it is still very much a buyer's market in France generally, with plenty of choice of properties for sale of all types across the country, many sellers have in the last year or so had to think carefully about the value of their properties since with the influx of foreign buyers (amongst whom us British of course) over the last few years, they have perhaps been too optimistic about their property's value. The result of this has been that many properties have been over priced and only when a seller finds his/her property remains on the market for years (yes many do take years to sell!), do they realise that they must be more realistic on price. This realisation seems to be happening now if one looks at the figures with 1,017,000 transactions this last quarter as opposed to 985,000 the previous quarter. The market is becoming more buoyant.
This can only be good news for the British property buyer in France. With many areas remaining highly affordable and certainly giving you far more for your money than their equivalent in the UK, there is likely to be the added bonus of your property purchase becoming valuable as an investment, whereas a few years ago one probably could not expect to actually make any money on a French property resale; one had to simply look at it from the point of view of owning one's property, enjoying it for a few years, perhaps gaining some financial benefit in rentals,  but not necessarily expecting to benefit financially from it.
As a very general rule of thumb, don't offer the asking price on any property in France. Sellers know that they need to be negotiable to some extent if they want to achieve a sale within a reasonable time. The considered thinking remains that around 10% less than the asking price is fair game in this market. Of course, a good estate agent will know their patch and advise on what to offer. Remember too that you can always come up but you can't go down so a lowish offer as a start is always worth trying!
As for the best areas in which to buy from an affordable and investment point of view, aside from the Ile de France around Paris which consistently sees price increases, take a look at the following regions:
Lyon
One of the most important towns in France, often termed the gastronomic capital, Lyon and its surrounding area has seen a marked increase in prices, mostly of apartments but old houses too. From an investment point of view, this is well worth considering. Average house prices here range from €3555 right up to €7000 per square metre. The likely yield over, say 10 years at current trends is going to be around 40% gain so although not the cheapest part of France, certainly a worthy consideration if one has the necessary budget.
Read your Emigration Guide to find out everything you need to plan when you move over to France.
Bordeaux
Interestingly, Bordeaux has levelled off price wise, having seen consistent price rises over recent years. A hugely popular town with easy access to and from the UK, there is plenty of choice of types of houses and apartments here and around its suburbs with average prices coming out at between €3400 to €6800 per m2. The lower end of this will find you a decent 2/3 bedroom house in good condition with some outside space. Although prices have started to stablise, they will in all likelihood start to rise again as Bordeaux is a well kept town with a cared for infrastructure and of course, some very wonderful wines!
Limoges
Limoges, in the Haute Vienne, is still a highly affordable area in which to look. This is a beautiful town with its half timbered buildings and cobbled streets, often rather overlooked by British buyers. With average house prices starting at just €1100 up to €2200 per m2, this is a great place to buy a second home on a limited budget.
Montpellier
Montpellier is the capital of the Herault department in the Occitanie region. A personal favourite, this is a young and vibrant city, proud of its heritage, wonderful architecture, transport system, shopping and night life. It is also very close to the Mediterranean Sea and is easy to get to from the UK. Average house prices range from €2400 to €4900 per m2. Prices have grown steadily here over the last 10 years and continue to rise slowly so this is also an excellent investment.
Reims
Reims has a long history going back right back to Julius Caesar's conquest of Gaul. It is also known as champagne capital of course and so attracts huge numbers of tourists from all over the world who come to experience how the bubbly is made!  Average property prices here range from €2240 to €3300. It is well worth taking a road trip along the "route champenoise" not only to check out the small local champagne producers but to see some of the very pretty villages outside of Reims. Property wise, again this should see a reasonable investment over 10 years or more.
With some excellent French mortgages now available and as previously stated, many sellers now understanding they must be fiercely realistic if they are to sell their property within a reasonable time frame, now is an excellent time to think about buying your own French home.
Finally, without wishing to address the topic which none of us can ignore (although perhaps many might like to!), ie Brexit, the truth is that whatever happens in this regard, buying a second home in France will not present any difficulty for British buyers and indeed, some may think, will be something very welcome after the years of uncertainty we have had recently in the UK. Our love for France remains undiminished.
Let us know how we can help you achieve your French dream – speak to your France Buying Specialist Yasmin on +44(0)20 7898 0549 or email us on [email protected]. And, if you haven't already, don't forget to download your free guide below.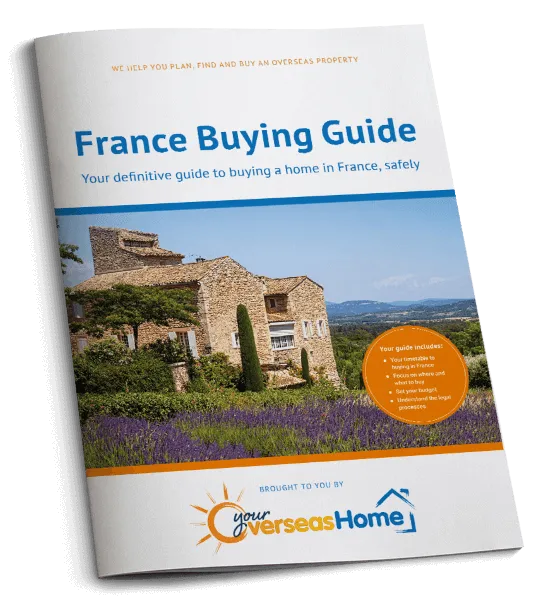 Buying a property in France is extremely exciting, but it can be nerve-wracking: in what ways is the process different to the UK, how do you cope with the language difference, what fees should you expect and just who is the notaire? That's why we've put together our France Buying Guide, to help you through the process, step by step.
Written by experts, it covers every stage of buying, from viewing to contracts and fees. Get your copy of the French Property Guide by simply filling in the form below.
✔

  Ask the right questions
✔

  Avoid the legal pitfalls
Download your free guide to buying in France