We're entering into one of the busiest periods of the year for overseas property, and, even though the Brexit deadline's in just three months, the number of buyers from the UK is actually growing. It's no wonder when you consider how stable the market is in France: it's a huge opportunity in a time of uncertainty back home. Even with a no-deal Brexit, British buyers will still be able to purchase here, so the French property market in 2019 is looking full of promise! Here's your round-up of what happened last year and what's coming up.
What happened to the French property market in 2018?
Generally, France has a particularly stable property market, with a good balance between supply and demand outside of the Île-de-France and the Côte d'Azur. You can see that in what's happened over the last year; prices have increased slowly, with a 2% increase on average across the country. It's a great sign if you're looking to purchase that dream cottage in the Charente – you can be relatively confident of it not losing value over time.
Regional hotspots
Throughout the country, there are a number of fantastically low-priced property hotspots. In the Limousin, a 100m2 property would cost around €108,800 – and prices are steady, with a growth rate of just 0.2% in the last year. No worries about overheating here!
In the Charente, it's a tale of two halves – a good example of why researching the market is so important. If you looked in the maritime region, a 100m2 home would sell for around €215,000 – but head inland, especially past Angoulême, and you're looking at around €114,000. Prices are dropping slightly, at -1.3%, but, again, this is where researching the broader picture is so important. Five years ago, prices were falling by 10%. Every year since then, that percentage has got smaller, so this could be a fantastic moment to buy, just before it hits the green.
In another British favourite, the Pays de la Loire, and in Brittany, prices are growing a little faster. The average 100m2 Loire property costs €178,000 and is growing in price by around 3%. In Brittainy, it's €172,000 and 2.5%, respectively.
Most affordable property
The property market yielded few surprises in 2018 – the cheapest locations to buy a home were Indre, where a 100m2 house costs €96,000; Nièvre, where one costs €93,000 and finally Haute-Marne in Chaumont. where one costs just €87,000.
The cheapest locations to buy are Indre, Haute-Marne and Nièvre.
These areas have lower prices because of a high number of properties – many beautiful period homes that just need some TLC – and fewer job opportunities causing the young to go to the cities. For anyone retiring, or working as a digital nomad, employment issues aren't much of a problem, so these can be good areas to really grab a bargain.
What's ahead for the French property market in 2019?
If all trends continue, it's looking like a very stable year for the France real estate market. Prices will likely to continue growing steadily, but slowly. That's a fantastic opportunity for anyone purchasing from overseas. Back in the UK, there are a lot of worries about Brexit: how will it impact our ability to buy, will it be the end for the dream of moving to France? The answer is conclusively no – even in the event of a no-deal Brexit, you can still buy here just as Americans, Australians and other third-country nationals do. Property isn't one of the EU's four freedoms, and anyone has the right to buy. Then, entering the country, you'll have a number of different visa options – our legal specialists can explain this in detail.
This means that there are lots of opportunities in the market, despite Brexit. Continuing your plans could mean you get the home of your dreams for a very reasonable price indeed!
Don't miss your free tickets to Your Overseas Home while they last. The show's specifically designed for serious buyers to connect with industry experts in real estate, law, finances, currency exchange, removals and more.
If you're interested in buying in the French property market in 2019, then have a browse of the beautiful homes on our property listings, and don't miss your free Buying Guide below. If you have any further questions, don't hesitate to give your France Property Specialists a ring on +44(0)20 7898 0549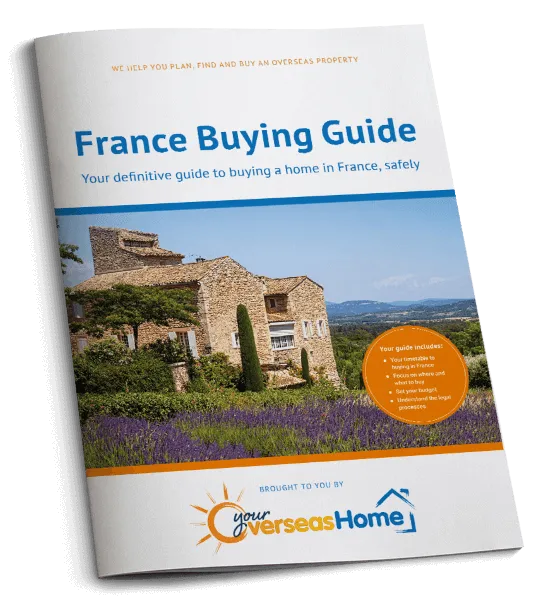 Buying a property in France is extremely exciting, but it can be nerve-wracking: in what ways is the process different to the UK, how do you cope with the language difference, what fees should you expect and just who is the notaire? That's why we've put together our France Buying Guide, to help you through the process, step by step.
Written by experts, it covers every stage of buying, from viewing to contracts and fees. Get your copy of the French Property Guide by simply filling in the form below.
✔

  Ask the right questions
✔

  Avoid the legal pitfalls
Download your free guide to buying in France