Struggling to keep cool in this year's heatwave? In France, you're never far from a freshwater lake or river that's suitable for bathing – something worth thinking about when you're property hunting and don't intend to have your own pool. Here are four popular wild swimming destinations, with some properties near water for sale…
Millevaches Regional Natural Park, Limousin
Located in the centre of France, the Limousin region makes up for being miles from the coast by being full of rivers and lakes. In fact, it is often referred to as the Lake District of France.
The Millevaches regional park is one of the highlights of Limousin. It's home to Lake Vassivière, the region's largest body of water and one France's largest artificial lakes. Vassivière sits near the village of Beaumont-du-Lac and is bisected by the border dividing the Creuse and Haute-Vienne departments. It covers an impressive 10km2. Along much of its 45km of shoreline, development is highly regulated. Ancient shady forests and pretty glades meet the water's edge, making it a haven for wildlife and wild plants. A selection of sandy beaches also sit around the lake. As such, there are plenty of opportunities to do water sports.
The Limousin region makes up for being miles from the coast by being full of rivers and lakes. In fact, it is often referred to as the Lake District of France.
Other smaller freshwater swimming options in the northern part of the Millevaches park include the Lavaud-Gelade lake near Saint-Marc-à-Loubaud and a lake at Bujaleuf, near the popular village of Eymoutiers. This consequently means that properties near water are in abundance here.
Verdon Gorge, Provence
Not far inland – and a world away – from the glitz of the Riviera is the natural wonder of the Verdon Gorge, the deepest in France. It forms the the centrepiece of the Verdon regional park and cuts through the limestone massifs of the Alpine foothills. The gorge links two notable freshwater lakes, namely Sainte-Croix and Castillon.
With emerald waters, spectacular natural scenery and supervised beaches, both make exciting and refreshing places to cool off in those sweltering provençal summers. The steep, craggy terrain is also ideal for other types of water-based activites, from kayaking to canyoning. Bird-watchers will delight in watching vultures drift overhead. Notable villages with properties near water in the area include Aiguines next to Lake Sainte-Croix and medieval Castellane near Lake Castillon.
Millevaches Regional Natural Park, Limousin, France
Verdon Gorge, Provence, France
Lac de Mas Chabon, Charente, France
Lac de Lavaud, Charente, France
Upper Charente
In the upper part of the Charente region, mid-way between Angoulême and Limoges, are the two man-made lakes of Lac de Mas Chaban and Lac de Lavaud. They both offer pleasant conditions for swimming, fishing and other martime activities. The latter is also the largest lake in the whole Poitou-Charente region. As such, it is more geared up to leisure activities, with two supervised beach areas at Plage de la Guerlie and Plage de Videix.
Towns or villages close to both lakes with charming and affordable properties near water include Massignac, Suris and Verneuil. Or try Lésignac-Durand which is right next to Mas Chaban. Here, there's an outdoor adventure park, undoubtedly adding further to the area's appeal to families.
Dordogne Valley
One of France's most loved destinations is the Dordogne. The river and valley meanders its way through south-west France, offering some of the country's most picturesque river-based landscapes. A journey down this iconic river will serve up views of dramatic rocky overhangs, ancient clifftop villages, wide-sweeping river bends and forested riverbanks. You'll also find plenty of properties near water here.
If you're going to buy within the next six months, make sure you get your tickets to Your Overseas Home. It's designed specifically for serious buyers, so you can get detailed information from lawyers, agents and currency providers.
The Dordogne has a large selection of  beaches. Some are on its riverbanks. Others are on lakes beside the river or at points along its way where it has been dammed into a reservoir. One stretch that is especially rich in supervised swimming areas is just south and east of Brive. Another option is near Martel, where a large meander in the river has formed a scenic beach at Gluges. As well as this, nearby in Tauriac is the small lake of Plan d'eau du Mas de Croix. Its shady trees and lush grassy banks also make it especially suitable for families.
Further lakes in the area include Lac de Feyt at near Saint-Privat and Lac de Tolerme at Sénaillac-Latronquière. A highlight ins undoubtedly the Bort-les-Orgues reservoir. The highest peaks of the Dordogne surround it. It offers 26 miles of stunning riverbanks and beaches. This is all topped off by a fifteenth-century fairytale château, sat on its own headland.
If you're looking chiefly for properties near water, these wild swimming locations could be just the ticket. Make sure that you're fully up on how to choose where to live with advice from people who've already done it – so you find exactly the right place for you.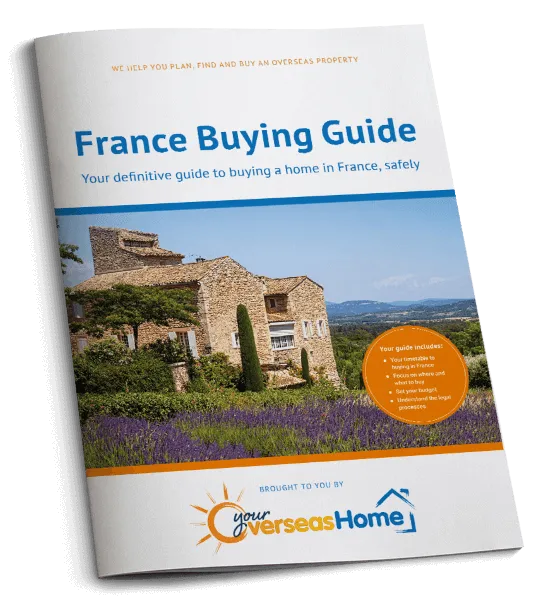 Buying a property in France is extremely exciting, but it can be nerve-wracking: in what ways is the process different to the UK, how do you cope with the language difference, what fees should you expect and just who is the notaire? That's why we've put together our France Buying Guide, to help you through the process, step by step.
Written by experts, it covers every stage of buying, from viewing to contracts and fees. Get your copy of the French Property Guide by simply filling in the form below.
✔

  Ask the right questions
✔

  Avoid the legal pitfalls
Download your free guide to buying in France