The hardest man on TV right now, Ant Middleton of SAS: Who Dares Wins spent most of his childhood in rural Normandy, where he developed a taste for adventure. France's vast natural landscapes are perfect for outdoorsy types, even those who fancy testing their own survival skills…
Dump Ant Middleton, blind-folded and sleep-deprived, miles from civilisation in sub-zero conditions, and chances are he'll make it home before you.
Ant has shot to fame as the head instructor on the Channel 4 reality show that invites a group of everyday people to participate in a recreation of the selection process for the SAS. He's the best man for the job, having served in that other famous special forces unit, the SBS, as well as the Marines and Parachute Regiment!
Ant Middleton's childhood in rural Normandy
Rewind a few decades and circumstances saw a nine-year-old Ant moving to northern France from Portsmouth. That was in the late 1980s, and he spent the next seven years living in the countryside near Saint-Lô in Normandy. During that time, he attended a local school, became fluent in French and discovered the great outdoors.
"We had acres of land and I used to go out and build tree houses and climb on everything I could find," Ant told the Outdoor Adventure Guide magazine. "I was lucky that I was allowed to explore; it made me very self-sufficient and independent at a young age. It also led me to wanting to join the military." Which he did, leaving France aged 16 to hop back across the Channel and begin his military career.
Find out more about accessing healthcare in France with our Healthcare Abroad guide.
The beautiful Manche department
With historical Norman roots, Saint-Lô is the principal town of Normandy's Manche department. Regional highlights include the ferry port town of Cherbourg, Caen and the D-Day landing beaches, and further south the pretty seaside town of Granville, not forgetting the island and abbey at Mont Saint-Michel, a UNESCO site and one of France's most popular tourist attractions.
Complementing the beaches, cliffs and marshlands that typify its coastline, inland Manche boasts rolling green countryside with plenty of woodland and open fields. Combined with the outdoorsy lifestyle and easy access to the UK, the appeal for property-hunters there lies in the choice of affordable character homes that can be found in its pretty villages. Many of the houses, much like Ant's family home, come with land, as well as outbuildings. Stone farmhouses or traditional 'longères' and the slightly grander 'maisons de maître' are especially popular.

Ray Mears' love for the Ardèches
Elsewhere, Britain's other celebrity survival expert Ray Mears, who has a string of TV series to his name, previously praised France for its diverse, unspoilt landscapes. "France is a stunning country and very wild," he once told the Radio Times. "The land area is twice Britain's with the same population, but if you take into account the folds in the country, it's nearer three times the land surface area. They have many things in abundance that we would consider rarities because they have so much wonderful habitat."
Ray highlighted the untouched Ardèches Valley in the south-west of the Rhônes-Alpes region as his favourite corner of France, adding it's one of his favourite places in the world to canoe. Other highlights there include the Païolive Forest and the authentic medieval villages, such as Balazuc and Vogüé.
Buying property in Normandy
If you're tempted by any of these homes, or you simply have further questions about buying in France, don't hesitate to call your France Property Specialists in the Resource Centre for free advice on +44(0)20 7898 0549 or [email protected].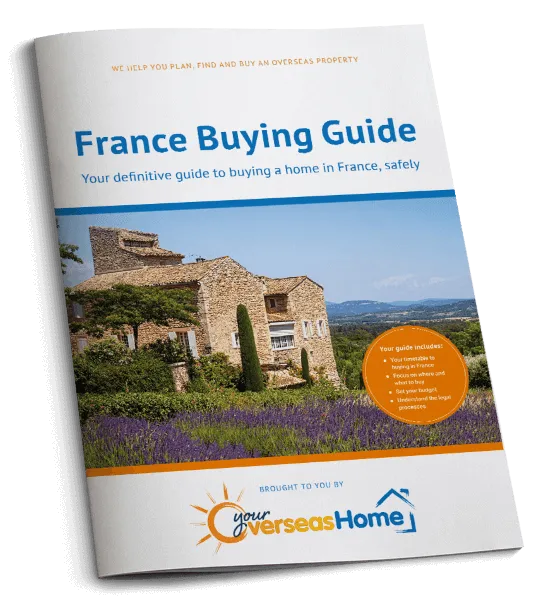 Buying a property in France is extremely exciting, but it can be nerve-wracking: in what ways is the process different to the UK, how do you cope with the language difference, what fees should you expect and just who is the notaire? That's why we've put together our France Buying Guide, to help you through the process, step by step.
Written by experts, it covers every stage of buying, from viewing to contracts and fees. Get your copy of the French Property Guide by simply filling in the form below.
✔

  Ask the right questions
✔

  Avoid the legal pitfalls
Download your free guide to buying in France