Nestled in South West France lies the department of Charente. Boasting fantastic weather and countryside, it also offers great value for money when property searching. Whether you're looking for a bustling and lively or more rural pace of life this diverse area has loads to offer. But how to decide where to live in the Charente?
One of the original departments created during the French Revolution, Charente (department 16) is so named after the river that runs alongside its two biggest towns Angoulême and Cognac. This region is steeped in history and culture, is proud of its laid back outdoors based lifestyle and is world famous for the production of Cognac and Pineau de Charente.
Location
Access from the UK couldn't be easier with Bordeaux, Bergerac and Limoges airports serving the region in addition to the TGV from Angoulême to Paris providing links to Eurostar. When leaving family and friends in the UK, transport links offered by the region are of great importance to property hunters when deciding where to live in the Charente.
Lifestyle
Having one of the most desirable climates in France, the region really thrives when it comes to outdoor activities and water sports. The variety of the countryside with its hills, tracks, lakes and rivers provides the perfect backdrop to the wealth of activities on offer. The draw of horse riding, cycling, kayaking, canoeing and the ability to be outside for so much of the year is a reason that lots of families choose this area to settle in. The people, the food and the laid back lifestyle is simply the cherry on the top of this delicious cake.
Having one of the most desirable climates in France, the region really thrives when it comes to outdoor activities and water sports.
Income opportunities
Being the perfect holiday destination, the area is popular both with holiday home owners and permanent residents. Buying property with gites and cottages attached enables the creation of businesses offering holiday accommodation over the summer months and long term letting also provides an additional income stream possibility.
How to decide where to live in the Charente
When deciding *where* to buy, your first point of call should be your priority list:
Do you have children of school age?
Are you looking to buy within walking distance of amenities or within more rural areas?
Do you speak French to a level that you can communicate easily or are you looking for ex-pat rich community?
What type of property are you looking for size wise?
With land, and if so how much?
A new build or renovation, and if renovation to what extent?
Do you need to buy a property that could provide an income stream (for example a gite or attached workshop?)
Services and amenities
When choosing to live in a rural area, bear in mind that your nearest supermarket, shops and petrol station may be several kilometres away. Many large villages in the Charente *are* open all year round but do your research because it may surprise you that some rely largely on tourists during the summer season and all but shut down during the winter months. This has caught out many an unsuspecting expat and is definitely a consideration when deciding where to live in the Charente.
Buying soon in the Charente? Get your free tickets to Your Overseas Home, the leading property show for serious buyers to get expert advice and guidance from industry specialists.
The best places to buy
Charente offers both bustling towns (Angoulême, Cognac and Jarnac) as well as lively villages and much smaller rural communes. It is strongly advised to spend as much time as possible beforehand in the area of your choice. You would be surprised how priorities can evolve over time spent here and this is an important consideration when deciding exactly where to live in the Charente.
It's certainly true to say that property in the region is great value when compared to both UK prices and those of the neighbouring department, the Dordogne. However, don't make the mistake of thinking that complete renovations can be done here on a shoe string. You will find the variety of properties on the market range from total renovations, to partial renovations to houses that purely need decorative change and it's a good idea to research renovation prices prior to purchase.
Property styles in Charente
Typically there are 3 main property styles. Charentaise houses are widespread and are rectangular or symmetrical in shape. They normally provide one or two floors and often come with land attached.  Manor houses are normally large properties constructed from stone. Because they often comprise of land, outbuildings or even separate cottages (and are generally gated or walled with large courtyards) they often command higher prices. Farmhouses are more normally to be found in rural areas and often come attached with stables, barns or outbuildings.
Where to live in the Charente
Angoulême
The capital of the Charente is situated 230 feet above the Charente River providing the most breath taking views. The town is a maze of beautiful cobbled streets with cafes and restaurants galore. Its historic centre offers monuments aplenty and tiny boulevards adorned with street art. Angoulême is particularly famous for two annual events – the International Comics festival, held in January and the "Circuit des Remparts" in September when the streets of Angoulême become an impromptu race track for vintage cars. Due to its bustling nature and annual events, it's a popular location for some due not only to year round activity but rental income is easy to come by here. Be aware that because of this, property prices can be higher here than in the other towns.
Average property price: €1,130/m2
Cognac
This town is famous of course, for its Cognac production. The narrow streets in this town highlight the juxtaposition of mediaeval timber framed houses once occupied by "the workers" against the grand splendour of wealthy merchants of the past. The wonder of the "old town" is really something to behold and you can just feel the history here with Romanesque churches and Chateaux. Property prices are relatively low here and Cognac is a good place for rental opportunities.
Average property price: €1,200/m2
Jarnac
The birthplace of the former French President Francois Mitterand, dedicating several monuments to his honour, Jarnac is the home of "Courvoisier" cognac. The town has a stunning centre – a series of bridges flanked by a river walk stretching for miles. In July a jazz and blues festival is held here and the town is inundated by visitors. In general, property prices are the best value for money here compared to the other towns and if you look hard enough there are real bargains to be had.
Average property price: €1,030/m2
Aubeterre-sur-Drone
Officially listed as one of "The Most Beautiful Villages in France" since 1993, Aubeterre is very popular with expats due to the diversity of its inhabitants including Brits, Germans, Dutch and of course the French. In the summer months this thriving village is bustling and lively with several restaurants, bars as well as the usual cashpoint, butchers, bakers etc. Be careful though, heavily reliant on tourists, a lot of these services shut down during the winter months.
It boasts an exceptional cultural heritage which combined with its natural surroundings (being on the border of the Charente and the Dordogne) makes it the perfect balance of culture and activity. Property prices can be high here compared to surrounding villages due to the popularity and tourism opportunities the village has to offer. But you can still find a reasonably well priced two bedroom pied a terre with a small courtyard for around 100,000 euros.
Average property price: €790/m2
Confolens
This large commune is situated at the point where the Charente and Limousin regions meet and is built around a fortress dating back to the eleventh century. The medieval past is visible today in the city walls and houses dating back to the fifteenth century. It has seen rapid tourism development in recent years and hosts the "Festival de Folklore" annually in August. Due to its tremendous value alongside the proximity to services and amenities it is a popular commune for both British and Dutch ex-pats to buy property.
Average property price: €660/m2
Ruffec
Situated in the north of Charente, Ruffec's crowning glory is the façade of its twelve century church. Now a major city providing all the benefits and buzz of a metropolitan area, Ruffec boasts all the legendary Charentais history and culture as well as proximity to nature that you would expect. As well as the usual weekly markets, in January it hosts the "International Festival of Humour and Dream" during which the public can catch various shows including cabaret, general entertainment and comedy. With a low property price average, Ruffec is a great place for investment and is popular amongst the expat community.
So now you're all set! One of the joys of starting your new life in France (and choosing where to live in the Charente) is the adventure of discovering new areas and the house hunting process. Have patience, don't rush, remember your requirements and you will find the perfect home for you when you least expect it.
Average property price: €600/m3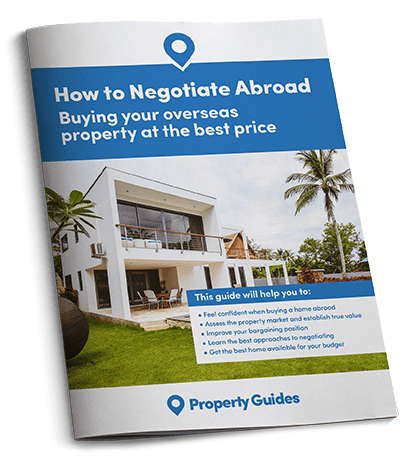 How to negotiate abroad is the guide to put you back in control:
✔

  Feel confident when buying a home abroad
✔

  Assess the local property market
✔

  Improve your bargaining position
✔

  Learn the best negotiating tactics
Download your free Negotiation Guide