What works in your British home probably won't look right in France. So this week I am offering a few clues on how to make your French home beautiful, without breaking the bank.
It's an exciting moment when you finally become the proud owner of your new French home. In all likelihood there will be changes to be made and decorating to be done, and here comes the fun part! We have taken great delight in keeping the character of our 19th century house, while at the same time making it cosy and beautiful.
One thing we have learnt is that you can be bold with colours, particularly here in the south of France. The light is different and we decided to be brave and choose strong tones which somehow work here in the land where the sun shines most of the year round.
Our number one tip is to live in your new French home for a while before choosing colours. What may have worked in your English home may not in your French one
Think about the size and shape of each room as well as its orientation. We have just decorated an east facing bedroom in a warm terracotta colour, for example, since the light floods in during the morning giving it a wonderfully warm effect. Do not be afraid to paint it all in the same colour either, even if it is a small room. This gives a most dramatic feel and actually gives a feeling of space. You can always highlight special features such as fireplaces and cornicing in a contrasting colour, but keeping it largely the same does work.
Another great tip is to choose variations on the three primary colours in bedrooms which are close to each other. We have a soft blue bedroom, a rich yellow bedroom and a terracotta bedroom, which each have a slightly different ambiance but all look wonderful in this part of France close to the Mediterranean.
Neutral colours are fine too, naturally, if you are on the nervous side of going for bolder colours. A good tip is to bring brighter deeper colours into play with accessories such as a chair, dressing table, cushions etc. There is a super shop with branches across France selling homewares at reasonable prices very well worth paying a visit, Maisons du Monde.
Bathroom suites are best in white but you can have great fun choosing more vibrant colours for your towels, dressing gowns etc!
As for dining rooms, soft muted colours are often the best here, when you want to create a calming space, perhaps with candle light for entertaining guests.
If you are ready to buy a home in France, Property Guides will be at Your Overseas Home. It's a new style of property show, where those serious about buying can get answers to detailed questions and introductions to trusted lawyers, agents and currency providers. Click here to apply for FREE tickets to shows this autumn and throughout 2018.
Paint in France is fairly expensive and it can be difficult to find good quality paints. We recommend the UK Paint Depot which is a great service, shipping paints to France. They can match any Farrow and Ball colour and the quality is excellent.
Whatever you choose to do in terms of decorating though, our number one tip is to live in your new French home for a while before choosing colours. What may have worked in your English home may not in your French one and vice versa. This way you will get a feel for what you really want. Get some tester pots, put a little of the colours you like on various walls and look at them at different times of the day and evening. It is surprising how different the colours can be depending on the natural light you have.
Above all, take your time when you first come to stay in your French home. Soak up the atmosphere around your village and area generally. You will be inspired to make it quite beautiful!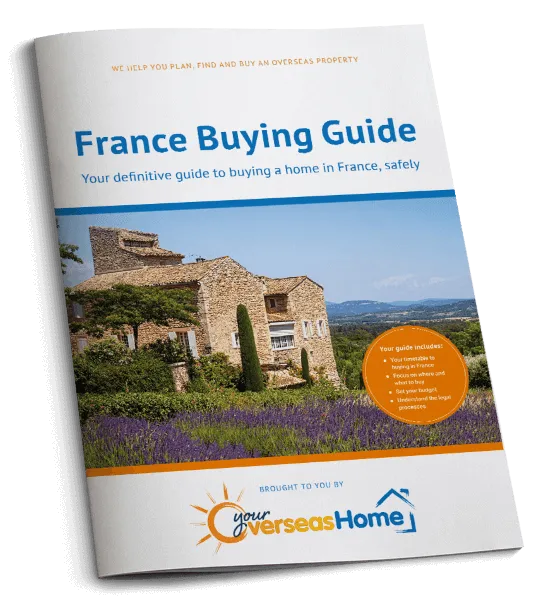 Buying a property in France is extremely exciting, but it can be nerve-wracking: in what ways is the process different to the UK, how do you cope with the language difference, what fees should you expect and just who is the notaire? That's why we've put together our France Buying Guide, to help you through the process, step by step.
Written by experts, it covers every stage of buying, from viewing to contracts and fees. Get your copy of the French Property Guide by simply filling in the form below.
✔

  Ask the right questions
✔

  Avoid the legal pitfalls
Download your free guide to buying in France