The wonderful city of Carcassonne stands out as one of the most beautiful cities in France, rich in history, vibrant in its atmosphere and surrounded by some wonderful villages, hills and mountains. If you love the real south of France, want to immerse yourself in French village life with a fairy tale castle on your doorstep, a move to Carcassonne is definitely for you!
Why live in Carcassonne?
We live about half an hour from the Cathar "Cité" of Carcassonne.  This is an extraordinary place which draws more visitors each year to witness its magical beauty than any other monument in France apart from the Eiffel Tower. It doesn't matter how many times one sees it, one's eye is always drawn to it whether driving over the bridge from the main town where it stands majestically on your right, or driving south on the A61, particularly at night time when it is lit up in an orange glow. It is almost enough to make one believe in fairy tales and indeed, it is said that the film "Sleeping Beauty" was based on it.
Legend has it that the Emperor Charlemagne laid siege to the city which was in the hands of the Saracens in the Middle Ages, a siege which lasted 5 years. Dame Carcas, wife of the Saracen king, led the knights and on victory, bells rang out in the city. One of the soldiers said "Carcas sonne" or "Carcas rings" and there you have the name of the city. A lovely story, possibly apocryphal but one to remember and relate!
The main town of Carcassonne is lovely too though. Lying just across the river Aude, it has that wonderful French feel with pretty squares lined with cafes, restaurants and individual shops where one just has to linger and watch the world go by. It has recently undergone some extensive refurbishment with some newly made pedestrian areas, gardens and fountains. There is a fabulous indoor food market just near the main Place Carnot. Check out the "Café Saillan" – a vibrant typically French café/restaurant with some great dishes, good music and a wonderful atmosphere to soak in after you have done all your shopping.
At night time it is lit up with soft orange light, and the French are so proud of it that they have even cut down the trees along the A61 motorway from Toulouse, allowing passing motorists and their passengers a chance to admire its beauty – you really cannot miss it.
A move to the Carcassonne area may offer you the best of both worlds: the richness and vibrancy of the Cite and the town plus the tranquility of the surrounding countryside and mountains. Its quaint airport offers frequent flights to various points in the UK. Many a time we have looked out of the aircraft window as it circles over the Cite to land and thought "this is something really special".
How much are property prices in Carcassonne?
Carcassonne is experiencing an injection of investment to improve its facilities and infrastructure. Great news for anyone who is looking to buy property in the area. As well as being one of the most attractive cities in France, Carcassonne is surrounded by picturesque medieval villages and lush countryside. However hectic your property viewing trip you should leave time to visit.
The average price per square metre of a house in Carcassonne is around €1350 and of an apartment around €1000, making this an affordable place in which to buy property. Prices are slowly rising but buying now may well mean an excellent investment, particularly in a city such as this which is continuing to improve its infrastructure and is justifiably proud of its beauty and heritage. There is a mix here of old houses and new builds to choose from. A budget of around €250,000 will afford you a 2-3 bedroom house near the centre but don't expect to find very much outside space unless you look a little further afield. However, the Canal du Midi runs through Carcassonne and there are some wonderful spots near the river to picnic and sunbathe so not having too much outside space may not for some be such an issue. The area around Montlegun, set on a slight hill with fabulous views, has some super properties at affordable prices and from here one can walk to the Cité in about 20 minutes.
5 lovely villages to buy property in around Carcassonne
Minerve
Minerve lies about 45 minutes north east of Carcassonne by car. This is really a "must see" and although small, a little bolt hole here would offer a tremendous opportunity to immerse oneself in the rich history of this area. This is an ancient Cathar village built across 2 gorges over the River Cesse. Think winding cobbled streets, little timber framed houses and some quaint shops and restaurants. Average price per square metre here is around €1590. Minerve is rightly included in the list of "One of the most beautiful villages in France".
Caunes-Minervois
Caunes-Minervois is a very popular and larger village situated just 20 minutes east of Carcassonne and at the heart of which lies its 8th century abbey. It is famous for its pink Caunes marble. Offering plenty of activities such as concerts, art exhibitions and workshops year round, there are some lovely restaurants here and some beautiful old properties. Average price per square metre is around €1340 for a house and some have gardens too so an excellent choice for someone wanting a second home within easy driving distance of Carcassonne but with a life of its own too.
Montolieu
Montolieu is a lovely village sometimes referred to as the "Village of Books" as it has 15 bookshops! It lies around 20 minutes north of Carcassonne and average property prices per square metre are €1390 for a house and €1000 for an apartment. The village is small with around 800 inhabitants but recently it has been well developed to include some lovely bars, restaurants and shops. It also has 2 schools, a pool and tennis courts and public swimming pool. It is very popular with tourists in the summer.
Montreal
Montreal is a larger village around 20 minutes from Carcassonne. It is set in a valley with lovely views of the mountains and here you are likely to find properties with more outside space. It has several restaurants and shops and is a very friendly community. Average price per square metre for a house is around €1370.
Mirepoix
Mirepoix is stunning! This is a bastide town with the most wonderful timber and stone buildings painted in a variety of pastel colours and a lovely central square. It is actually in the Ariege department about halfway between Carcassonne and Foix, around 45 minutes' drive west of Carcassonne.  Average price per square metre of house is around €1420.
Getting to and from Carcassonne
Carcassonne is the capital of the Aude and hugely popular with British expats due to the easy access from the UK (the flight from London is just one and half hours). Access to the motorway going north is very easy from here too and you are still not all that far from the Mediterranean coast (around an hour's drive). Spain is just down the road and if ski-ing is your bag, you can be in a ski area in a couple of hours. Carcassonne is the capital of the Aude which is the cheapest of departments in Occitanie.
It is not difficult therefore to see why a move to Carcassonne, whether permanently or to buy a second home, is something not only entirely possible for so many of us but also so tempting. This is one of those places that, once you have visited it, you will want to come back again and again!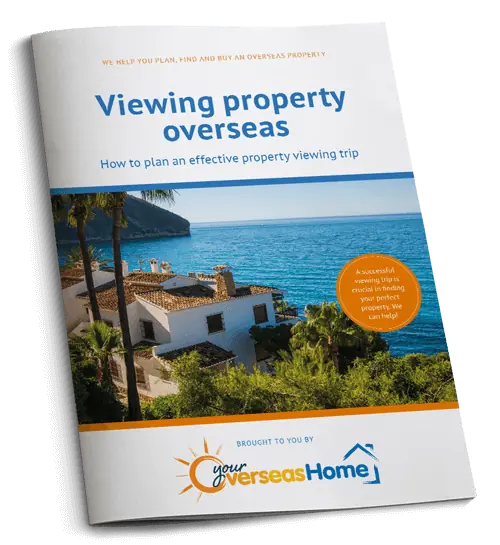 The Viewing Trip Guide is designed to support you through the process of a successful property viewing trip, with tips and information on the most important steps to take. The guide will help you to:
✔

  Find out what makes a successful viewing trip
✔

  Get the right legal advice before and after your trip
✔

  Choose the right estate agent to meet your needs
✔

  Understand the important financial considerations
Download your free guide to viewing trips