To immerse yourself in French life, why not delve into a good book? It's surprising just how much you can learn about moving to the country through one of the brilliant stories we've picked. All are written by authors who swapped their lives in the UK for France – so you could be following in their footsteps very soon.
Region: Pas-de-Calais
Book: My Good Life in France: In Pursuit of the Rural Dream
Tucked in the north-west corner of the country in sight of Dover across the Channel, Pas-de-Calais is somewhere most Brits pass through when they drive off the ferry or Eurotunnel train. Calais and the flat landscape that surrounds the port city are uninspiring, to say the least. However, as author Janine Marsh knows full well, drive south for about an hour and you find yourself in a wonderful land of rolling hills, ancient woodland and rivers.
The Seven Valleys are home to rolling hills, ancient woodland and rivers.
This area is known as the Seven Valleys. It's home to pretty old towns like Hesdin and Loisin-sur-Créquoise, and riverside villages like Planques and Fressin. In her book, Janine recounts her adventures buying a run-down home there. Find out how she slowly turned it into a rural bolthole – one that is very easy to reach from the UK!
Region: Loire Valley
Book: À La Mod: My So-Called Tranquil Family Life in Rural France

Stand-up comedian, radio presenter and writer Ian Moore lives in France with wife Natalie and their three children, after waving goodbye to the UK 14 years ago. The family live in a converted farmhouse near the town of Chabris in the countryside of the Loire Valley, where they have recently opened a chambre d'hôtes called La Pause. 'À La Mod' is one of Ian's two books. The other is 'C'est Magnique: Adventures of an English Grump in Rural France', which recounts his experiences becoming an expat with a family in rural France, including a tricky period of commuting back to the UK. As you'd expect, both have comic edges!
Region: Dordogne
Book: Grape Expectations

Who hasn't dreamt of having their own vineyard nestled amongst the rolling French countryside? Wine guru and writer Caro Feely and her husband Sean turned that into reality. They bought and moved into a run-down 18th-Century farmhouse surrounded by ten hectares of vines in Saussignac, near Bergerac. And that was with their two young children in tow.
Caro's first book describes the trials and tribulations of restoring their run-down home while transforming their 'beyond eccentric' organic winery into a successful business.
Caro's first book describes the trials and tribulations of restoring their run-down home while transforming their 'beyond eccentric' organic winery into a successful business. She followed up with two sequels, 'Saving our Skins' and 'Glass Half Full – the Ups and Downs of Wineyard Life in France'.
Looking for legal advice to make sure your property is completely above board, but not sure how to find a trusted solicitor? We can put you in touch with our hand-picked legal specialists, about whom we regularly receive glow feedback from our readers.
Region: Poitou-Charentes
Book: Tout Sweet: Hanging up my High Heels for a New Life in France

Still in her thirties and single, former fashion editor Karen Wheeler decided to escape her busy London lifestyle by throwing herself into a more tranquil, rural existence in Poitou-Charentes. She bought a fixer-upper village house and with no hot water or heating began the journey of transforming it into a home. In the process, she highlights how under-rated the Poitevin countryside is and discovers how much she enjoys exploring by bike or on foot. Her French adventures have resulted in a blog and two more books, 'Tout Allure: Falling in Love in Rural France' and 'Tout Soul: The Pursuit of Happiness in Rural France'.
Any of these properties or others from our property portal tick all your boxes? The next step is to go out and view them – so make sure you know what to look out for with our free Viewing Trip guide.
Region: Limousin
Bon Courage, Les Anglais: Tales of the Uninitiated in Rural France

Peter and Christine Wakefield offer a warts and all account of their experience tackling a restoration project in rural Limousin. Retired and looking for adventure, the couple bought and moved into their rundown house in the village of Bénévent. However, it was all far from plain sailing. As they reveal in their book, the realities of fixing up and maintaining an old, rural property leave little time for kicking back and sipping chilled wine, even during the winter.
Ready to move to France?
If you want to get your move on the road, don't miss your free France Buying Guide below. It's packed full of tips and advice from experts and people who've gone through the process themselves. Plus, if you have any further questions, don't hesitate to ask your France Property Specialists in the Resource Centre by calling us on 020 7898 0549 or emailing [email protected].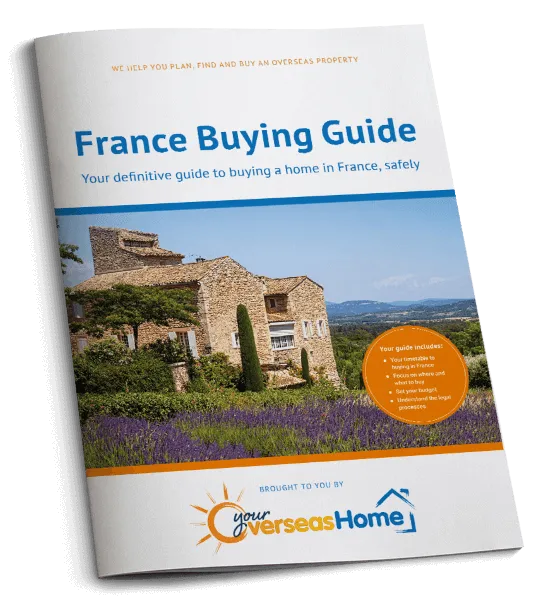 Buying a property in France is extremely exciting, but it can be nerve-wracking: in what ways is the process different to the UK, how do you cope with the language difference, what fees should you expect and just who is the notaire? That's why we've put together our France Buying Guide, to help you through the process, step by step.
Written by experts, it covers every stage of buying, from viewing to contracts and fees. Get your copy of the French Property Guide by simply filling in the form below.
✔

  Ask the right questions
✔

  Avoid the legal pitfalls
Download your free guide to buying in France