Looking for some family-friendly French ski resorts to buy property in? There are so many to choose from with easy access from the UK and plenty to do in both winter and summer seasons. Here we focus on two super resorts, one in the Pyrénées and one in the Alps.
Chamonix
Chamonix is an old favourite of us Brits. Nestled in the Haute-Savoie department of the Auvergne-Rhône-Alpes region, it has tremendous village charm even though – or perhaps because – it is now also a huge tourist area with some beautiful old traditional buildings. It offers extensive pistes for all levels of skier plus an excellent après-ski life with great restaurants, bars and good shopping.
Buying property here will give you year-long enjoyment, since summer is almost as popular with plenty of hiking, biking and mountaineering as well as other sports such as golf and riding on offer. In other words,  You will need a fairly decent budget for Chamonix however. If you are simply looking for a little studio to rest up in after your day's skiing, it is still possible to find places for around €150,000. A two-bedroom apartment will cost a minimum of €275,000 and, for a three- to four-bedroom chalet, expect to pay upwards of €400,000. This is a buoyant property market and your purchase will doubtless prove to be a good investment.
The nearest international airport to Chamonix is Geneva airport, just 68 kilometres away and it's a beautiful drive pretty much the whole way.
Val d'Isère
Val d'Isère is in a league of its own! This is a vast skiing area with guaranteed snow usually from around November right through to May as well as a reputation for lots of sun. It has over 300km of well groomed pistes and also some excellent off piste skiing so is perfect for all levels of skier. Night life is vibrant here with plenty of glamorous bars and restaurants as well as the more traditional chalet type restaurants.  With its sister resort of Tignes very close by, this is one of the most popular resorts with all nationalities and ages.
Val d'Isère has a huge range of properties from apartments to chalets of all sizes and to suit all budgets although a deeper pocket will be required here than Les Angles! Expect to pay at least €350,000 for a small one-bedroom apartment and at least €700,000 for a two- to three-bedroom chalet. That said, many property purchases here will prove to be an excellent investment.
The easiest and quickest way to fly to Val d'Isère from the UK is through Geneva Airport which is around 215 kms away or about 2 and a half hours. Alternatively, there is Aosta at 215 kms but a longer, more winding road so would take around 3 and a half hours or Turin Airport at 286 kms or 4 hours.
Méribel
Méribel is a sophisticated ski resort, nestled in the beautiful Alpine valley of Les Allues. It is well known throughout the world, has some simply fabulous mountain scenery and as might be expected, a renowned après-ski life! It is also one of the most popular ski resorts with British skiers and has some incredibly pretty chalets and chalet style apartments, all of which seem to allow it to retain its charm. Think wooden and stone buildings in a beautiful setting.
It has fast ski lifts with access to the entire Méribel ski region and the "Trois-Vallées" as it is linked to both Val Thorens and Courchevel. Méribel is at the heart of the region and offers fantastic shopping and some high-end restaurants. Again, it is popular in the summer months with hiking, mountain biking and golfing all on offer.
Taken a shine to any of these properties? Make sure you're prepared for a viewing trip with the tips and tricks from our Viewing Trip guide.
As might be expected, property does not come cheap in Méribel but it is still possible to buy a studio apartment for around €175,000 and a budget of between €200,000 to €400,000 will suffice for a two- to three-bedroom resale apartment.
The nearest airport is Chambéry at around 109 kms away. Geneva Airport is around 4 hours' drive away as is Turin.
Les Angles
Les Angles is a really beautiful smaller ski resort in the Pyrénées-Orientales department. If you like picture postcard, cosy and very pretty villages, look no further! Overlooking the wonderful Maternale Lake, this is just a lovely place to visit at all times of the year. Less well known outside France, Les Angles is nevertheless extremely popular with the French.
The Pyrenees are not of course as high as the Alps but still have masses to offer particularly for beginners and moderate skiers. The countryside around here is spectacular at all times of the year and if you prefer rather gentler sports than downhill skiing, you will find that cross-country skiing and snow-shoeing are also very popular here.
Property prices are also cheaper than the ritzier, better known resorts and are really quite affordable. If you are looking for a small studio apartment, a budget of around €90,000 will be sufficient. Larger apartments and chalets with three to four bedrooms come a little dearer but a budget of around €250,000 will give you plenty of choice.
You have a choice of airports for Les Angles travelling from the UK within reasonable driving distance, the nearest of which is Perpignan at 92 kms or about an hour and a half or Carcassonne at 112 kms or 2 hours and Barcelona (Girona) which is 189 kms or about 2 and half hours' drive.
Buying your perfect ski home
Skiing is a sport which never loses its appeal. Once you have experienced that rush of excitement as you ski down a mountain, soaking up the wonderful views and marvelling at the beauty, you will be hooked! France is our nearest neighbour and is eternally popular amongst British skiers. Of course if your wallet is a large one, you will be able to find the most spectacular properties but as can be seen above, it is still possible to buy a decent property for a smaller budget and remember that you will always be able to rent out your property when you are not using it.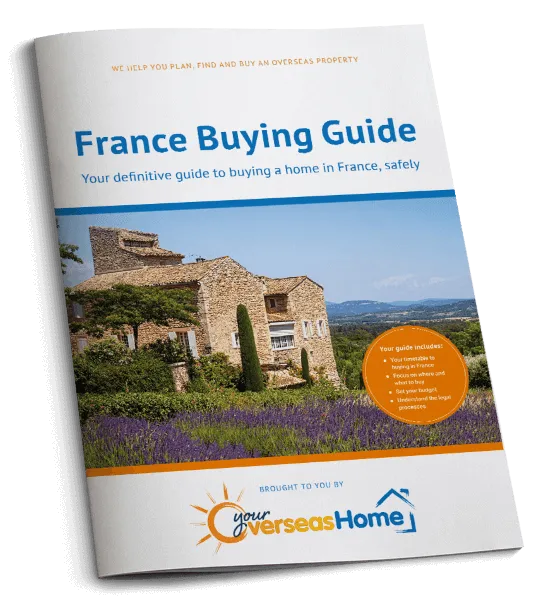 Buying a property in France is extremely exciting, but it can be nerve-wracking: in what ways is the process different to the UK, how do you cope with the language difference, what fees should you expect and just who is the notaire? That's why we've put together our France Buying Guide, to help you through the process, step by step.
Written by experts, it covers every stage of buying, from viewing to contracts and fees. Get your copy of the French Property Guide by simply filling in the form below.
✔

  Ask the right questions
✔

  Avoid the legal pitfalls
Download your free guide to buying in France