Looking for some family-friendly French ski resorts to buy property in? There are so many to choose from with easy access from the UK and plenty to do in both winter and summer seasons. Here we focus on two super resorts, one in the Pyrénées and one in the Alps.
Chamonix
Chamonix, in the Haute-Savoie department of the Auvergne-Rhone-Alps region, has long been a favourite resort for British skiers. It's one of the oldest French ski resorts in the Alps. The Alpine resorts are higher than those in the Pyrénées and there is plenty here to challenge the hardiest of skiers. The first winter Olympics were held here in 1924 and these days the resort has a really glamorous feel to it with plenty going on in the centre of town including some fabulous restaurants, excellent shops and lots of night life.
Summertime here is almost as popular with the ski lifts providing access to some fantastic hiking and biking routes as well as rock climbing and summer mountaineering for those of an adventurous nature. There are also several golf courses and riding stables here though, as well as plenty of entertainment for children. The resort has become almost as popular for a summer break as for a winter one in recent years.
The nearest international airport to Chamonix is Geneva airport, just 68 kilometres away and it's a beautiful drive pretty much the whole way.
You will need a slightly fatter pocket to buy property here though, with a small studio apartment costing around €250,000. For a three-to-four bedroom chalet, expect to pay in excess of €400,000.
Ski-ing and winter sports generally in France have become hugely popular in recent years and many resorts are just as welcoming in the summer. With easy access from the UK, both Les Angles and Chamonix are highly recommended for all ages and abilities.
Les Angles
The Pyrénées are of course not as high as the Alps but there are some wonderful French ski resorts here. Many are not widely known outside of France but still very worthwhile exploring. Les Angles in Department 66, the Pyrénées-Orientales, is an absolutely beautiful ski resort set in the valley of Capcir over the superb Matemale Lake – a stunning location and something of a hidden gem.
Les Angles is an absolutely beautiful French ski resort set in the valley of Capcir over the superb Matemale Lake – a stunning location and something of a hidden gem.
This relatively small resort is utterly charming with a real winter wonderland picture postcard feel to it and suitable for all ages. The ski slopes are perfect for beginners and moderate skiers. If rather gentler activities are your bag, there are plenty of cross country ski-ing and snow shoeing trails to choose from also. The nearest airport, at just 8 miles away, is Avignon-Provence airport. There are plenty of other airports serving the UK within striking distance of the resort, such as Barcelona (Girona), Carcassonne, Perpignan and Toulouse, Perpignan being the closest.
Summertime at Les Angles offers so much too: the beautiful village has all amenities with some super but unpretentious restaurants and shops, plus the lake offering summer water sports and lots of fabulous hiking trails all around it.
If you are ready to buy in France within the next few months and have questions, do call our friendly France Resource Team on 020 7898 0549 or email France@propertyguides.com.
A less expensive option than many of the Alpine resorts, if you are tempted to buy your own place in the snow, a small studio apartment with mountain views here can be found for around €75,000 whilst a 3-4 bedroom chalet will cost around €250,000.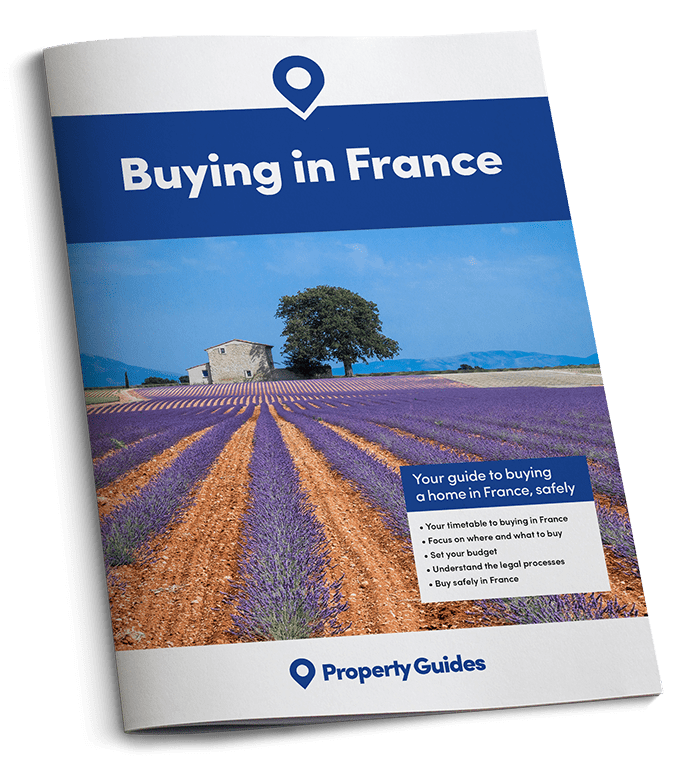 The France Buying Guide walks you step-by-step through each stage of the property buying process in France. Additionally, there are also practical recommendations from our experts who have been through the process themselves. The guide will help you to:
✔

  Ask the right questions
✔

  Avoid the legal pitfalls
Download your free guide to buying in France