When Haydn and Joanne Jones returned to the UK from California, they were searching for a new adventure – and found it in the form of a stunning chambre d'hôtes nestled in the sunkissed southwest of France, just minutes from one of the country's most beautiful villages, Aubeterre-sur-Dronne. We caught up with the globe-trotting couple about their move and new life running the Chambres de CoCo.
Your careers have taken you around the world – what was it that drew you to France?
Haydn: I'd retired from business – I was an officer in the Royal Navy and then in the shipping industry for a long time, in senior management, sales, marketing… We'd lived in London, Norway and recently spent three years in California. I retired from business and went back to university to Exeter, where I read PPE.
Joanne: I'm a garden designer with an MA in landscape architecture, and we were back in England, thinking, 'what to do?' I felt we had another adventure to come! We just wanted to do something new. We'd had an exciting life together and been to too many places to think, 'Okay, we're going to retire into a sleepy Somerset village where it's rainy – twice as much as London!' We'd recently come from California, where it doesn't rain much, and arrived to the wettest winter on record!
We were thinking, 'what to do?' I felt we had another adventure to come!
Haydn: We'd initially looked at acquiring a business in the Westcountry, but then we thought about doing a B&B. We thought about doing it in Spain, but then we thought France was a better solution. We like the French culture, the countryside and that France is much less crowded than Britain.
You're in the Charente, just minutes away from Aubeterre-sur-Dronne, one of the 'Plus Beaux Villages de France'. How did you choose this area?
Haydn: We were considering where we wanted to be. Our assessment was that Brittany and Normandy are quite pretty; Provence is lovely but really expensive – maybe too hot in the summer and a long way from England, where we have children. The Charente is reasonably accessible from Britain, competitively priced, different enough in weather to be an improvement and does have a number of British residents, too.
Joanne: I'm a garden designer, so I really appreciate the beautiful change of the four seasons here, with that wonderful rhythm of the year.
You mention the presence of other British residents – were you looking for an area with an international community?
Haydn: That is an appeal. We like living in an expat community – we are learning French and we will integrate and we like the connections, but as our strongest language is English, it's a good thing if there's a potential British customer group, as well as the Dutch and Scandinavians.
We understand you went through a local Anglo-French agency to find your home. How did you find the process?
Joanne: Well, I did a pre-selection. I love internet searches! It's compelling – you go down a rabbit hole thinking, 'oh, this one looks fun', so when we came out on our viewing trip, I already had twelve properties. However, I have to say that this one was not one of them!
We saw a few and were hesitating, thinking 'we can't live here'. Our agent, Shaun, kept asking if we wanted to see Chambres de CoCo. Eventually, he said, 'You really should see this other house – we'll just do a drive-by'. We thought it looked beautiful and agreed to see it. The minute we walked through the door, we knew it was ours.
The minute we walked through the door, we knew the Chambres de CoCo was ours.
We'd been tempted by others in other places, but they felt too isolated, too remote. This felt like the right mixture, semi-retirement. We only work in the summers, it's close enough to the villages and it's not a lot of work.
Haydn: This one was the last property we saw, so the comparison point was this property compared to all the others in the week. There was a beautiful riverside property, but it felt like the next stage to retirement.
Discover what you need to look out for when property hunting with your free Viewing Trip guide.
The actual process of buying was just about half a year. We viewed in April, I think, offered in May, signed the compromis de vente in June and completion was in December.
My absolute recommendation to anyone is to sell your house in the UK first, because it's wrong to think the British system and French system will dovetail up. Plus, as cash buyers, you'll be in a better position to negotiate and act fast.
We know that opening a chambre d'hôtes, gîte or B&B is a dream for many expats. What are you most looking forward to about your first season?
Joanne: For us, because we'd lived abroad so much, we'd had experience of hosting people on a regular basis and did a lot of corporate entertaining. There was always something happening around the household, so it feels like home to us to have people coming and going.
Haydn: It's about meeting people. Since we've been here we've already met so many new people. When you're used to having that influx of people, you want to continue, hearing people's stories, why they're here. In many ways, there's a connection between what people do and how you interact.
When you're used to having that influx of people, you want to continue, hearing people's stories, why they're here.
We like sailing because we like the people we meet when we're sailing, for instance. They want to get up in the morning and do something. Likewise, the people we've met here, French, local and expat, are interesting and engaging people.
Sounds like it's going to be a lot of fun! Tell us a little more about the business and the Chambres de CoCo.
Haydn: The Chambres de CoCo is a chambre d'hôtes, which means we're limited in the number of bedrooms to five. It's a manageable number, although it did produce some bits of administration. We're going to offer bed and breakfast and the intention is that it's the best bed and breakfast in town. Everything meets what I call international hotel standards. The rooms are all well laid-out, with satellite TV, coffee- and tea-making facilities, en-suite bathrooms, air con. There's a 40ft outdoor swimming pool, too.
I may say in passing that we think it's where people can stay if they're looking for property in the area! It's perfect: there's wifi everywhere, spaces to think, privacy, parking, and it's not somewhere where people would come for clubbing or going out in the town centre. Plus, we can take flexible bookings, for a few days here and there, rather than weekly ones, like for a gîte.
Any upcoming projects?
Joanne: The real focus is on the grounds. We'll look at making a nice woodland walk. The nice thing about arriving in the 'wrong' season is that it gives time to develop in your mind your strategy on how to make it look. The garden will be a big project. September is the best time, although I might not resist doing a bit of flower work sooner.
How have you found fitting into the local community? It seems like you've already got quite stuck in!
Joanne: Yes, I'm going to French lessons up in Aubeterre and to pilates. We even went to a local chasse lunch and won some venison ready for the freezer. It's relatively easy to integrate within your own language circle, but it can be a little more difficult outside of that, so Haydn made a point of talking to absolutely everyone and we often find people know our house, so it's a starting point.
As you age and don't have small children – with small children, you know everyone! – as soon as your children leave, you can lose your flow, so you need to do things and take the initiative, whatever your interest is. I've also joined a book club and we'll probably start playing tennis soon.
We're still newbies right now, but it feels like home. We did go back to the UK and, coming back to the Charente, had the feeling of coming back home.
People really appreciate us trying to speak French. There is a lady at the counter at the bricolage place where we have an arrangement that she practises her English with me and I practise my French with her, so we each speak each other's language. One time, I was speaking to her after 6:00pm, when she wished me a bonne journée, and I was able to say to her, 'maintenant, c'est bonne soirée'! I go into the shops in Aubeterre and say in French 'it's raining!' and it just starts a conversation. It's finding those little doors that open.
We're still newbies right now, but it feels like home. We did go back to the UK and, coming back to the Charente, had the feeling of coming back home.
Learn about the financial aspects of buying a home in France, including raising money and which taxes you'll likely need to pay, in the France Finance Guide.
Haydn: We've lived abroad before, so we know how the process works. I think there's a curve, initially of excitement, and then there's a natural bit of a dip, but be prepared and you'll soon be over it.
What are you enjoying about life here in rural France? Have you come across anything particularly different to the UK?
Joanne: Oh, the bread! Bread here is wonderful. In England, you think 'shall I eat bread?', but here, gone is the no-carb diet! The bread is fantastic and every bakery has a signature loaf – you've got to try them all.
The biggest surprise was the lunch hours. They're very different from anywhere we've lived in. Most businesses are closed at lunchtime, not for half an hour but for two hours. That includes the post office, banks, all sorts of administrative functions, shops except for supermarkets. You have to get there at the right time and that's a big cultural experience.
The French lunch hour is sacred: you're out about driving and you get somewhere at ten past twelve and there'll be a long queue, where it was empty at half past eleven! It's quite fun, a bit of a scrum, like being back at school and having everyone there at the same time.
Were the administrative elements relatively straightforward?
Haydn: Formalities are normally in French, but the people from our estate agency were there to hold your hand, so to speak. The business registration in the Chamber of Commerce in Angoulême was in French. We also have assistance from an Anglo-French accountant who is advising us, so it's nice to have that in the back pocket as a back-up. Things will be in French, so you need to be able to speak French or have someone who will do it for you.
I have to say that the notaire system here is excellent as an assurance that everything is being done legally.
Joanne: The mairie is so important and our tiny little village of around ninety people has its very own. You can go along and speak to them easily and they're so helpful.
The French have a system and they expect you to know it, so be prepared for nuanced differences and for every bit of paper you need. Haydn always has a pack with all the documents he needs: birth certificate, marriage certificate, bank details. It's very helpful in saving making the trip again.
I have to say that the notaire system here is excellent as an assurance that everything is being done legally.
Haydn: A practical thing we found and I'd recommend to anyone moving here is buying a French car, and not just because the wheel's on the wrong side. We found it difficult to get insurance for a British-registered car, both getting it here and continuing insurance from Britain. There is a fair amount of administration and you need some professional advice on systems, registering as a business, getting your health insurance.
How did you find the process of moving your belongings over?
Haydn: We used the same firm we've previously used, based in the UK. A team of people came in the afternoon and packed everything. Don't try to cut corners with removals or leave yourself making microdecisions. You could be there for six months trying to get things done. We're very good at throwing things away, or giving to charity. When we left California, we gave a lot to a local charity called Transition, which helps young people moving from care to adulthood, and also gave a lot to friends and neighbours. Moving home is a bit of a cleansing operation and forces you to think whether you really want something.
Joanne: With the dogs, it was quite easy from the UK to France, just in the car and across the borders, once you've got your paperwork and they're microchipped, at the border, they just gave me the readers to do each dog myself. The big thing was to have muzzles while on the ferry.
What would your advice be to anyone thinking of following in your footsteps?
Haydn: Don't think because you did it this way back home that it'll be the same in France. If you want it to just be the same, why not stay where you are?
Be open to fun, the possibilities, having experiences. If you can do that, you'll be just fine.
Joanne: Be open to fun, the possibilities, having experiences. If you can do that, you'll be just fine.
To find out more about the Chambres de CoCo, visit the website or call +33 (0)5 45 78 16 88. And if you're looking to follow in Haydn and Joanne's footsteps and start a new adventure in France, don't miss your free buying guide below. It's packed with all the information you need to make the move, from area guides and the purchase process to your pension options and tax guidance.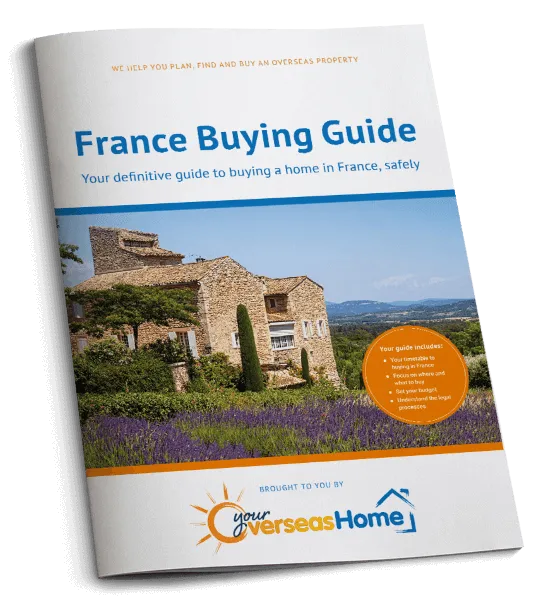 Buying a property in France is extremely exciting, but it can be nerve-wracking: in what ways is the process different to the UK, how do you cope with the language difference, what fees should you expect and just who is the notaire? That's why we've put together our France Buying Guide, to help you through the process, step by step.
Written by experts, it covers every stage of buying, from viewing to contracts and fees. Get your copy of the French Property Guide by simply filling in the form below.
✔

  Ask the right questions
✔

  Avoid the legal pitfalls
Download your free guide to buying in France