What could be lovelier than meandering around a truly beautiful, historic village in France? There are over 160 officially named the 'Plus Beaux Villages de France', so come with us as we look at five that will whet your appetite and make you want to hop over to our nearest neighbour as soon as possible!
Les Baux-de-Provence (Bouches-du-Rhône)
This is an extremely picturesque medieval village situated between Arles and St. Remy-de-Provence (both of which by the way are also well worth a visit whilst you are there). It is a stunning place with a wonderful fortified chateau set high up with views to die for. You feel as though you have been teleported back into a time hundreds of years ago. The actual village lies along a fairly steep hillside (the word Baux actually means a steep cliff), the valley below and the chateau above: really splendid! Arriving by car up to Les Baux you pass numerous vineyards and olive groves. The village itself is basically a series of small cobbled streets flanked on either side by stone medieval buildings. Naturally you will find little touristy shops and there are also plenty of restaurants too. It is a small village brimming with atmosphere. I guarantee you will not want to leave!
Eus (Pyrénées-Orientales)
This is an absolutely charming little village consisting of various pretty and closely grouped houses climbing up to the most impressive 18thCv church of Saint-Vincent-d'En-Haut d'Eus and the ruins of an ancient castle at the top. The village dates from the 9th century so oozes with history! There is one lovely little café "Café de Pays" in which to sit and soak up the atmosphere with a cool glass of local wine. Well worth a visit and lesser known than some of the others. Situated only a half hour's drive west of Perpignan, you will be amazed by the wonderful view as you approach the village: truly scenic. It is small but perfectly formed and it is a real joy to stroll around the medieval centre.
Beuvron-en-Auge (Calvados)
A little closer to the UK now in Normandy, you could even visit this one during a day trip. This is a glorious tiny little Norman village just inland from the glorious seaside resort of Cabourg in the Calvados department.  You will marvel at the pretty half timbered painted dwellings as well as some fabulous larger manor houses. This is a super place to wander and browse the little arts and crafts shops. The village is part of the "Cider Route" which is a well documented touristic route through the department with local cider producers tempting you to try their drinks on the way. Naturally there is also the "Fete du Cidre" in August where you can learn about apple pressing and of course do some tasting. If you fancy something stronger, try a glass of Calvados, a wonderful apple brandy for which this department is best known.There are  some fascinating little antiques shops here. What the village lacks in size (in many ways this is part of its charm), it certainly makes up for in quality, history and interest!
Lagrasse (Aude)
Situated in the heart of Cathar country in a valley between the Roman town of Narbonne and Carcassonne with its UNESCO World Heritage Site, this is a very popular and thriving medieval village boasting an 8th century Benedictine abbey (still working). There is also a 14th century market, some quaint cobbled streets and a 12th century bridge. The main tree lined promenade has plenty of cafes and restaurants with outside space for relaxing and people watching, as well as some lovely individual food and craft shops but it is well worth meandering up through the little streets which run off this promenade where you will find some really beautiful ancient buildings. The big gothic church in the centre dates from the 14th century. The village is lively year round and is also known for its culture with plenty of concerts, musical groups and themed evenings going on during the summer months.
La Roque-Gageac (Dordogne)
This picture postcard village lies along the river Dordogne and consists of several stone houses, some chateaux and a beautiful church. One lovely way to see this village is to rent a boat up and down the river and there is a great view of the whole place from the other side of the river. Again, dating back to medieval times, this is a gorgeous village surrounded by other lovely villages too such as St. Julien, Beynac and Domme. Well worth a visit.
If you are ready to buy in France within the next few months, call our friendly France Resource Team on 020 7898 0549 or email

[email protected]

.
To be included in the sought after list of the "most beautiful villages in France" (Les Plus Beaux Villages en France) certain criteria must be met such as a limit on population (must be under 2,000 people) and have at least two protected or listed monuments and any village wishing to be included needs to apply for this coveted award. Since many of these villages are small, it is not always so easy to park but then again that is part of their beauty: mostly bereft of rows of cars and car parks, their charm and beauty remains as evident today as they no doubt did hundreds of years ago. One does therefore need to consider accessibility on foot as some of them lie on steep rocky cliffs so not all are for the faint hearted! However, all of these villages are simply wonderful places to spend a day or so and the French are justifiably proud of their wonderful heritage.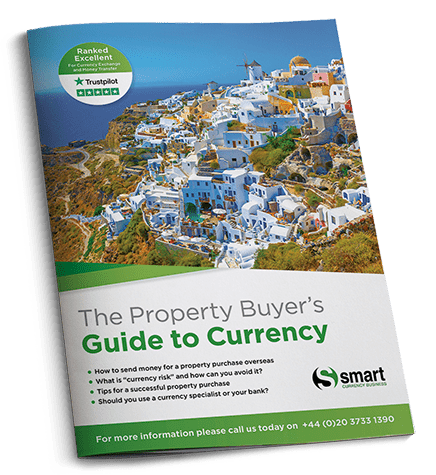 The Property Buyer's Guide to Currency will help you:
✔

  Understand the currency markets
✔

  Protect your property budget
✔

  Use a Currency Specialist
✔

  Learn from other overseas property buyers
Download the Property Buyer's Guide to Currency