Bastide towns date from the Hundred Years' War between England and France. Essentially they are walled towns set around a central market square, often on a grid, mainly in Southwest France. Today, their character and beauty make them hugely popular with overseas buyers looking for a French home.
If ancient character French properties appeal to you, looking for somewhere to buy in a bastide town will serve you well. Brimming with history and atmosphere, they represent what is so wonderful about French living: lovely stone properties and streets which have likely changed very little since medieval times but which attract individual, sometimes quirky little shops and interesting markets.
Download your comprehensive France Buying Guide for everything you need to know about purchasing a property.
Buying a property in a bastide town is also likely to prove to be an excellent investment since they are always popular with both British and other foreign nationalities who come looking for "the real France". You may have to spend a little to update some of the properties, for example in terms of kitchen and bathrooms but there are still plenty of bargains to be found in many bastide villages and towns and you can never take away the richness you will find there.
It is said there are over 500 bastides in France, originally set up to create a modern society at the time, many from the sites of previously existing villages. So we are really talking about "new towns" then, built to raise the standards of living of many folk. It is sometimes thought the idea came from Roman times. Take for example Aigues Mortes in the Camargue which was a medieval port.

The layout of bastides is such that the streets fan out from a central square which is often surrounded by arcades. The central square, where the market is held, would be where local folk would gather to buy their wares and gossip. Probably not a lot has changed, except the gossip may be on rather different subjects than in the 12th century!
The largest area for bastide towns is in Aquitaine and Occitanie: a huge area which stretches from the Dordogne right down to the Aveyron and further on to the border with Spain. You will find that most bastides are concentrated in the Lot et Garonne department in the Aquitaine (47) which in ancient times represented the ever-changing border between French and English ownership.
So where do you start looking for a bastide property and what kinds of property are available? Let us take a look at five bastide towns here as well as a few properties, all of which are just oozing with charm and history.
Monflanquin (47) Aquitaine
Monflanquin is a very picturesque bastide town dating from the 13th century, basically perched on a hill or "pech". According to the history books, it was built in 1256 by Alphonse de Poitiers, the Count of Toulouse. Legend has it that the Black Prince stayed here during the Hundred Years War. Today it is beautifully preserved and classified under "One of the most beautiful villages of France". It has a stunning central square with the traditional arcades and you will find a whole network of pretty little pedestrian streets radiating out from this middle point. There is a market every Thursday morning and during the summer months, an evening fresh food market. The local community is proud of its heritage and every 15th August (traditionally the most marked holiday in France in fact), the town puts on a festival with a medieval theme including traditional entertainment, street entertainers, colourful costumes and even a banquet.
Don't miss our free Viewing Trip Guide for all the information you need when going on a trip to see properties, including a handy checklist of what to look out for.
You will find many different types of property in and around Monflanquin from ancient terraced stone properties to new builds.
Monpazier (24) Dordogne
Up in the ever popular Dordogne, Monpazier is a truly stunning town actually created by Edward 1 of England in 1284. This is one of the loveliest of bastide towns with its central square having been immaculately preserved. Again, arcades surround the square and there is also a market hall which even retains some of the ancient measuring apparatus! It is situated in the southern part of the Dordogne department near the border with Lot et Garonne and is also listed under "One of the most beautiful villages in France".

Again, Monpazier follows the usual grid pattern radiating out from the central square and here you will find houses in differing styles, mainly with distinctive types of architecture such as medieval, classical style and bourgeois. The town has some very good restaurants and bars as well as some individual boutiques. There is a flower festival every spring and again a summer medieval festival in August paying homage to its roots.
Castelnau-de-Montmiral (82) Tarn
This lovely village is located above the Vere river in the Tarn department to the west of Albi (itself well worth a visit) and north-west of Gaillac. Again, founded in the 13th century, it also is listed under "One of the most beautiful villages of France". Following the same pattern of a central square with the original arcades, there are plenty of beautiful medieval half timbered houses also with arcades surrounding the square. The whole place is just beautiful! Being so close to Gaillac, this is an excellent location for wine tasting and attracts many tourists in the summer months.
If you are ready to buy in France within the next few months, call our friendly France Resource Team on +44(0)20 7898 0549 or email

[email protected]

.
Puymirol (47) Lot et Garonne
Puymirol is set in a lovely position situated in the "pays Agenais" area just east of Agen (prune capital!). It is one of the oldest bastide towns in this department and differs slightly from the others in that it is rather more spread out along one main street called the "rue Royal" than around a central square. You will find some lovely medieval stone buildings and a really beautiful church "the church of Notre Dame du Grand Castel". Puymirol actually sits perched high on a rocky outcrop, a most spectacular setting. If you love fine French food and are feeling generous, take a look at the wonderful "Relais et Chateaux" restaurant and hotel in the centre of town, it is sumptuous and superb!
There are some wonderful ancient towns and villages around Puymirol worth visiting also such as Auvillar, Montjoi (a tiny medieval village perched high up on a hill), Castelsagrat and Caudecoste.

Navarrenx (64) Pyrenees Atlantiques
Over on the west side in the Pyrenees Atlantiques is the really super bastide town of Navarrenx, only in 2014 being included in the "One of the most beautiful villages of France" list. It is also known as being on the "St. Jacques de Compostella" route for pilgrims making their way down there, something which still attracts over 12,000 people. There is a lovely restaurant "The Taverne Saint Jacques" as well as several other restaurants and bars here as well as a weekly Wednesday market and a Sunday morning market during the summer months.
Read your Emigration Guide to find out everything you need to know about moving abroad.
Bastide towns in France are all very special places and really do captivate one's imagination. Just walking around their ancient streets, many of which are largely unchanged from hundreds of years ago, brings one a feeling of richness, huge admiration and peace. There is a large choice of property out there to suit all budgets and plenty of regional airports serving the UK in order to get to there such as Toulouse, Bordeaux, Bergerac, Rodez. If history and character are top of your list when purchasing a property in France, you cannot go wrong with looking in one of the bastide towns!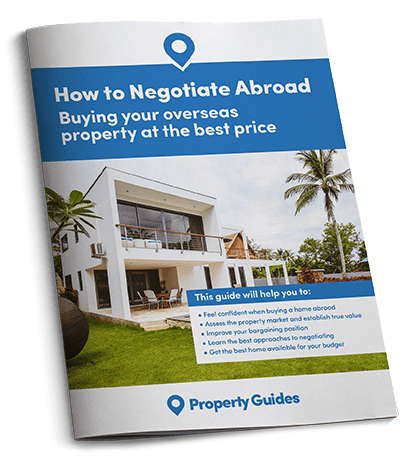 How to negotiate abroad is the guide to put you back in control:
✔

  Feel confident when buying a home abroad
✔

  Assess the local property market
✔

  Improve your bargaining position
✔

  Learn the best negotiating tactics
Download your free Negotiation Guide