Record dumps of snow in January, guaranteed EU rights, tax reforms that benefit British buyers and a Macron inspired French property market revival: all the signs point towards making 2018 the year you finally purchase that ski retreat in the French Alps.
Hitting the slopes once or twice a season isn't always enough. That's why so many of us head home from the French Alps determined to make our holiday last forever, by purchasing a property we can use as base whenever we choose. With world-class resorts in almost every valley, you're spoilt for choice when deciding where to invest in the French Alps. Here are ten of the best to help you focus your search.
Val d'Isere
It's a common tale in the French Alps: a once rustic, isolated farming community transformed into an unrecognisable ski resort during the 20th century. In Val d'Isere's – or Val as it is affectionately known – case it has evolved into one of the most recognisable resorts in the world and perennial favourite of British snow sports enthusiasts.
Val d'Isere has evolved into one of the most recognisable resorts in the world and perennial favourite of British snow sports enthusiasts.
An injection of cash following the 1992 Albertville Winter Olympics – during which it hosted the men's downhill event – inspired a more traditional alpine approach to development that really put Val on the map. Fast-forward twenty-six years and it's time for another facelift aimed at maintaining Val's reputation for tradition and sophistication. Due for completion in 2022, the Le Coin de Val project will include 100 new homes – a rare occurrence in this highly sought-after resort – an underground moving walkway to get skiers to the slopes and much more.
If the idea of owning a bespoke home in the French Alps appeals, contact our trusted partner Dreamstones today. As a leading design and build company they provide a complete solution for English-speaking clients looking to build or renovate overseas.
Property: At the lower end of the Val price scale at €420,000 (£370,400) this spacious south facing two-bed cabin style apartment offers stunning views, parking and potential to create a third bedroom.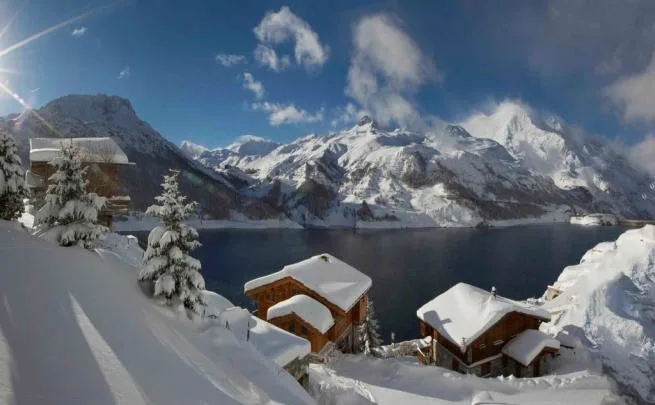 Les Carroz
Convenient access to and from Geneva airport, cosy chalet-style timber Savoyard buildings and prime position in the Grand Massif ski area are all great reasons to buy in Les Carroz. Its trump card, however, is its reputation for being a family friendly resort. So much so that it has been awarded "Famille Plus" status, the only national tourism award to approve the facilities and services available to families with children staying in French tourist destinations. Visitors of all ages can enjoy everything from ski schools, tobogganing, dogsledding, snowshoeing, glacier trekking and ice skating to the annual the Family and Friends Games held every April.
Property: If you've always dreamed of owning a renovated farm building and a ski retreat look no further than this three-bed duplex in Les Carroz. On the market for €360,000 it is located right in the centre of the resort.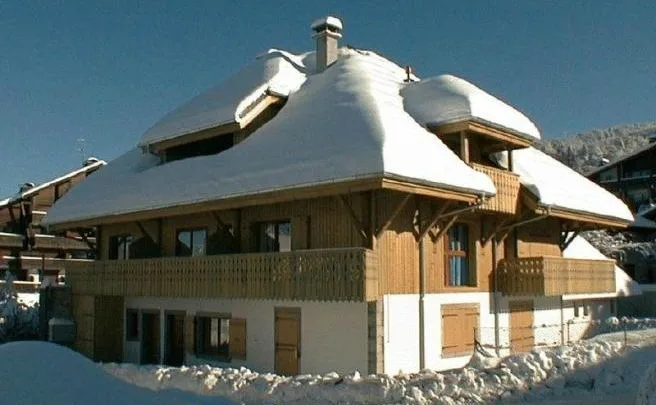 Alpe d'Huez
Take a viewing trip to Alpe d'Huez and you will soon see why it was crowned Europe's Best Ski Resort in 2017, by the Belgium based "European Best Destinations" organisation. Situated in a sunny bowl above the valley town of Bourg-d'Oisans, its snow-sure slopes soar up to 3,330 metres, while its glacier ensures the season lasts until late April. Known as "L'ile au Soleil" (Island of the Sun) because most of its slopes face south, the area basks in 300 days of sunshine a year.
The village itself is divided into three quarters, with Vieil Alpe at its lower end home to the original chalet-style architecture. Four surrounding satellite suburbs ensure there is plenty of property to choose from around here. The largest being Les Bergers, a major lift base at the eastern corner of the resort. Here's the best bit for buyers with an eye on Alpe d'Huez: a new €350 million development will include the construction of high-quality homes, and the creation of one of the largest ski areas in Europe by 2020.
Property: If a renovation project is something that interests you, this four-bed house near Alpe d'Huez could be right up your street. An asking price of just €289,800, (£256,300), followed by some further investment with the help of Dreamstones could turn this property into your dream alpine getaway.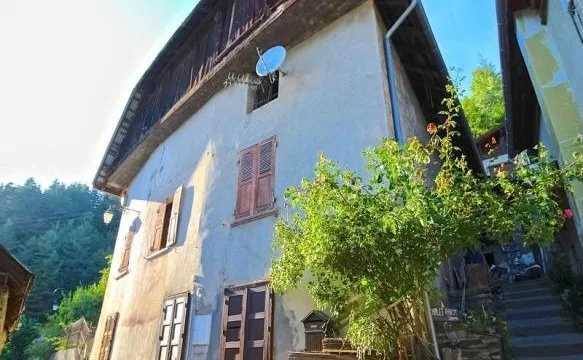 Courchevel
If you thought Val d'Isere's transformation from small farming community to plush ski resort sounded impressive, checkout Courchevel's story. Created from scratch in 1946 it has become the world's most luxurious resort, where palatial hotels, luxury chalets, boutique shops, Michelin star restaurants and royal visitors are the norm. If you're planning on becoming neighbours with the alpine elite, your viewing trip will take one or more of the four separate villages that make up the resort: Courchevel Le Praz 1300, Courchevel Village 1550, Courchevel Moriond 1650 and Courchevel 1850 – the largest of the quartet.
When you're not sipping champagne or designer handbag shopping, you might find time to hit the slopes and you won't be disappointed. Courchevel's position in the Les Trois Vallées (Three Valleys) provides access to 600 kilometres of pistes and more than 170 lifts, in what is one of the largest ski areas in the world.
Property: If a multi-million pound chalet is beyond your budget, try this spacious, modern three-bed apartment in Courchevel Moriond 1650 for size. At just €495,000 it comes complete with three double bedrooms and a south facing balcony.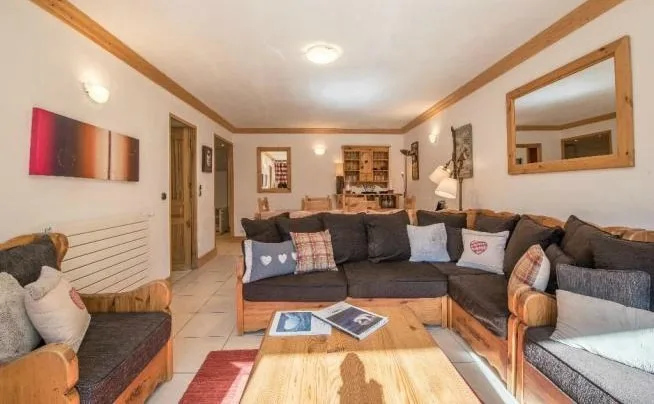 Megève
Megève was doing alpine opulence back in the 1920s when Courchevel was but a twinkle in the French Alps eye. Built as the country's answer to swanky St Moritz in Switzerland, today it has a slightly more modest reputation and it's comfortable with that. That's not to say it hasn't managed to retain a certain old-fashioned charm courtesy of its medieval heart, high-end hotels and traffic-free cobbled streets. It even has its own airport that can be reached on a connecting flight from Geneva. Head here to take in stunning views of Mont Blanc, avoid over crowded slopes and enjoy a relaxed après experience compared to other more boisterous resorts.
If you are ready to buy a home in France, Property Guides will be at Your Overseas Home. It's a new style of property show, where those serious about buying can get answers to detailed questions and introductions to trusted lawyers, agents and currency providers. Click here to apply for FREE tickets to shows in London, Manchester and Glasgow this spring. 
Property: If you want something that ticks the traditional alpine and contemporary comforts boxes, checkout this fully renovated three-bed ski-in ski-out apartment in Megève. For €895,000 (£794,000) you will get superb mountain views, covered parking, cellar, ski locker and covered terrace.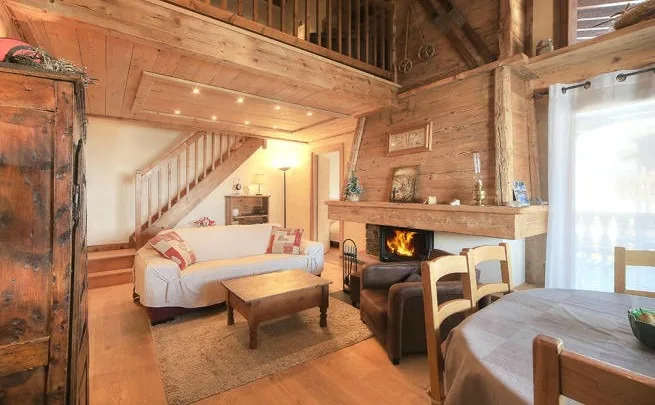 Avoriaz
A product of the 1960s purpose-built ski resort revolution, last season Avoriaz celebrated its 50th birthday. Rather than relying on its enduring swinging 60s spirit, the resort has managed to move with the times architecturally. The construction of buildings with bold lines and sharp angles that blend in with the landscape, challenging the traditional Savoyard style, led the Minister of Culture to name Avoriaz as one of the "great heritage achievements of the 20th century" in 2003. A strict no car policy ensures a tranquil alpine vibe, which works perfectly with the central shops and bars within 500 metres of all accommodation. When it comes to the all-important skiing you are spoilt for choice, thanks to its high-altitude and location on the main lift circuit of the Portes du Soleil ski area.
The construction of buildings with bold lines and sharp angles that blend in with the landscape led the Minister of Culture to name Avoriaz as one of the "great heritage achievements of the 20th century".
Property: These one to three-bed ski-in ski-out apartments in Avoriaz range in price from €269,499 to €610,166. They offer direct access to 650 kilometres of pistes and are just a short walk from the local amenities.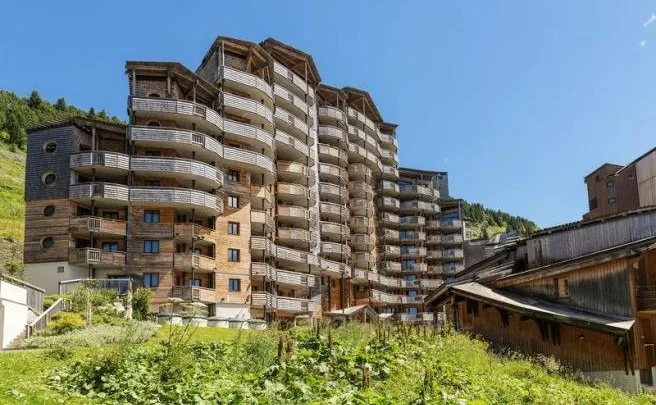 Châtel
Opening up a resort to a seemingly endless supply of slopes attracts an army of enthusiastic snow lovers, but this popularity often comes at a cost. Châtel, unlike many of its contemporaries linked to major ski areas, has managed to remain relatively unspoilt despite its location on the massive Portes du Soleil ski circuit. If you want to purchase a pad in a picture-postcard base, its Savoyard character and charm really delivers.
Where Avoriaz has been rewarded for heading down a contemporary design path, Châtel has received a pat on the back for its traditional farmstead inspired chalets. This rustic approach led the Minister of Culture and Communication to recognise the village as a Pays d'Art et d'Histoire (Towns and Lands of Art and History) – a label awarded to commend the preservation of architecture and heritage in an area.
Property: For €498,000 (£442,000) you could be making regular trips to your very own three-bed authentic alpine chalet during the winter months. Once there you can take advantage of an open-plan lounge, open fire and landscaped gardens.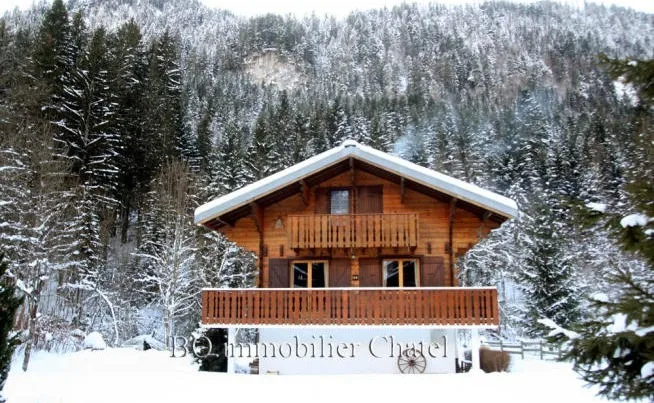 Combloux
Combloux is another resort that has manged to retain the rich heritage of a typical mountain village. Most noticeable at first glance is the distinctive onion-spired church, while anyone who chooses to buy here will unearth preserved farmhouses that offer a snapshot of an alpine time gone by. Unspoilt by large buildings, residents and visitors enjoy breath-taking panoramic views of Mont Blanc.
As part of the Les Portes du Mont-Blanc ski area – which it shares with le Jaillet, La Giettaz and Cordon – and just one kilometre from the Evasion Mont-Blanc ski area, you will have access to over 500 kilometres of slopes. As is common in the French Alps, Combloux is a multi-purpose resort that remains a hive of activity once the snow melts thanks to a wide range of summer activities, from white-water rafting to mountain biking. The resulting dual seasonality will enhance the rental potential of your ski retreat if you so choose, helping it pay for itself.
Property: Set in a small residence of only 5 properties, this spacious two-bed ground floor apartment is on the market for €358,000. A private garden offers spectacular views of Mont Blanc. The village and its amenities are accessible on foot and the ski areas of Combloux or Megve are only minutes away by car or ski bus.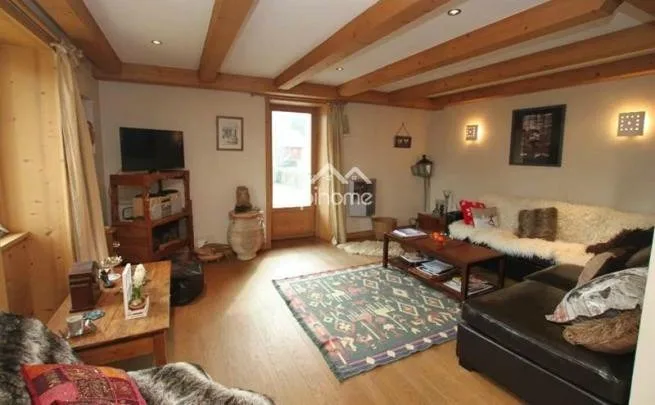 Méribel
It's pretty, chalet-style architecture, wooded surroundings and friendly, village atmosphere are not what sets Méribel apart from its contemporaries. As appealing as all that sounds, these attributes are not uncommon in the French Alps. The resorts central position within France's huge Three Valleys ski area is the ace up its sleeve. Together with Courchevel and La Tania to the east and Val Thorens to the west, Méribel makes up one of the largest ski areas in the world, supplying winter sports enthusiasts with more than 600 kilometres of pistes.
The Méribel valley itself is split into 4 distinct areas: Meribel-Mottaret, Méribel, Meribel Village and Les Allues. The resort has long been a favourite with British buyers, despite being one of the more expensive French alpine destinations. You'll need deep pockets to afford the typical price tag of around €5 million (£4.5 million) for a ski-in, ski-out chalet in a prime location. That said property prices in Méribel remain lower than in nearby Courchevel 1850.
Property: Head just outside Méribel and this charming five-bed chalet could be yours for €850,000 (£754,500). Three of its bedrooms are en-suite and it comes complete with ski room, cellar and a double garage, from which you can make the short 15 minute drive to the slopes.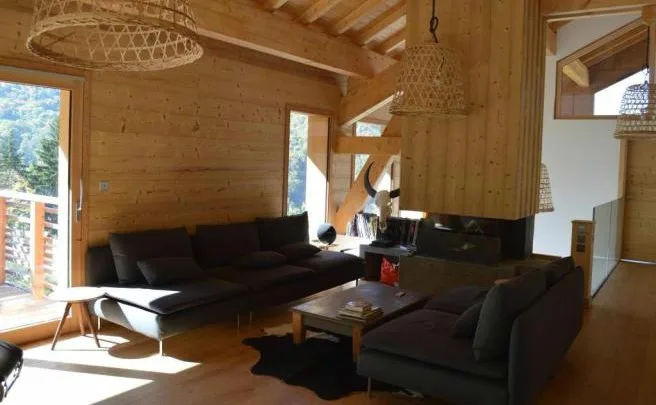 La Rosière
Being neighbours with salubrious destinations like Val d'Isère and Courchevel in the Tarentaise Valley doesn't automatically mean a resort will demand sky-high premium property prices. Despite offering buyers altitude, spectacular views and authentic charm, typical prices in the highly sought-after La Rosière area are a quarter of those in Val. Comprised of two pine tree lined villages, property hunters can choose from the rustic old village and the more recently constructed Les Eucherts area, which has stayed true to this traditional Savoyard blueprint with a contemporary twist.
Already a member of the exclusive 'Club of 1800s' – with an altitude of 1,850 metres – they will have to create a 'Club of 2800s' after two brand new chairlifts extended the supply of slopes by 28 miles and raised the altitude to 2,800 metres. Once up there its enviable position on the French-Italian border means you could wake up in France and ski across to Italy for a pasta lunch.
Property: This affordable (€235,000) two-bed apartment in Les Eucherts is just a short walk to the local lift. After a day's skiing you can relax on your south facing balcony with views of the local landscape.