Looking to start a new life in the sun? Whether you're planning to work while aboard or simply enjoy your retirement, Cyprus has a lot going for it.
The Mediterranean beaches, stunning mountain scenery and year-round sun mean that every time you step out of the door you're faced with warmth and beauty. But there are practical advantages too, in a country that has strong British connections and influence. That includes driving on the left, English widely spoken and a more familiar legal system than sone other countries, with lower buying costs.
Cyprus is outside pf the Schengen area too, meaning that some visa rules can be less stringent than other European Union countries.
If you're considering moving to Cyprus, you'll need to think practically about how to make it happen. It can be difficult to know where to start when there's so much information out there. That's why we've put together this handy guide on everything you need to know about moving to Cyprus. In this guide we'll cover all the important information on moving to Cyprus from the UK and other non-EU countries, including how to get a Cyprus visa, applying for permanent residency in Cyprus, the country's healthcare system, and more:
Cyprus visas and residency

Do I need a visa for Cyprus?
How to apply for a visa for Cyprus
Cyprus temporary residence visas
Permanent residency in Cyprus
Cyprus permanent residency application process
Cyprus citizenship
Fast-tracking permanent residency and citizenship: The 'golden visa'

Finance

Opening a bank account in Cyprus
Taxes in Cyprus

Healthcare

Is healthcare free in Cyprus?
Healthcare in Cyprus for expats after Brexit
Cyprus health insurance and private healthcare
Finding healthcare in Cyprus

Finding a house

Buying property in Cyprus
Moving possessions to Cyprus

Other considerations

Moving to Cyprus as a family
Moving to Cyprus as a single person
Working in Cyprus
Bringing your car to Cyprus
How to move your pet to Cyprus with you
Disclaimer: It's important to note that the island of Cyprus has been divided since 1974. The Northern part of the island is Turkish and is known as the Turkish Republic of Northern Cyprus, while the South of the island is the Republic of Cyprus. While moving to the northern part of the island is still possible, this guide is solely intended for people looking to move to the Republic of Cyprus.
Cyprus visas and residency
This is the most important legality to consider before your move to Cyprus, so make sure to do plenty of research on Cyprus visa and permanent residency requirements. The following section provides you with a thorough breakdown of what type of visa you may need, and which documents you should keep to hand.
Do I need a visa for Cyprus?
If you're a UK citizen and you'll be visiting Cyprus for less than 90 days in any 180-day period, for example if you're a tourist or visiting your holiday home, a visa is not required. However, you will need a visa for Cyprus if you want to live in the country permanently.
Moving to Cyprus from the UK after Brexit looks a lot different than it did before this big change. Since leaving the European Union, UK citizens are now classed as third-country nationals in Cyprus. Fortunately, the visa process is relatively straightforward, so you can still move to Cyprus after Brexit without much added stress.
How to apply for a visa for Cyprus
To apply for a Cyprus visa in the UK, you must make an in-person appointment at the embassy for Cyprus in London unless you live over 300 miles away, in which case you can apply via post. Whether applying at the embassy or via post, you will need to gather the following documents:
A one-year minimum tenancy or sales agreement for the property you'll be staying in.
Proof of a bank account in Cyprus with a minimum deposit of €15,000 in it.
A health insurance policy and proof of vaccinations.
Income: Documents to prove enough income from abroad (these can be in many forms, including from a pension) to cover living expenses.
A copy of your passport: For both yourself and anyone else who is covered by your temporary residence permit.
Four passport sized photographs.
Certificates: Marriage certificate and the birth certificates of any children covered by your temporary residence permit.
Proof of school enrolment if you're relocating with children.
You will hand these documents in at your appointment and pay the visa fee. You will have to pick them up in person once they've been registered by the staff at the embassy. For people applying via post, include a self-addressed envelope with your collection of documents so these can be mailed back to you by the embassy.
Cyprus temporary residence visas
Before you commit to the move, you may want some time to get a feel for the country to make sure it's the right place for you. If this is the case, and you feel that the three months of the 90-day rule isn't long enough, you can apply for a temporary residence visa for Cyprus. A temporary residence permit, otherwise known as a pink slip, allows you, your spouse, and any dependents under the age of 18, to stay in the country for up to a year. If you get a pink slip for Cyprus, it's important to note that you cannot leave the country for more than three months continuously, so bear this in mind if you plan on spending a lot of time back in your home country.
To apply, you will need an adequate income from overseas to cover your living expenses in Cyprus, which is around €10,000 a year per adult and €5,000 a year per child. In order to fulfil the Cyprus temporary residency visa requirements, you will also need relevant documents for your application, as listed above in the application process section.
This type of visa for Cyprus costs €70 for each person covered by the visa, and the renewal cost is the same. While short term residence visas can be renewed annually, they do not act as working visas for Cyprus, so those looking to take out employment will need to become a permanent resident.
Permanent residency in Cyprus
To prepare for moving to the country, you will need to apply for permanent Cyprus residency. To do this, it's vital that you prepare your (and your family's) immigration papers. This can be done with the help of a lawyer, who can attend the immigration department with you and deal with things on your behalf.
There are a few different categories of permanent residence. The following are the most commonly applied for:
Permanent residency with the right to work: There are a few different types of permanent residency permits with the right to work, but the two most common are:

Category C: For the self-employed and business owners. You must have enough capital (around €260,000) to sustain the business and the business should have no negative impact on the economy of Cyprus.
Category E: For those who have already been offered employment in Cyprus.

Permanent residence after 5 years: Those who stay in the country on a temporary visa for five years or more can apply for a permanent residence permit.
Permanent residency by marriage: If you are moving to Cyprus because you are married to, or you plan to marry a Cypriot, you can apply for permanent residency.
Permanent residence with category F permit: This is for people who don't plan on working in Cyprus and have enough money to support themselves. Those who apply for this category of visa should have an income of around €30,000 which comes from outside of Cyprus. This could come from a range of sources, including employment abroad, pensions, shares, and money from a rental property. If you have dependents, this adds €5,000 to the figure per dependent. For example, if you have two young children moving with you, this would take the required income to €40,000.
Before you apply for residency permits in Cyprus, you must get an entry visa depending on your purpose of travel, such as a student visa or work visa.
Cyprus permanent residency application process
The application process for permanent residency usually takes around 12–18 months, but this can be sped up if you apply for a golden visa — then it can take as little as two months.
If you know you will be moving to Cyprus ahead of time, you could also consider applying for residency before the move. To do this, you can appoint a lawyer in Cyprus by issuing power of attorney, and they can then organise the whole application for you.
You will need the same documents required for applying for a temporary residence visa in Cyprus, as well as a completed application form, an up-to-date CV of the applicant, and a copy of your criminal record. Once you have completed the application form, you will need to pay a visit to one of the country's immigration units to provide your fingerprint and up-to-date pictures for your residency card.
Cyprus citizenship
After living in the country for a while, you may want to apply for citizenship. You become eligible to apply for full Cypriot citizenship once you have lived in Cyprus for at least seven out of ten years, and fulfil the following requirements:
You are over 21 years of age
You have a clean criminal record
You lived in Cyprus continually for the year immediately preceding the application
If you're looking to speed up the process and cut it down to a mere two months, you may want to consider fast-tracking the process with a "golden visa" for Cyprus.
Fast-tracking permanent residency and citizenship: The Cyprus 'golden visa'
Cyprus has a 'golden visa' (residency by investment) scheme, like many countries that are popular with expats. However, the Cypriot Golden Visa scheme has one of the lowest entry barriers in Europe, so it's very easy to qualify for. If you purchase a non-resale property worth over €300,000, you can claim Cypriot permanent residency. If the property's worth over €2,000,000, then you are automatically eligible for full citizenship. Below is a quick rundown of the benefits of both residency and citizenship.
Golden Visa scheme for permanent residency:
It's a simple and fast process
A visit is required just once every two years to maintain your residency
Easy travel throughout the EU
It extends to family and dependants under the age of 25
Golden Visa scheme for citizenship:
You become a full EU citizen
It's a simple and fast process (you can get a European passport in two months)
Full family citizenship is granted for children up to the age of 28
Permanent residency or citizenship through the Golden Visa scheme applies not just for you, but your family too. Any children, plus your spouse, can benefit — and it's valid for life. So, if you're looking to buy property in Cyprus, this is an option that's definitely worth considering.
Financial considerations
One key preparation when moving to Cyprus is getting your finances in order. Not only is this important for helping you settle into the country easily, but the application process for Cyprus' visa and residence permits require you to have a bank account already set up in the country, so this should be one of your priorities.
Opening a bank account in Cyprus
This is one of the first things you'll want to do before your move to Cyprus, but fortunately it is a relatively quick and easy process, even for third-country nationals. Both Cypriots and foreign nationals can set up bank accounts in the country. All you need to set up your account is the following:
A completed application form for your account
Your passport and a valid photocopy
A utility bill issued within the last six months
A reference from your bank back home
Your expected yearly income
You will also be asked why you're setting up your bank account, and you may need to provide some extra documents for proof, but these likely won't be too difficult for you to obtain (such as a proof of residence in the country).
The good news is that you can often start the process for setting up your bank account online, so there's less to do once you get into the country. And the process is incredibly quick — it usually takes no more than four days.
Taxes in Cyprus
Cyprus is considered to be a low tax country, so you may end up saving some money by living here. However, it's important to prepare beforehand to make sure that you're paying everything you are legally required to. It's a good idea to chat with a financial advisor before the move to discuss your situation.
A few of the taxes you may need to pay in the country include:
Income tax: Income below €19,500 is completely tax free. Earnings above this threshold will be taxed anything between 20% – 35%.
SDC: All tax paying Cyprus residents must pay special defence tax.
Property taxes: These include stamp duty and VAT.
Municipality tax: This is calculated based on the value of your new home.
Sewerage tax: You will have to pay somewhere between 0.3%–0.35% of the value of your home per annum for sewerage tax.
One major benefit of becoming a tax-paying resident in Cyprus is being able to avoid inheritance tax, as this was abolished in the country in 2001. If you're interested in learning more, make sure to check out our article on how to avoid paying inheritance tax in Cyprus.
To find out more about planning your finances before buying property, make sure to check out our guide to financial considerations before purchasing property in Cyprus. And if you're looking ahead to maintaining your finances once your in the country, check out our guide which covers claiming your pension, living costs, and more.
Cyprus healthcare
If you plan to live in Cyprus full-time, you'll need access to its healthcare system for check-ups and treatments as well as emergencies. The good news is that Cyprus has a top-quality healthcare system, so you can rest assured that you will receive a high standard of care in the country.
Is healthcare free in Cyprus?
The Cyprus government is in the process of implementing a new healthcare scheme, aiming towards free or mostly free healthcare. In the meantime, it is important to be aware that you may still have to pay for things in Cyprus that you would usually get without charge in the UK. So, state-funded healthcare in Cyprus, known as either the General Healthcare System (GHS) or GeSY, is not free — but it is affordable.
Once you have become a resident of the country, it is relatively easy to join the GHS/GeSY in Cyprus. You can apply online by simply heading to the GeSY website, creating an account, and filling out the registration form. When you register for healthcare, you will be put into one of the following categories:
Entitled to free healthcare
Need to pay a small fee
Must pay the full cost of treatment
Unless you are on a very low income, you will be required to contribute to the country's healthcare system via co-payments. This includes making a contribution for things like doctor visits and prescriptions. Examples of payments are €1 for a prescription, or €10 to go to A&E. In Cyprus, children go to paediatricians for health matters, who can charge anything from €20 to €50 per visit, and GPs and dentists charge a similar price. You can find more examples of treatments offered by the GHS here.
If you are a retiree with Cypriot residency who receives a UK State pension, you have the right to access UK-funded healthcare. If you're thinking of spending your retirement in the Cypriot sunshine, our guide to having a healthy retirement will help you make the most of it.
Healthcare in Cyprus for expats after Brexit
If you were a registered resident of Cyprus before January 2020, you still retain all the rights to healthcare that you did before the UK left the EU. If you are moving there after the deadline, you will have to obtain residency first.
Cyprus health insurance and private healthcare
Cyprus' old healthcare system was divided into private and public healthcare, and the new system rolled out in recent years has attempted to unify these with the aim of reducing long-waiting lists and improving patient experience. Despite this, many expats opt to take out a private healthcare policy with a health insurance organisation in Cyprus, to access a wider variety of hospitals, facilities, and services. This would also enable you to visit private doctors and specialists without the need for a GP referral.
There are two main private health insurance options available to expats in Cyprus: international private medical cover and the cheaper premiums provided by a local private medical insurance company. You will probably be required to pay for your treatment up-front, before being reimbursed within the month. However, you should note that most policies do not include dentists as standard, and you'll have to choose dental cover as an add-on. The same goes for prescriptions.
If you are working in Cyprus, you should check whether your employer offers medical insurance so that you can claim medical expenses and any treatment expenses back.
Finding healthcare in Cyprus
The healthcare system in Cyprus is similar to the UK and the rest of Europe in the sense that you have four main points of contact for healthcare: your GP, the hospital, a pharmacy, and the emergency services.
At a GP
When you arrive in Cyprus you will need to seek out a GP for your medical needs, especially if you are moving to Cyprus as a family. Usually, you will find a health professional via recommendations from friends or neighbours, although you can find many directories online.
At the hospital
Both state-funded and private hospitals can be found in all of Cyprus's major cities. However, healthcare facilities in the south are generally considered to be better than those in the Turkish-occupied north of the island. The majority of hospitals will have English-speaking staff, but when signing up with a doctor it is always helpful to choose one that you can communicate with effectively.
At the pharmacy
Pharmacies can be found across Cyprus, especially in highly populated areas such as Paphos, Larnaca and Lemosos. They are typically open from 9am until noon, when they close, before reopening at 3pm to 6pm/7pm. Some may remain closed in the middle of the week.
If your foreign prescription isn't accepted at a pharmacy on the island, you should book an appointment with a local doctor. It is unlikely that they will charge for writing a minor prescription, such as for birth control, but major drugs may require one or more visits. This largely depends on the doctor, and expats shouldn't be afraid to ask.
Through the emergency services
Cyprus uses the same emergency phone number as the rest of Europe — 199. This will get you through to the ambulance service, as well as the police or the fire brigade. Ambulances are free and will take you to the nearest state hospital if you require treatment, unless you request to be taken to a private hospital instead.
Finding a house
One of the most exciting things to plan for your move to Cyprus is finding your new house, so you'll no doubt be wanting to race ahead to find your dream home. But try not to rush the process, as there are a number of considerations to take into account, and you'll likely want to travel to Cyprus at least a couple of times for a few viewing trips before finding your dream home. Browse our wide selection of stunning properties for sale in Cyprus, including homes, villas, apartments, and even land.
Once you have found the perfect home for you and your family, the good news is that it's relatively easy to buy property in Cyprus. Our incredibly detailed guide on buying property in Cyprus covers everything from a timescale for your property buying journey to where to live in the country, so make sure to check it out.
How to find your dream home
The first thing to do once you've found your new home is discuss the sale with your lawyer. This isn't a legal requirement, but having a lawyer is strongly advisable and will significantly reduce the stress put upon you at what will already be a hectic time. Ask them to check over all the relevant contracts, including the reservation contract. While it isn't a legal requirement, having a reservation contract and deposit is a quite common procedure for buying property in Cyprus, but it's still a good idea to ask your lawyer to review the contract just in case.
You may also want to chat with a financial advisor to make sure you're getting a good deal, as well as run through the hidden costs you might encounter, like VAT and property transfer fees. While you may spend more than you like on your lawyer and financial advisor, it can save you a lot of money (and stress) in the long run, so it's a good idea to not skip these steps, even if you're looking to cut costs.
Once you've made an offer, paid the required deposits, and signed the relevant contracts, you're almost there! But before you make the final payment, you may want to get the property surveyed. This is again something which can save you a lot of money in the long run, as major issues with the property can easily be missed based on a viewing alone.
Once the property gets the green light from the building inspector, simply make the final payment and the house becomes your home!
Moving your possessions to Cyprus
Whether you're moving to Nicosia, Paphos or somewhere more remote, you can arrange for your possessions to be packed, shipped, delivered to your new home, and unloaded into your property. But how do you go about getting them to Cyprus from your home country?
Air
Because Cyprus is a Mediterranean island you have two options for shipping your possessions there: by air or by sea. Air freight is the quickest option – taking between 1-3 days – but this convenience comes at a cost and may not be suitable if you are moving a large amount – unless you have the necessary funds at your disposal.
Sea
Shipping your items by sea on the other hand will take between 6-9 days, depending on the amount you are sending over — anyone moving over permanently will probably have more possessions that need shipping than someone who has purchased a holiday home. Arranging for your belongings to be shipped before you depart will ensure they are ready and waiting for you. All you need to do is pack the essentials you'll need before being reunited with your worldly possessions.
Shipping costs
Below are estimated shipping costs to Cyprus that you'll need to factor into your budget. These have been calculated by obtaining quotes for shipping the contents of properties of different sizes:
Small flat by sea: £900 – £1,000
Small flat by air: £3,500 – £4,000
Three-bed house by sea: around- £1,500 – this is roughly the price of a 20 foot shipping container (33 Cubic Meters | 6.04m x 2.35m x 2.39m)
Five-bed house by sea: £2,000 – £2,500 (N/A by air)
If you're planning on packing everything but the kitchen sink, then you might need to splash out on a 40-foot shipping container (67 cubic meters), which will cost between £2,500–£3,000 and could have room for a small car as well.
A car will generally fit into a 20-foot container, but you will need to budget for the quarantine and tax charges levied on importing vehicles. These will usually set you back £1,000–£2,500.
Other considerations
While the topics above are some of the most important aspects to consider when moving to Cyprus, there are plenty of other things you'll need to prepare for too. Here are just some of the most important things to consider.
Moving to Cyprus as a family
Cyprus is very family oriented. Children are allowed everywhere, even in bars and pubs, and there are plenty of activities for them to enjoy. You could say that the main outdoor activity is the sea and the sand, which is accessible throughout the year. You can do water skiing, sailing, hang-gliding, scuba diving, rowing, and canoeing on the dams. If you don't know how to do these, there are professional instructors who speak English to teach all ages. The Nautical Club is a great place to learn these.
There are many gyms and keep fit classes, yoga classes, and cross-country running activities too. There are martial arts and all kinds of contemporary dance classes. You and your children can get involved in drama productions and you can have theatre, acting, and singing classes too.
There are plenty of theatres and cinemas in Cyprus as well. The theatres have ballet, opera, and musical productions as well as traditional theatre performances. You can find all the latest film releases at the cinemas.
Then, there are many hikes, walks, and nature trails in the mountain area of Cyprus. But the best part is that the weather is much more reliable than many other parts of Europe. So, you don't need to go abroad for a family holiday in the sun. You can relax and enjoy the wonderful hotel resorts here for your holidays.
Education in Cyprus
If you're moving to Cyprus as a family, finding a school will no doubt be one of your priorities. Education in the country is split up into three stages:
Pre-primary: Children can attend pre-primary from the ages of 3 to 6.
Primary: These schools are for children aged 6 to 12.
Secondary: Children can attend secondary school in Cyprus from the age of 12 to 18. This stage of education is split up into two parts:

Lower secondary education (Gymnasium): For children aged 12 to 15.
Upper secondary education (Lyceum): For children aged 15 to 18.
Education is only compulsory for children aged 5 to 15, although many children stay for upper secondary education anyway.
Free state schools are available in Cyprus, and many of them are great quality so you can rest assured that your child will get a good education in the country. Of course, these are Greek speaking schools, so it's important to consider how your child will adapt to this. The good news is that children who do not speak the language are automatically enrolled in Greek language courses by the Ministry of Education, Culture, Sports and Youth, so this will be one less thing for you to sort out.
Some children may find it not too difficult to get a grasp of the language, especially for younger children. However, if you would prefer your child attends an English-speaking school, there are a great variety of private international schools in the country. These schools are popular among expats, and are available across Cyprus, including in Nicosia, Larnaca, Limassol, and Paphos.
Each private school has a kindergarten, a primary school, and a secondary school. The schools are fee paying but the standard of teaching is high, and in the secondary school there are two curricula running parallel to each other. One is the English curriculum that follows the current curriculum taught in the UK, and the other is the Greek curriculum that follows the traditional Apolitirion curriculum. The timetable is arranged so that your children can follow both curricula if they wish and enter either British or other European universities or Cyprus or Greek universities
There is a standard procedure to be followed when you have selected a private school. All pupils have to sit an entrance exam in Maths and English, and they are selected based on their results. The entrance exams are usually taken in March each year. It's a good idea to arrange a meeting with the Headteacher of each of the private schools in the town where you will be living to discuss your child's attendance and school life. It will help you get a much better idea of the school than if you relied only on the school's prospectus.
To get your child enrolled in a school in Cyprus, simply get in touch with the school you're interested in and complete the application process. You will usually need the following documents:
Your child's passport and their birth certificate
Proof of address with two recent bills
Proof of vaccinations
Moving to Cyprus as a single person
Are you a single person thinking of living in Cyprus but not sure if it's the place for you? Not to worry: Cyprus welcomes everyone! As a single person, you'll be treated with respect and find you fit into your local community fast – and it's not difficult to meet people!
Meeting people in Cyprus
You'll find any number of expat groups here to help you fit into your community. Commonly, you'll find members invited to meet socially once a month: it could be for a meal, or a nightclub, theatre, or cinema. There's no pressure to go, but it's a good way to make friends. Some also set up grander plans, like skiing in winter, hiking in summer, and so on.
Thinking about summer activities, a lot of single people do water sports here. And this is another way to meet new people and make friends. You can do water skiing, scuba diving, and even hang-gliding too. If you prefer indoor activities, there are plenty of groups and keep fit classes, such as yoga. And if you're looking to give back, a great way to meet like-minded people is by doing voluntary work in charity organisations.
Property for single people in Cyprus
Most single people begin Cyprus life in a rented apartment, while older people choose to buy or sometimes rent a small house. There are so many apartment choices nowadays – from modest, but comfortable apartments to penthouses. They have become more architecturally inclined too over the years, having some lovely design features. The price can range from approximately €430 for a rented one- or two-bedroom flat, to around €520 for a rented penthouse flat.
Working in Cyprus
If you aren't retired, you will likely be looking for employment once you've made the move. Although many people are transferred from their current employment to work in the same company in Cyprus, others want to come here to live but also need to find work. It's a good idea to secure employment before you move, so start your job search early — you can usually work in Cyprus while your residency permit is processing.
When it comes to the application process, you will usually apply to a job with a copy of your CV, a cover letter, and a completed application form for the role. Greek is the language spoken in Cyprus and although it is a difficult language to get to grips with, learning as much as possible before the move will give you a much better chance of securing employment.
While many Cypriot people can speak English to some degree, you may find that you struggle to compete with Greek speaking locals on the island. Of course, it isn't impossible to find a job if you have little to no understanding of Greek. Some sectors, such as tech and tourism, don't always require fluent Greek speakers. And as these are two in-demand industries, you will likely face less competition for these roles as well.
The best employment in Cyprus can be found in the professional sectors, though of course you can also find work in the hotels and restaurants. Many British people also move to Cyprus to open and run their own hotels or restaurants. Our advice on making a living in Cyprus can give you more information.
Bringing your car to Cyprus
When it comes to getting around Cyprus, you will likely want a car with you. There are no trains or forms of underground transport in the country, so travelling by bus is the only option when it comes to public transport. Although buses in the country are much better than they once were, they still don't run as often as they do in many places in the rest of Europe.
If you want to keep your own car when you move to Cyprus, you will have to get the vehicle shipped over to the country. This can be pricey and may come with extra costs and considerations. You can only bring the car to the country if you have owned it for six months or more, and you must not have any outstanding taxes to pay on the vehicle. You'll also need to make sure you have the vehicle's documentation (the V5 logbook), your driving licence, evidence of insurance valid in Cyprus, and the relevant customs forms — the company you choose to ship with should help with these.
In order to register your car and use it in Cyprus, you must also get a CO2 certificate and complete a roadworthiness examination, which is the equivalent of an MOT (which you will also receive a certificate for). Once you have these two certificates, you will need to send all this information to the District Vehicle Examination Centre before you are able to take to the roads.
Of course, if this sounds like to much hassle for you on top of the other admin you need to complete for moving to Cyprus, you can always sell your old car and buy a new one in the country. This is undoubtedly a more straight-forward way to go about it, but it's important to note that second hand cars are expensive on the island, so make sure to bear this in mind.
The good news is that you can drive in the country on a UK licence for a full six months before needing to apply for a Cyprus driving licence, so you will have some time to settle in and deal with the rest of the moving admin before exchanging your licence.
How to move your pet to Cyprus with you
If your pet is like a member of the family, you'll want to take it with you to Cyprus when you make the move here. Thankfully, it's now relatively easy and inexpensive to move to the EU with your pet.
EU Pet Passport
If you're transporting a dog, cat, or ferret to Cyprus (or anywhere else in the EU), they will need a Pet Passport in order to travel. This details all the vaccinations and treatments your pet has received. To receive one, you must prove your pet has been microchipped and vaccinated for rabies. Contact your vet to obtain a Pet Passport. If they can't help, they will advise who to contact. Alternatively, contact the Animal and Plant Health Agency for local recommendations.
The pet passport will contain details of:
Ownership
Description of the pet
Vaccination against rabies
Rabies blood test (if required)
Canine tapeworm treatment (if required)
Transportation
When choosing a pet transport company, take the same approach you would when deciding on a removal firm. Conduct thorough online research and ask around for recommendations to decide which one best suits your requirements. Most will offer free online quotes. Make sure they're a member of the International Pet and Animal Transportation Association (IPATA) and are recommended by leading airlines.
Local dog registration
As the owner it's your responsibility to register your dog's microchip number with the Cyprus Databank. You must also get it licensed at the local Municipality or Community Council office.
Key facts
According to the Cypriot Veterinary Authority, a pet is defined as "an animal which is kept for company and not for commercial use".
Up to five pets can be transported to Cyprus by one person.
Pets under three months of age can't travel to Cyprus.
You must inform the Cypriot Veterinary Services Department of your pet's arrival at least 48 hours before it's due to arrive in the country.
You must supply them with the date, time, arrival location, and number of the flight or ship which will carry your pet.
A physical examination of your pet will be carried out by a veterinary or customs officer upon arrival in the country. They will also check all relevant documentation.
Your pet will not be required to spend time in quarantine provided it complies with the following criteria:
It has an electronic microchip and a Pet Passport.
It had a rabies vaccination at least 21 days and within one year prior to export.
It had an antiparasitic treatment within 24- 48 hours before departing.
After reading this guide, you should have a good idea of what you need to do before moving to Cyprus, including how to obtain a Cyprus visa and how healthcare in the country works. All that's left to do now is get started on preparing for your next chapter! If you need any more help, our friendly expert advisors are always willing to lend a hand, so get in touch with us today.
If you're still interested in doing more research, we have plenty of other guides on moving to and living in Cyprus for you to explore, including our Cyprus currency guide, our advice for maintaining your finances after the move, and our tips for helping you settle in once you're there.
Ready to start your property search? We have a wide variety of properties to explore in this sun-soaked country. Whether you're looking for a house in Ayia Napa, Paralimni, Pissouri, or Famagusta, we've got you covered. Explore the properties on offer at Property Guides today to find your dream overseas home.
Explore our range of free Cyprus property guides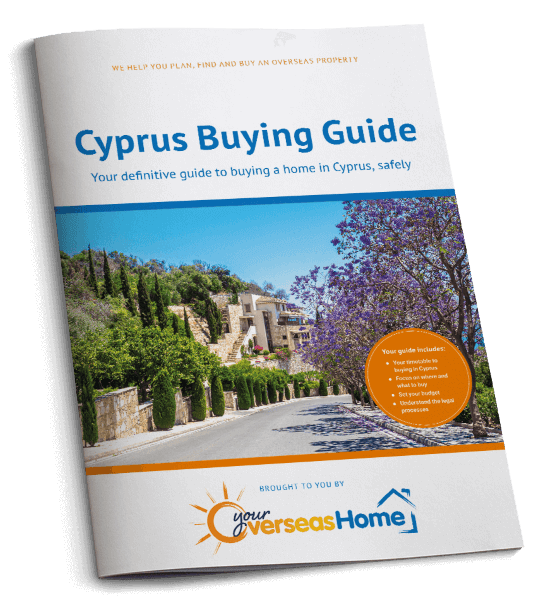 The Cyprus Buying Guide takes you through each stage of the property buying process, with practical recommendations from our experts who have been through the process themselves. The guide will help you to:
✔

  Ask the right questions
✔

  Avoid the legal pitfalls
Download your free guide to buying in Cyprus