Tops tips for settling in to life in Cyprus
Moving to another country is a huge life change. For this reason, it's important to allow yourself a little time to get into the swing of things. There's no shame in missing home, but to help you get used to Cyprus and everything life here involves, here are our tips for settling in.
Top tips for beating homesickness
Moving to a new country, with a different culture, language and customs can be challenging. Some of us settle right in, find a new friends straight away and never look back. Some of us struggle, feeling homesick and a little lost. You may experience "buyer's remorse", and suddenly wonder if the British rain was so bad after all. Don't worry, that's perfectly natural and can be overcome.
Here are six ways to beat homesickness:
1. Facetime and Skype are a great way of keeping in touch with the family back home. However, there comes a time to ditch social media and introduce yourself to the neighbours.
2. We speak to many overseas house-hunters and often hear them say they intend to avoid the "Little Britain" expat scene. That's a really positive attitude to take with you, but there is no shame in being able to swap a joke with a fellow countryman every now and again.
3. Before moving to Cyprus, write down your hopes and dreams for your new life, and what you're pleased to leave behind. If you find it hard going, read what you wrote for inspiration.
4. You may miss the simple foods from home. The good news is every large expat community has a deli or supermarket selling British brands. Stock up and invite your new friends round!
5. Go everywhere, try everything, get involved, don't give yourself time to get homesick. Get to know the history of where you live and ask lots of questions.
6. Write down the essential activities in your area and tick them off like a tourist. When you've done that, design a project for yourself – to find the best moussaka in Cyprus, perhaps?
Finding tradespeople
You'll be spoiled for choice if you need help around the house. Polish plumbers haven't just found their way to Britain, the EU has allowed everyone to find the nicest possible place to ply their trade and Cyprus has a great pool of talented and reasonably priced tradespeople, speaking every language.
Word of mouth and expat message boards are a good way to find the best people, or there are the usual online and newspaper classified ads. You should ask to see previous work or speak to previous clients, and always get a written quote for work. It is also important to get a receipt for work you've had done. Tax evasion has been a problem in the past and the government is clamping down. You may also find yourself stung for capital gains tax when you come to sell if you cannot account for your expenses properly.
The EU website has plenty of information on how to get your professional qualifications recognised there
Work and income
Often the best way of settling into a new country is to work there. While we are still in the EU and have the right to work in Cyprus – which may continue even after Brexit anyway – the EU website has plenty of information on how to get your professional qualifications recognised there. Look for the "regulated professions database" on the EU website.
For some occupations the language barrier will be a problem – although don't assume you cannot learn fluent Greek, many do learn it. A traditional way for new arrivals in a country to make a living is in the international "language" of food and hospitality, opening their own bar or restaurant. Don't assume that owning a bar is like drinking in one! The hours are often long and the work can be stressful, even more so than in the country where you were born and bred. You need to do plenty of research into competition, clientele, staffing and suppliers. UK residents have no restrictions on working or even setting up their own company, but they will need to ensure they comply with the relevant legislation and tax requirements. Find out what applies to your situation and circumstances.
Another option that many expats choose is to create a business online, such as writing, editing, programming – or anything else that you could do from home.
Two good things about electricity in Cyprus: it's 40 percent cheaper than in Britain and Cyprus uses the same three-pin plug
Connecting utilities
Connecting your home to your essential services, such as internet, electricity, gas and water, will be one of the first things you need to do upon arrival in Cyprus. You will normally require your passport to set up your account and get connected. Two good things about electricity in Cyprus: firstly it is around 40 percent cheaper than in Britain, and secondly, Cyprus uses the same three-pin plug. Cyprus has a limited number of suppliers – being a smaller country – with only one electricity supplier, the EAC. British pensioners are no longer entitled to the cold weather payment, which is a shame as many used it to pay for their air con and swimming pool expenses! Lack of rain is an issue in Cyprus so most homes are fitted with a water meter.
Ironically, given that large amounts of it are currently being found off the coast, homes in Cyprus do not receive mains gas via pipes. Cooking is normally done on gas, however, which you buy in large canisters at supermarkets and petrol stations or get delivered.
Taking your pet
Cyprus is signed up to the pet passport scheme and you will be allowed to bring your cat or dog in without an import permit or quarantine period. It will have to have been vaccinated and electronically microchipped in accordance with the EU rules.
The process requires considerable planning to ensure that your pet is safe during their immigration and to comply with all the legalities. Your vet will be able to help you with the required paperwork, microchipping and any vaccinations.
If you wish to travel with your pet, most airlines are equipped for this, but the low cost airlines, such as easyJet and Ryanair, are not.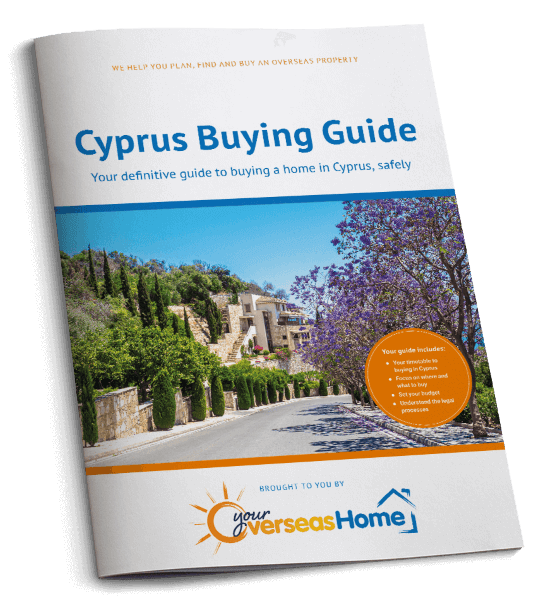 The Cyprus Buying Guide takes you through each stage of the property buying process, with practical recommendations from our experts who have been through the process themselves. The guide will help you to:
✔

  Ask the right questions
✔

  Avoid the legal pitfalls
Download your free guide to buying in Cyprus