Essential services and information for living in Cyprus
Healthcare
Healthcare in Cyprus has suffered, as in many countries, from years of austerity. The government spends just 2.7 percent of GDP on health, compared to an EU average of 7.2 percent and 7.6 percent in the UK. Most of that, however, is replaced by private health expenditure, meaning that there is no shortage of good healthcare in Cyprus, it's just that you have to make more of a contribution. Most hospitals will include English-speaking staff, but when signing up with a doctor it is always helpful to choose one that speaks your language confidently and fluently.
Choose a doctor who speaks your language confidently and fluently
For short-term visits, EU citizens, which Britons still are and will remain so for some time, can use their EHIC for free treatment in state run hospitals and clinics. For longer visits – above three months, by which time they should have registered for residence anyway – they will need to get a medical card.
You get this in several ways:
– by paying social security payments when working
– being on a low income, the level of which is dictated by number of dependent children
– suffering from a chronic disease
There are some payments even in the state system, including €3 to visit a GP and €6 for a specialist, but prescriptions are just €0.50. You pay for medicines in advance by buying health stamps when you register at the doctor. Those not covered by the medical card can still use the normal health services but the charge is €15 for the GP and €30 for the specialist. There is also a €10 charge to use Accident and Emergency. There are state-run general hospitals in Paphos, Nicosia, Famagusta, Larnaca and Limassol, but even more private hospitals including three in Paphos.
Many people moving to Cyprus do choose to go private (as do many Cypriots), because that offers a greater choice of doctors and hospitals and avoids waiting lists for state healthcare. You can choose either an international medical insurance company, such as Axa, or a local insurer.
Travel and Transport
For British buyers Cyprus has two great advantages over some other eastern Mediterranean islands. Firstly, you can get direct flights into its two international airports at Larnaca and Paphos all year from the UK, even in the depths of winter and from as little as £30 each way if booked well in advance. Flight time is between four and five hours. Although a long flight by European standards, it offers a winter sun destination without the jetlag associated with flights to places like the Caribbean or Dubai, being just two hours ahead of the UK.
Cyprus's second transport advantage is that you drive on the left hand side, as in Britain, with many of the road signs in English. Cyprus doesn't have a railway system, but it does have a good road network and one of the highest rates of car ownership in the world.
The speed limit even on motorways is only 100kmh (62mph) and on rural roads 80kmh (50mph). The drink drive limits are lower too, at 22mg compared to 35 in the UK. Children over five do not need a special car seat, but everyone is required to wear a seatbelt.
EU drivers can use their own licence until it expires, while drivers from most other countries (including, possibly Britain at some point), can drive for up to six months on their own national licence. Petrol prices are around the same as in the UK while public transport is considerably cheaper – as much as 50 percent less than the UK pays for both buses and taxi fares.
Cycling is popular in Cyprus, with a bike sharing scheme in Nicosia and plenty of flat routes along sea fronts. A quarter of Cyprus's roads are unpaved and it has a wonderful network of off-road routes through pine forests and along mule paths, so a mountain bike might be useful.
Do not come into the Republic of Cyprus via the Turkish occupied northern part. The Republic regards this as illegal entry
Do not try coming into the Republic of Cyprus (southern Cyprus) via the Turkish occupied northern part. There are ferries from Turkey, but southern Cyprus regards this as illegal entry and will bar you, potentially permanently, from entering if it sees a stamp on your passport.
Education
Education in Cyprus is generally agreed to be of a reasonable standard. A year of pre-primary is compulsory and school officially starts the year after the fifth birthday and then up to sixteen. There is a slightly complicated process to apply for the state schools as you have to apply during a two-day window in January for the following September. You can get more details from the Ministry of Education (moec.gov.cy) but do apply early. Children can attend pre-primary at any age from three, but must attend from four years eight months at which point attendance is free.
Lessons in state schools are taught exclusively in Greek, although there are several hours of English lessons each week, during which children who already speak English fluently are normally given the chance for extra Greek language tuition instead. With so many overseas children in Cyprus – not just from the UK but from eastern Europe and the Middle East too – the Ministry of Education is making great efforts to make children welcome from all cultures.
The school starts early, normally between 7.30 and 8am and finishes earlier too, between 1.30 and 2pm. There are three terms, as per the British school year, but the summer holiday is longer, normally starting on the penultimate weekend in June and continuing to early September. School uniform is compulsory in state schools.
Cyprus has some private international schools where lessons are conducted in English. They are certainly cheaper than their equivalent in the UK but you can still end up spending five figures per year. Private schools have to be registered and licensed by the Ministry of Education and while they have some autonomy over how they teach, most will follow the local curriculum. They will usually have better ex-curricula activities than the state schools (at a price, of course).
Cyprus is committed to the early detection and help for pupils with special educational needs, such as autism, blindness or deafness, and there are special schools in Nicosia, Larnaca and Limassol.
Language
The official languages of Cyprus are Greek and Turkish. All school children learn English and, being surrounded by English language media, most working age Cypriot people will be able to talk to you.
But why should they? It is hard to emphasise enough the importance of learning the basics of the language in any country where you are going to live. By learning Greek you will make more and better friends, communicate better with doctors and find visiting the hairdresser less stressful! You will probably save money and find dealing with the authorities much easier too.
Learning Greek doesn't have to be onerous. You can do it sitting in the sun with a nice red wine and a plate of olives.
The good news is that Greek is not as difficult to learn as you might think from looking at the alphabet. Indeed, decoding road signs and simple newspaper headlines is part of the fun when you first arrive there. When you want to get deeper into the language and talk to your neighbours, to learn Greek fluently takes around a thousand hours of study, according to a report by the American government. That's a little longer than French and Spanish (600 hours). If that looks too daunting, remember that one hour each day will see you fluent in three years, and that will undoubtedly be speeded up if you already live in Cyprus.
Studying the language should be fun. What is learning Greek, after all, but talking to people, reading some of the world's great books, watching Greek TV and movies? It doesn't have to be onerous. You can learn Greek sitting in the sun with a nice red wine and a plate of Kalamata olives!
For serious study, your options include:
Online learning: There are both free services via YouTube, or you can buy tuition via services like Skype.
Multimedia: The most well known CD/book/online combination systems are Rosetta Stone and Michel Thomas, comprehensive and proven to work but costing £100-plus. BBC Languages also have structured but fun ways of learning Greek.
Books: The old style textbooks that we struggled through at school will feel familiar to many of us and let you gradually build-up vocabulary and verb tenses. You can buy them for very little via Amazon, but do make sure it is modern Greek; speaking ancient Greek will get you very odd looks.
Language holidays: Learning in situ has many advantages, not least of which is being able to do some house-hunting while you're there. Various private companies offer holidays in Cyprus with language classes.
Residence
As an EU citizen – which the British still are – you are entitled to live and work in Cyprus, but you are still required to register as a resident if staying for over three months. The document is called the Temporary Residence for Employment (TRE) but also applies if you are retired, self-employed or not needing to work at all.
The immigration department will need to see evidence that you have an annual income sufficient to support yourself financially, around €6,000 per year
If you are not working the immigration department will need to see evidence that you have an annual income sufficient to support yourself financially, around €6,000 per year plus €3,000 each for dependent children.
You apply at the police station in one of the major towns and will need to take along your passport, birth and marriage certificate, evidence of income or a job offer, evidence of medical insurance cover if you're not entitled to state health provision, evidence of where you will be living, in the form of a rental or sales contract, and copies of all those. The forms can be confusing, so many people pay a small fee (less than €100) for a specialist lawyer to fill the form in with you. The process can take several weeks so it is best to start a month or more before your three months is up.
Removals
Although many of us make the decision to start afresh when we move abroad, distributing our most precious possessions to friends and relatives before we go (and hoping to get them back if it doesn't work out), it can make your new place abroad feel more homely with a few familiar furnishings. It's a long way from the UK to Cyprus by land and sea, however, and with no regular ferries from Greece or Italy if you want to take your possessions to Cyprus in a car or van you would have to drive the 4,000km from Calais to Turkey and then get the ferry to northern, Turkish-controlled Cyprus. This would be regarded as illegal entry by the Republic of Cyprus and is strongly advised against. One alternative is to drive to Athens and put your car on a freighter, which usually will not take passengers so you will have to fly and meet it on the other side. This option isn't cheap, but it is certainly feasible.
Much easier is to use a removals company who will come to your home, pack your stuff securely, insure it, take it to the docks and wave it off to Cyprus then have a another team unpack it at the other end and put it in your home. For the average contents of an apartment this service will cost between £1,500 and £2,500 and take four to eight weeks. Moving a similar volume by air costs two to three times as much.
It is usually best to insure your own possessions, which will be one or two percent of the value of the goods. The International Association of Movers (IAM) and Overseas Moving Network International (OMNI) are good places to find a reliable removals company.
Do the essential activities in your area and tick them off like a tourist. Design a project for yourself – to find the best moussaka in Cyprus, perhaps?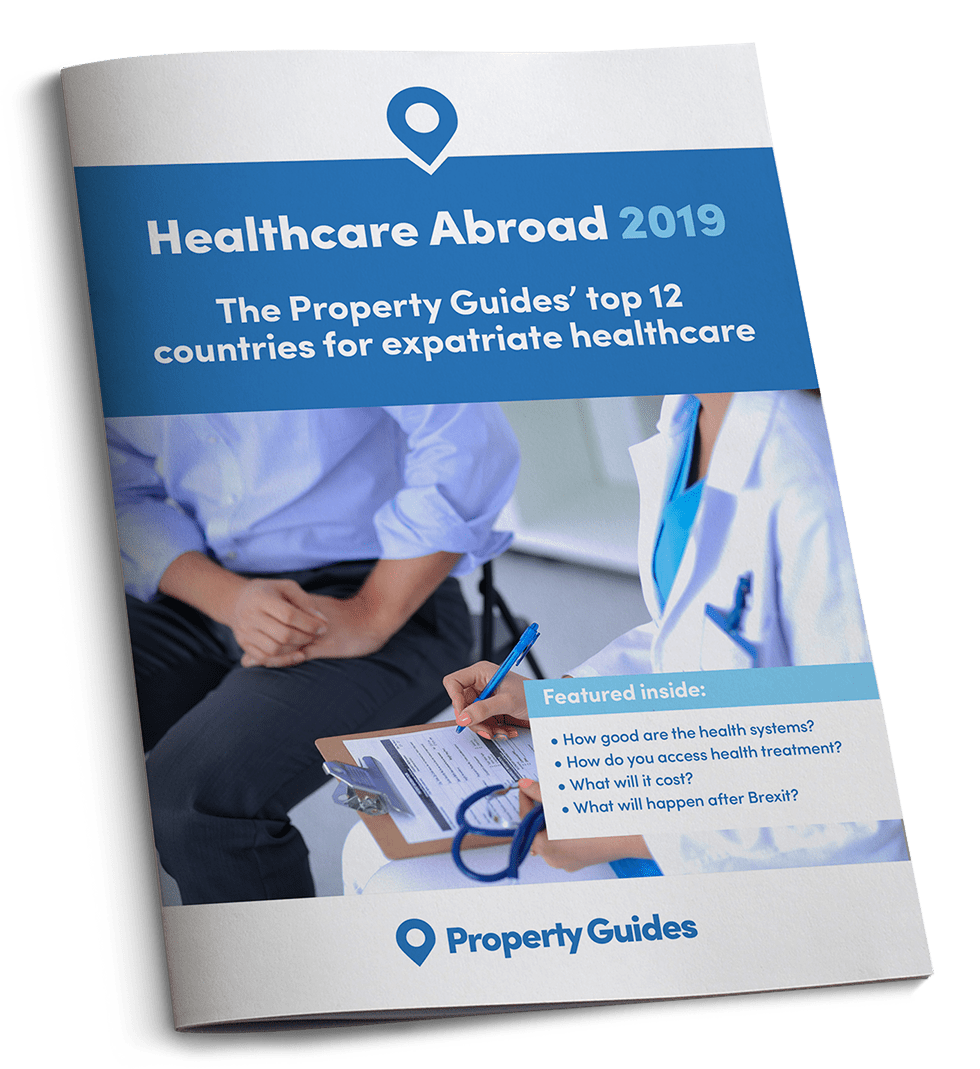 The Healthcare guide will provide information on
• How to get healthcare
• Private medical insurance
• Planning ahead
• How overseas services compare with the NHS
• What could happen after Brexit
Download your free Healthcare guide