Where to purchase property in Cyprus
Cyprus caters for all tastes, enabling you to find the perfect location for retirement, a holiday home or work relocation. Buying a property overseas is a huge decision that you'll want to get right both financially and emotionally. So let's take a closer look at the types of locations you have to choose from on this diverse island.
Larnaca is developing the largest continuous beachfront in Cyprus, 25 kilometres long
Larnaca
If you want to buy away from areas overrun with expats and tourists, Larnaca ,with its salt lake and palm trees, could be the ideal choice. Although not as popular with visitors as places like Paphos and Limassol, this beautifully compact city still offers everything most overseas property buyers crave from a life by the Med: a city centre beach backed by a palm-lined prom, a mix of traditional and cosmopolitan influences, ancient monuments and fascinating architecture. While the city's international airport is the largest on the island. Alternatively you can hop on a cheap flight to Paphos, located just a few kilometres along the coast.
Limassol
Located on the shores of Akrotiri Bay, on the southern coast of Cyprus between Paphos and Larnaca, Limassol is the island's second largest urban area. Head here for an intriguing combination of modern architecture and remnants of the island's turbulent and multicultural past. Property buyers are flocking to the city as more and more luxury residential towers fill the skyline, creating a Mediterranean style Manhattan. Limassol's ambitious outlook when it comes to construction includes the tallest seafront tower in Europe.
Paphos
Overseas property buyers continue to flock to Paphos to take advantage of the well-established expat community, enjoy one of the most spectacular harbours in the Mediterranean and make use of the convenient year-round budget flights from the international airport. There has also been significant investment – in the town's infrastructure recently, after it served its term as a 2017 European City of Culture. More than €25 million has been spent on upgrading things like public spaces, the old commercial centre and roads. Great news for property prices and rental appeal.
The area around Paphos offers a choice of village for every sort of buyer. Coral Bay is great for sea-lovers and yachties with its own marina. A property around Tala, eight kilometres further inland, escapes the humidity and has a better off-season social scene, yet with the advantages of Paphos's infrastructure and commercial centre on the doorstep. Peyia has a bit of everything, set on the slopes above Coral Bay, and with shops, restaurants, bars and a good bus service. For a touch of luxury there is the famous Aphrodite Hills development, with its golf course, tennis courts and spa.
Nicosia
Located 50 kilometres from the coast, the island's capital is perfect for those who thrive in the hustle and bustle of city life. Purchase a pad here and you will have the Venetian walls of the fascinating old town, a contemporary cafe and bar scene, a Debenhams and Mark and Spencer on your doorstep. . It's a perfect advert for modern life in Cyprus, with contemporary apartment living dominatig the local property market.
Ayia Napa
The tourist resort of Ayia Napa in the east gained a bad reputation for the hedonistic excesses of some youthful holidaymakers. However, has been drastically cleaned up in recent years and is now more family-focused. For example, the new luxury marina contains 600 berths, retail outlets and private beach club, a range of luxury properties.
Troödos Mountains
If you'd prefer to spend your days away from big cities and tourist resorts, the Troödos Mountains, rising to nearly 2000m/6500ft north-west of Limassol, could be the perfect spot. This huge expanse of igneous rock is carpeted with lush forest, providing cool, pine-scented air and quiet villages like Argos, Prodromos and Fikardou. You can even ski around here in winter.
Find this information helpful? Share with your friends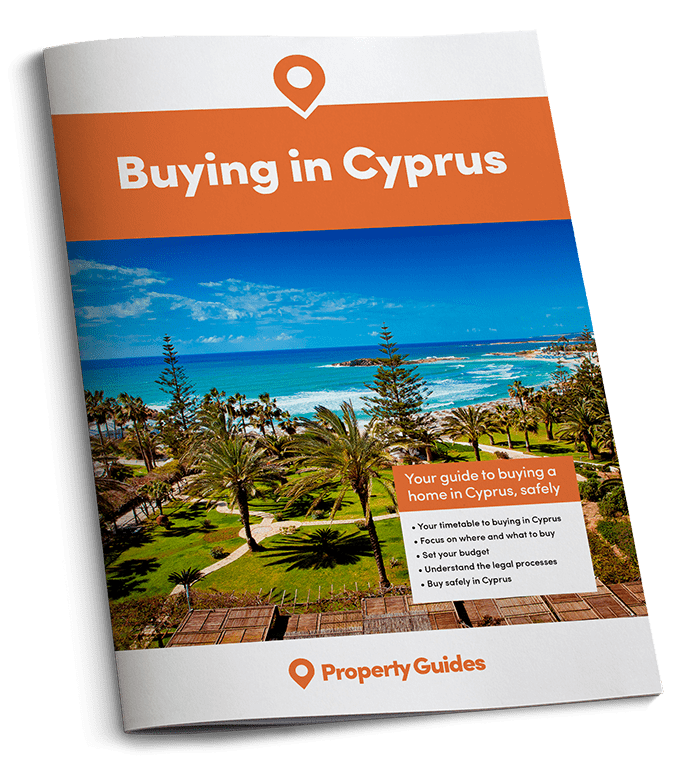 The Cyprus Buying Guide takes you through each stage of the property buying process, with practical recommendations from our experts who have been through the process themselves. The guide will help you to:
✔

  Ask the right questions
✔

  Avoid the legal pitfalls
Download your free guide to buying in Cyprus