Financial considerations before you buy property in Cyprus
Paying a financial advisor might seem like an expense you can do without, but remember they are there to save you money and stress. They will have seen people in the same position as you many times before, whereas this may be your first foreign purchase. Gathering your own team together – IFA, Smart Currency Exchange, lawyer – acting purely in your interests, will pay dividends in the long run. The Property Guides Resource Centre can put you in touch with a reputable financial adviser.
Tax Planning
You should be arming yourself with good financial advice before you even begin looking for property in Cyprus. How you structure the purchase could have major implications around how much tax you pay on the purchase price, beginning the moment you pay a reservation deposit. Put the property in two names, for example, and you may get two sets of allowances.
Gathering your own team together – IFA, Smart Currency Exchange, lawyer – acting purely in your interests, will pay dividends in the long run
You will need to:
• Inform the HMRC if you are leaving the UK permanently or for at least one tax year.
• Fill in a form P85 or self-assessment tax return.
• Test your residence status. You will be a UK resident if you stay in the UK for 183 days or more of the year, or your only home is in the UK and you live there for at least 30 days of the year.
• Calculate the most tax-efficient way of receiving income from abroad, such as pensions, investment income and rental income. For British people retiring to the sunshine and warmth of Cyprus there are tax efficient schemes such as a Self-Invested Personal Pension (SIPP) or Qualifying Recognised Overseas Pension Scheme (QROPS), which could save them money.
Homes in Cyprus are affordable compared to other popular Mediterranean islands such as Mallorca or Malta
Financing your property
Homes in Cyprus are affordable compared to other Mediterranean islands, such as Mallorca or Malta. Both property and living costs are also low. You can rent an apartment in Paphos for €300 per month or pay around €1,400 per square metre to buy. That translates into two-bedroom apartments from well below €100,000 and good quality three-bedroom villas with pools for under €200,000. Of course you can pay considerably less if you buy in more affordable areas and ten times that amount for a luxury villa with sensational views.
A good resource for keeping up to date with the Cyprus property market (as well as your Cyprus Buying Guide) is the Royal Institution of Chartered Surveyors (RICS) who produce a quarterly price and rental index – see www.rics.org/cy.
When setting your budget, don't forget to allow for buying costs of around 10%. You might be able to negotiate on an asking price but the days of serious price falls appear to be behind us and you are unlikely to get more than 5 or 10% off.
What better way to spend an inheritance than on a property that the whole extended family can enjoy?
Cash buyers
The cheapest way to buy a property is with our own money, avoiding the interest and arrangement fees of mortgage lenders. Perhaps you have savings, or can sell an investment? The pension freedoms brought into Britain in 2015 and 2016 offer the possibility to use the tax-free portion of your pension lump sum to finance your property in Cyprus. Perhaps you have an inheritance, in which case what better way to use it than buying a property that the whole extended family can enjoy? Many British retirees are downsizing in the UK, keeping a smaller UK property as an investment and "safety net" in the British housing market. While being able to afford a seaside home in the Mediterranean for a late-life adventure.
Borrowing
Don't think you can afford a property in Cyprus? You might be surprised at the options available to you in our globalised financial system. The close historic ties between the UK and Cyprus and our similar legal systems mean that UK lenders are willing to work in Cyprus. You will normally be expected to pay a 30% deposit and agree a mortgage term that ends before your 65th birthday. You will normally have a repayment mortgage unless the property is under construction, in which case interest only is often possible.
As soon as you know how you will finance your property, the Cyprus Property Guide recommends that you open a free, no-obligation account with Smart Currency Exchange to discuss the best way to move your funds over to Cyprus and be ready for any payments, such as a deposit on the property.
Opening a bank account
You will need a bank account in Cyprus both to purchase or rent a property and as soon as you arrive to organise utilities and pay tradesmen. Cyprus has been through a banking crisis in recent years and the Central Bank of Cyprus maintains a list of approved local and foreign banks. Some British banks operate in Cyprus, including Barclays, and some Cypriot banks have branches in the UK where you can set up your account before you leave. It is normal to pay for more services at Cypriot banks. So make sure you know what services you will be paying for. To open an account you will normally need your passport or EU photocard driving licence.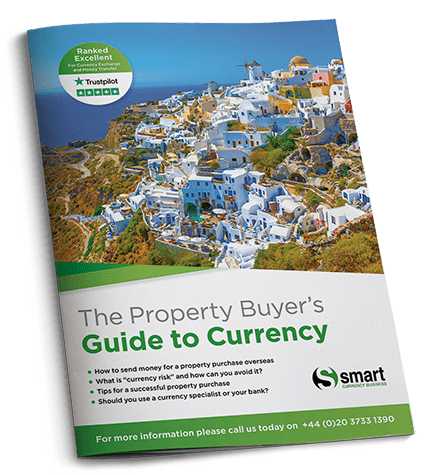 The Property Buyer's Guide to Currency will help you:
✔

  Understand the currency markets
✔

  Protect your property budget
✔

  Use a Currency Specialist
✔

  Learn from other overseas property buyers
Download the Property Buyer's Guide to Currency