If you are planning a new life in Cyprus – or just idly wondering if it might be possible – an important consideration will be whether you can keep body and soul together. That applies as much to young families, the active retired or the "digital nomad". So, in 2018, can you make a living in Cyprus?
We've put together the top questions posed by our readers on how to make a living in Cyprus:
What is the general economic and employment situation?
For the past two or three years the economy of Cyprus has been strengthening by around 1% every quarter. That's pretty much twice the growth of the UK. There is huge optimism about the Cypriot economy these days.
If you're also receiving an income from the UK – or you're sending money between the two countries – don't leave your money open to the risk of changing exchange rates. Find out how to protect it in the Property Buyer's Guide to Currency.
Around 8,000 people who had been without work in Cyprus this time last year have now found a job. The number of registered unemployed fell by 19% over the year to February 2018, an astonishing drop for such a small country. This brought it under 10% for the first time since 2012. Although still much higher than in the UK, bear in mind that until the financial crisis Cyprus had full employment (below 4% unemployment), unlike countries like Spain that have been beset by unemployment for decades. Could Cyprus be returning to full employment? If so, the opportunities will be huge.
Which industries are looking good right now?
Your best options are the traditional industries such as tourism, construction and real estate. If you have the skills, pharmaceuticals, shipping, mining and other related marine-associated sectors, such as fishing, are also doing well.
The service sector contributes by far the most to Cyprus's economy, however. The Information and Communications Technology industry (ICT) is a big part of that, offering plenty of opportunities. Another major component is banking and financial services. Those with a banking and financial background could well spring a job here – something to ponder if you're worried about UK financial services post-Brexit!
How are wage rates?
Cyprus does not have a minimum wage and there is no mandatory minimum rate of pay for workers in Cyprus. There used to be a minimum wage rate of €870 (£775) per month for specific occupations, including shop assistants, nurses' assistants and hairdressers, rising to €924 after a six month period at the same employer. Since the financial crisis this has been routinely ignored by employers.
Some industries do have minimum wages still. For security guards it's around €5; for cleaners around €4.70. If you're looking for work in agriculture – grape picking perhaps – you'll be competing with asylum seekers whose minimum monthly wage is €425, but with accommodation and food provided.
However much you can earn in Cyprus, knowing how to negotiate for a fair priced home will keep your living costs lower. Read our guide: How to Negotiate Abroad.
So if you're dependent on unskilled work, you may struggle to make a living in Cyprus. There is good news here though. With the government looking towards full employment within the next three years, it is drawing up plans to set a minimum wage for all professions. In 2014 the average national wage in Cyprus was €1,400 a month but by 2017 was €1747 (£1,560).
In the Turkish-controlled North (TRNC), the minimum monthly net wage for 2017 rose to €435. The minimum hourly wage will be €2.80, daily wage €23, and weekly wage to be €115. The monthly gross minimum wage at €500 gross.
And tax rates?
Income tax rates in Cyprus are lower than the UK, especially for very high earners and very low earners.
• In Cyprus, if you earn up to €19,500, you pay no tax.
• Between €19,501 and €28,000, you are liable for 20% tax.
• Between €28,001 and €36,300, you will pay 25% tax.
• Above €60,000, the tax rate rises to 35%.
Can you get all year-round work?
While much employment is in the spring and summer tourist industry, being a winter sun destination there are plenty of visitors around in the off-season too. Cyprus attracts winter tourists from the Far East, Middle East and Russia as well as the UK, offering year-round work in the casino and hotel industries, especially in Nicosia and Limassol. The mining, shipping and service industries continue all year too.
What international companies are based in Cyprus?
Like in other expat hotspots like Dubai and Malta, many international companies have moved to Cyprus. These include offshore financial companies that sell products worldwide, including Flexsys Trust, Allied Asset Management, Crowe Howarth International, HLB Cyprus. There are UK high street names here too: including Marks & Spencer, Topshop and Debenhams.
For a more comprehensive guide, view CyprusNet for a list of 1,500 companies in Nicosia, Larnaca and Limassol area.
Can I get a job without speaking Greek?
Finding work can be difficult for foreigners as you'll compete against locals for jobs. However there are a number of ways to boost your chances of employment. Firstly, the main business language is English and as we have seen, the services sector is 50% of the economy. Speaking the language of IT, marketing, finance and telecommunications could put you in high demand.
Learning Greek will impress your Greek friends so much they'll be fighting to employ you!
Secondly, the tourism industry is another huge part of the economy and the largest number of tourists comes from the UK. International workers can often find opportunities in this sector.
Thirdly, online translators such as Google are revolutionising language. We can already search online jobs boards in Greek, and within five years will we be seeing immediate in-ear translators?
Lastly, you could always learn Greek! As many as 300,000 Greek and Cypriot people live in the UK and most have learnt English – so why not try? It will impress your Greek friends so much they may be fighting to employ you!
Do I need to get a work permit?
EU citizens don't need a visa to enter or work in Cyprus, but those staying for more than three months will need to apply for a registration certificate. To gain a certificate you'll need to prove that you have secured employment or have the financial means to support yourself without working. You'll also need to apply for an Alien Registration Card (ARC) and a social security number.
What is the mechanism for getting my UK qualifications recognised?
Employers will usually understand UK qualifications as the Cypriot education system has many similarities. It is best to clarify that this is the case before you get too far into the application process. Being part of the much vaunted Four Freedoms of the EU, British and Irish citizens are not only allowed to work in Cyprus but are entitled to have their professional qualifications recognised. You apply via the National Academic Recognition Information Centres in the European Union. Also check out the European Commission website here.
Where, geographically, are the employment hotspots and how is the commute? Is it feasible, for example, to live in Paphos but work in Nicosia?
The good news is that you won't be stuck commuting on a train in Cyprus. The bad news is that that's because there are no trains in Cyprus. There is an extensive bus network, but most commuters will use private cars, and at least you'll be driving on the left.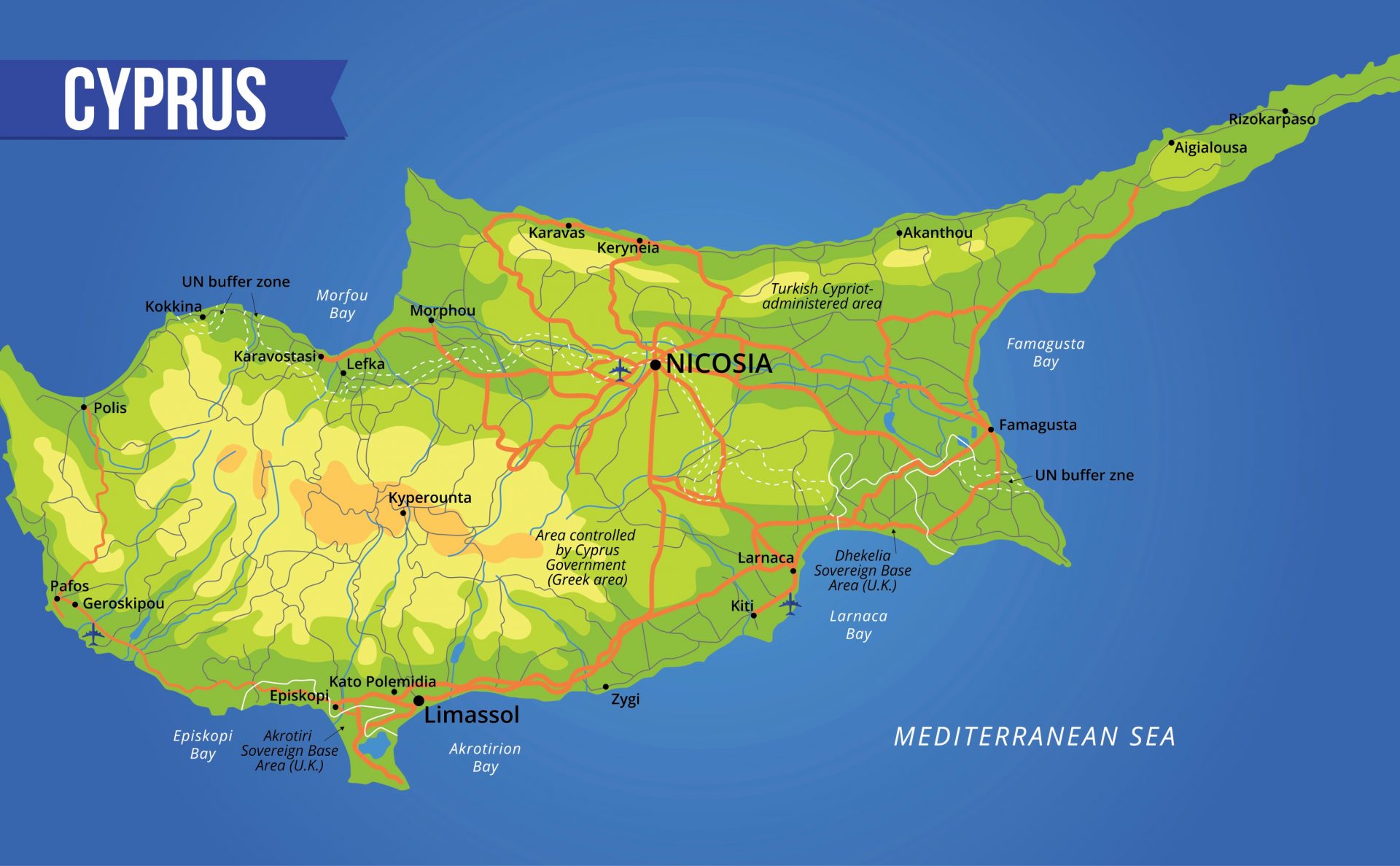 The main area for work is Nicosia, the capital, with a local population of around 300,000. If you base yourself in Larnaca your commute to Nicosia will be about 45 minutes, and from Limassol just over an hour by private car. It is nearly a two-hour drive from the expats' hotspot of Paphos to Nicosia, but perhaps worth considering if you can work a day or two from home?
Cyprus is not a huge island, however. For anyone with a job that requires driving between the main cities (working in sales, for example, or simply as a jobbing plumber or carpenter), the entire Republic of Cyprus can be your potential market. Crossing the border into Turkish Cyprus may be more problematic, but is not impossible.
What are the best industries, in the places I want to live?
The best employment prospects for foreigners will be in tourism, real estate, IT and finance. For property (both construction and rental management) and tourism, you really need to be along the coastal strip, anywhere from Paphos to Ayia Napa but with most jobs in the Limassol and Larnaca areas. Similarly if you aim to market your service to an expat client base. Financial industry players should also aim to live within striking distance of Limassol and Nicosia. Those who speak Greek and think they could work in health, education or government should aim for the golden triangle of Larnaca, Limassol and Nicosia.
Can you suggest any employment websites?
One of the best sites is Glassdoor which offers the broadest range of jobs. Kariera is a Greek and English language website for jobs and careers in Limassol and Nicosia. Cyprus Jobs and Cyprus Recruiter may also prove useful. Both offer jobs listings for a variety of trades, skills and locations. You know all those annoying LinkedIn emails? They could prove to be incredibly useful after all! Alternatives to the online jobs boards are local newspapers, such as the Cyprus Mail.
To understand how you can protect your property-buying budget from currency risk, read the Property Buyer's Guide to Currency. It is written by our partner Smart Currency Exchange, rated "Excellent" on Trustpilot.
What about the self-employment?
Freelance working, such as sales, virtual assistants and writing, offers a way for the enterprising expat. You just need a decent internet signal and a laptop, and you're what is called a "digital nomad". Expats that can create websites, have financial experience or have the ability to teach English one-on-one to foreign students over the internet can also make a living in Cyprus. Money can be wired via Paypal to your bank account, but do bear in mind that you need to be paying into the Cypriot social security system. If you are not legally resident by March 2019 (plus, perhaps, the transition period) you may lose all your EU rights post-Brexit. This is not a time to be playing fast and loose with the rules.
If you are not legally resident by March 2019 you may lose all your EU rights post-Brexit. This is not a time to be playing fast and loose with the rules.
There are a number of international schools in Cyprus which periodically advertise for teachers with English language skills. A Teaching English as a Foreign Language (TEFL) certificate will open many doors, and not just to Cypriot people. This is a job where you can market yourself to Russian and Asian expats living here, as well as in Northern Cyprus too.
Working in Northern Cyprus
Under Turkish rule since 1974, Northern Cyprus is an expat outpost that offers job opportunities in tourism, private university teaching, real estate and construction.
British people have set up their own businesses here, including small scale restaurants, cafes and ad hoc businesses. Most jobs, such as waiters and shop assistants, will tend to go to locals. The real estate and tourism sectors offer a bastion of hope for expats looking to work. They can quite easily pick up sales jobs in real estate – but these are usually based on commission-only rates.
So, realistically, is it possible to make a living in Cyprus?
Yes, you can! But it may take determination and a little chutzpa. There is far more work in Cyprus than in many of the countries where the British like to head for the sun. Most British people will head for 'safe' industries like tourism, real estate, sales and rental management. These can often be engineered to suit your lifestyle. To break through into other industries, such as retail, learning Greek will be critical. Taking around two years to become fluent, you have just enough time before the UK leaves the EU!